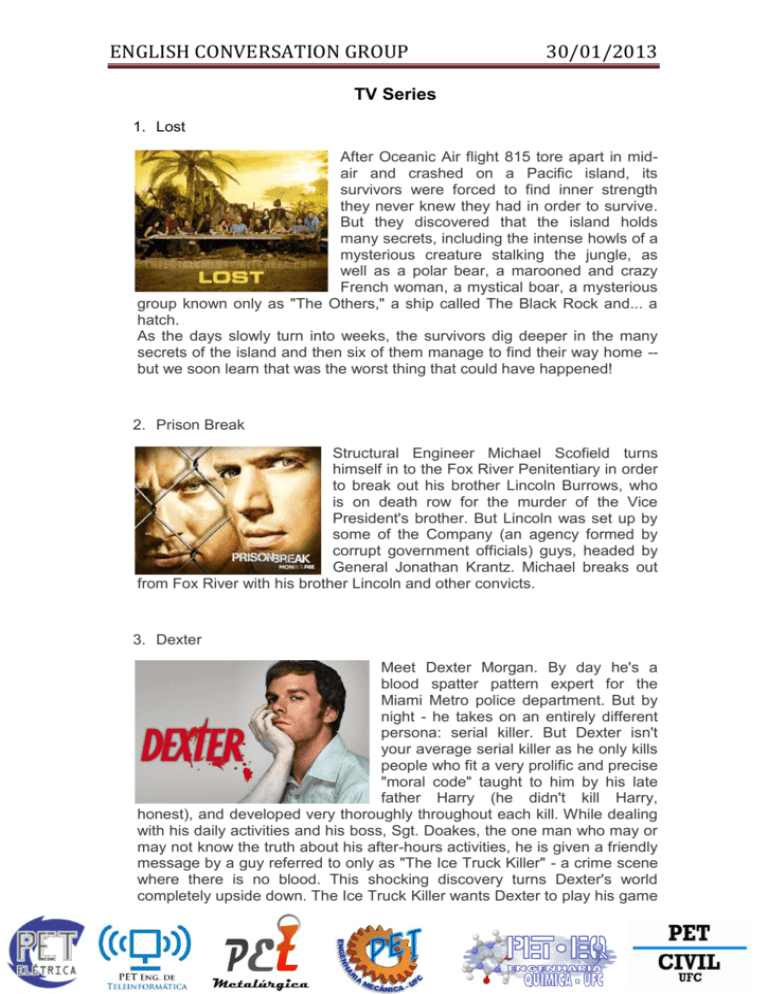 ENGLISH CONVERSATION GROUP
30/01/2013
TV Series
1. Lost
After Oceanic Air flight 815 tore apart in midair and crashed on a Pacific island, its
survivors were forced to find inner strength
they never knew they had in order to survive.
But they discovered that the island holds
many secrets, including the intense howls of a
mysterious creature stalking the jungle, as
well as a polar bear, a marooned and crazy
French woman, a mystical boar, a mysterious
group known only as "The Others," a ship called The Black Rock and... a
hatch.
As the days slowly turn into weeks, the survivors dig deeper in the many
secrets of the island and then six of them manage to find their way home -but we soon learn that was the worst thing that could have happened!
2. Prison Break
Structural Engineer Michael Scofield turns
himself in to the Fox River Penitentiary in order
to break out his brother Lincoln Burrows, who
is on death row for the murder of the Vice
President's brother. But Lincoln was set up by
some of the Company (an agency formed by
corrupt government officials) guys, headed by
General Jonathan Krantz. Michael breaks out
from Fox River with his brother Lincoln and other convicts.
3. Dexter
Meet Dexter Morgan. By day he's a
blood spatter pattern expert for the
Miami Metro police department. But by
night - he takes on an entirely different
persona: serial killer. But Dexter isn't
your average serial killer as he only kills
people who fit a very prolific and precise
"moral code" taught to him by his late
father Harry (he didn't kill Harry,
honest), and developed very thoroughly throughout each kill. While dealing
with his daily activities and his boss, Sgt. Doakes, the one man who may or
may not know the truth about his after-hours activities, he is given a friendly
message by a guy referred to only as "The Ice Truck Killer" - a crime scene
where there is no blood. This shocking discovery turns Dexter's world
completely upside down. The Ice Truck Killer wants Dexter to play his game
ENGLISH CONVERSATION GROUP
30/01/2013
and Dexter is very eager to take on this cat-and-mouse chase throughout
Miami.
4. Two And a Half Men
The Harper brothers Charlie and Alan are
almost opposites but form a great team.
They have little in common except their
dislike for their mundane, maternally cold
and domineering mother, Evelyn. Alan, a
compulsively neat chiropractor and
control-freak, is thrown out by his
manipulative wife Judith who nevertheless
gets him to pay for everything and do most
jobs in the house. Charlie is a freelance jingle composer and irresistible
Cassanova who lives in a luxurious beach-house and rarely gets up before
noon. Charlie "temporarily" allows Alan and his son Jake, a food-obsessed,
lazy school kid who shuttles between his parents, to move in with them after
Alan's separation/divorce. The sitcom revolves around their conflicting
lifestyles, raising Jake (who has the efficient, caring dad while having a ball
with his fun-loving sugar uncle who teaches him boyish things), and
bantering with Evelyn and various other friends and family. Other fairly
regular characters include Charlie's cleaning lady Berta and his rich, selfconfessed stalker neighbor Rose who often sneaks in to spy on Charlie.
5. Game Of Thrones
Seven noble families fight for
control of the mythical land of
Westeros. Political and sexual
intrigue is pervasive. Robert
Baratheon, King of Westeros, asks
his old friend Eddard, Lord Stark,
to serve as Hand of the King, or
highest official. Secretly warned
that the previous Hand was
assassinated, Eddard accepts in order to investigate further. Meanwhile the
Queen's family, the Lannisters, may be hatching a plot to take power.
Across the sea, the last members of the previous and deposed ruling family,
the Targaryens, are also scheming to regain the throne. The friction
between the houses Stark, Lannister and Baratheon, and with the
remaining great houses Greyjoy, Tully, Arryn, and Tyrell, leads to full-scale
war. All while a very ancient evil awakens in the farthest north. Amidst the
war and political confusion, a neglected military order of misfits, the Night's
Watch, is all that stands between the realms of men and icy horrors beyond.
ENGLISH CONVERSATION GROUP
30/01/2013
6. Sons Of Anarchy
Sons of Anarchy, as known as
SAMCRO, is a motorcycle club that
operates both illegal and legal
businesses in the small town of
Charming. They combine gun-running
and a garage, plus involvement in porn
film. Clay, the president, likes it old
school and violent; while Jax, his
stepson and the club's VP, has
thoughts about changing the way
things are, based on his dead father's journal. Their conflict has effects
on both the club and their personal relationships.
Curtis Stigers
This Life (Sons Of Anarchy's theme)
Riding ________ this world all alone
God takes your soul, you're on your _____
The crow flies ________, a perfect line
On the Devil's Bed until you ______
This life is ______, baby that's a fact
Better live it right, you _____ comin back
Gotta _____ some hell, 'fore they take you down
Gotta live this life
Gotta look this world, in the ____
Gotta live this life, until you ____
You ______ have soul, nothing less
Cause when it`s _________ time, it's life or death
The king is dead, the light goes on
You'll lose your head when the _____ goes down
Better keep your eyes on the _____ ahead
Gotta live this life
Gotta look this world, in the _____
Gotta live this life, until you _____...