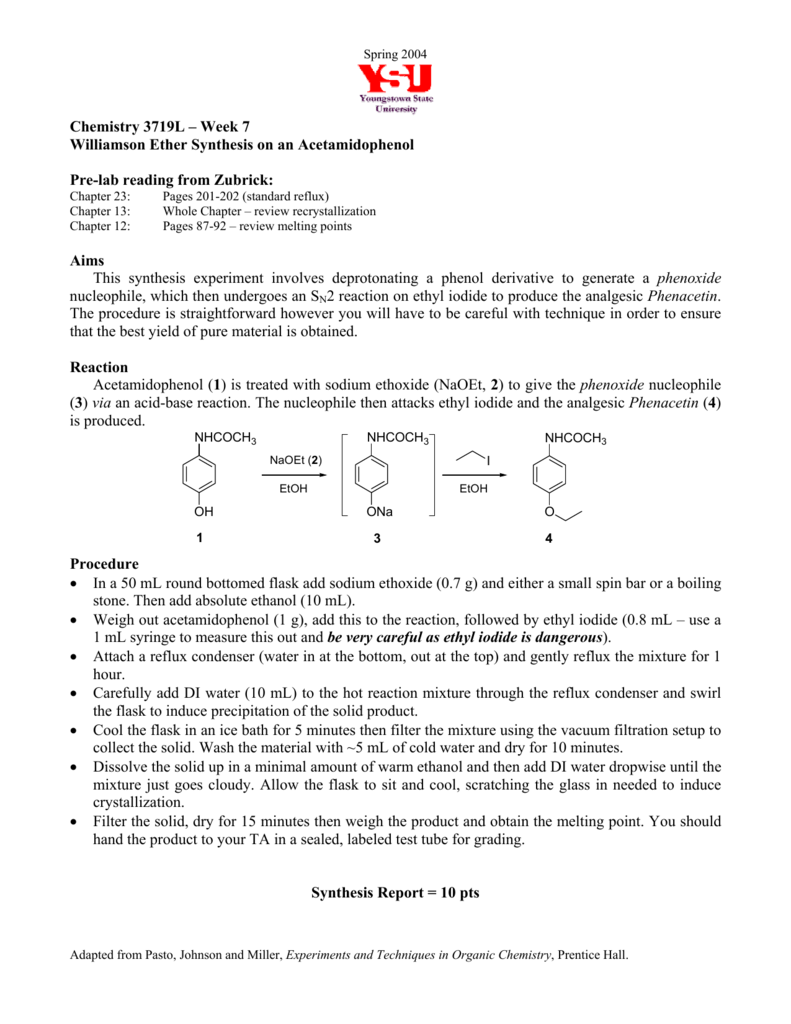 Spring 2004
Chemistry 3719L – Week 7
Williamson Ether Synthesis on an Acetamidophenol
Pre-lab reading from Zubrick:
Chapter 23:
Chapter 13:
Chapter 12:
Pages 201-202 (standard reflux)
Whole Chapter – review recrystallization
Pages 87-92 – review melting points
Aims
This synthesis experiment involves deprotonating a phenol derivative to generate a phenoxide
nucleophile, which then undergoes an SN2 reaction on ethyl iodide to produce the analgesic Phenacetin.
The procedure is straightforward however you will have to be careful with technique in order to ensure
that the best yield of pure material is obtained.
Reaction
Acetamidophenol (1) is treated with sodium ethoxide (NaOEt, 2) to give the phenoxide nucleophile
(3) via an acid-base reaction. The nucleophile then attacks ethyl iodide and the analgesic Phenacetin (4)
is produced.
NHCOCH3
NHCOCH3
NHCOCH3
I
NaOEt (2)
EtOH
OH
1
EtOH
ONa
O
3
4
Procedure
• In a 50 mL round bottomed flask add sodium ethoxide (0.7 g) and either a small spin bar or a boiling
stone. Then add absolute ethanol (10 mL).
• Weigh out acetamidophenol (1 g), add this to the reaction, followed by ethyl iodide (0.8 mL – use a
1 mL syringe to measure this out and be very careful as ethyl iodide is dangerous).
• Attach a reflux condenser (water in at the bottom, out at the top) and gently reflux the mixture for 1
hour.
• Carefully add DI water (10 mL) to the hot reaction mixture through the reflux condenser and swirl
the flask to induce precipitation of the solid product.
• Cool the flask in an ice bath for 5 minutes then filter the mixture using the vacuum filtration setup to
collect the solid. Wash the material with ~5 mL of cold water and dry for 10 minutes.
• Dissolve the solid up in a minimal amount of warm ethanol and then add DI water dropwise until the
mixture just goes cloudy. Allow the flask to sit and cool, scratching the glass in needed to induce
crystallization.
• Filter the solid, dry for 15 minutes then weigh the product and obtain the melting point. You should
hand the product to your TA in a sealed, labeled test tube for grading.
Synthesis Report = 10 pts
Adapted from Pasto, Johnson and Miller, Experiments and Techniques in Organic Chemistry, Prentice Hall.