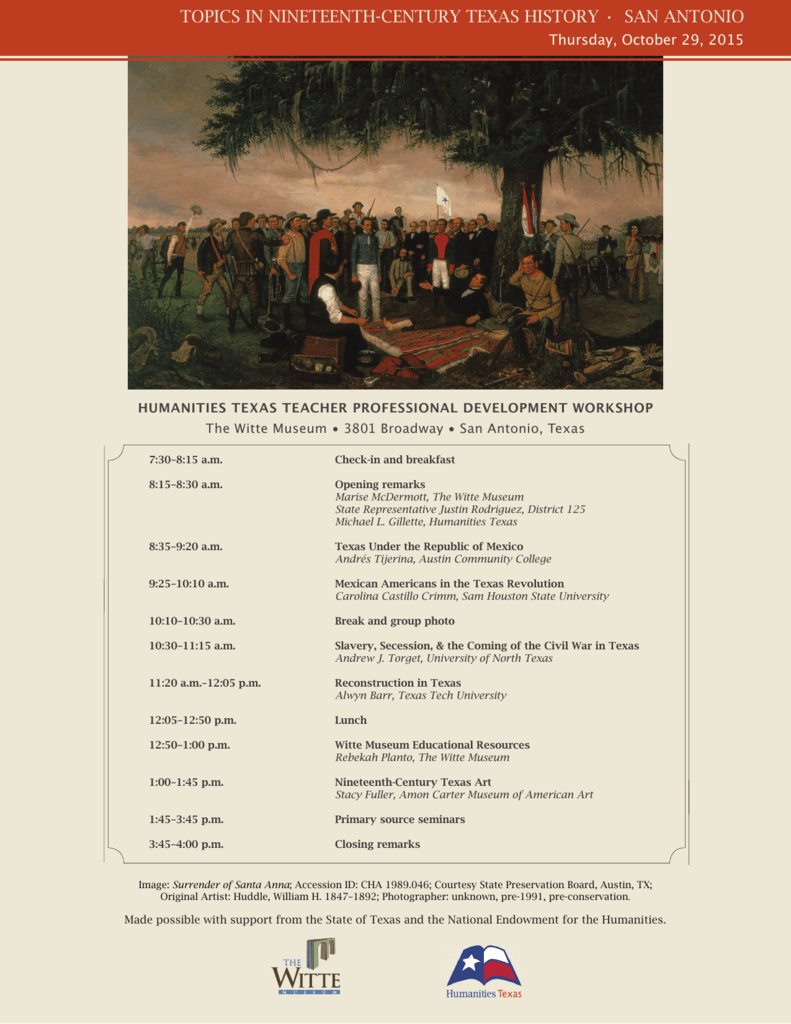 TOPICS IN NINETEENTH-CENTURY TEXAS HISTORY • SAN ANTONIO
Thursday, October 29, 2015
HUMANITIES TEXAS TEACHER PROFESSIONAL DEVELOPMENT WORKSHOP
The Witte Museum • 3801 Broadway • San Antonio, Texas
7:30–8:15 a.m.
Check-in and breakfast
8:15–8:30 a.m.
Opening remarks
Marise McDermott, The Witte Museum
State Representative Justin Rodriguez, District 125
Michael L. Gillette, Humanities Texas
8:35–9:20 a.m.
Texas Under the Republic of Mexico
Andrés Tijerina, Austin Community College
9:25–10:10 a.m.
Mexican Americans in the Texas Revolution
Carolina Castillo Crimm, Sam Houston State University
10:10–10:30 a.m.
Break and group photo
10:30–11:15 a.m.
Slavery, Secession, & the Coming of the Civil War in Texas
Andrew J. Torget, University of North Texas
11:20 a.m.–12:05 p.m.
Reconstruction in Texas
Alwyn Barr, Texas Tech University
12:05–12:50 p.m.
Lunch
12:50–1:00 p.m.
Witte Museum Educational Resources
Rebekah Planto, The Witte Museum
1:00–1:45 p.m.
Nineteenth-Century Texas Art
Stacy Fuller, Amon Carter Museum of American Art
1:45–3:45 p.m.
Primary source seminars
3:45–4:00 p.m.
Closing remarks
Image: Surrender of Santa Anna; Accession ID: CHA 1989.046; Courtesy State Preservation Board, Austin, TX;
Original Artist: Huddle, William H. 1847–1892; Photographer: unknown, pre-1991, pre-conservation.
Made possible with support from the State of Texas and the National Endowment for the Humanities.
FEATURED SCHOLARS
ALW YN BARR is professor emeritus of history at Texas Tech University, where he received awards for teaching,
research, and leadership and is a former chair of the department of history. He received his PhD from The University
of Texas at Austin in 1966. Among his five authored books are Reconstruction to Reform: Texas Politics, 1876–1906
(2d ed. 2000) and African Texans (2004). His articles have been published in several history journals including the
Southwestern Historical Quarterly. He is a former president of the Texas State Historical Association and a member
of both the Texas Institute of Letters and the Board of Humanities Texas.
CAROLINA CASTILLO CRIMM is a retired professor of history who is using her many years of experience to write
historical novels about eighteenth-century Spanish and Mexican Texas. The daughter of a California-educated
Mexican father and American mother, she was born and raised in Mexico City. After her father died in 1963, her
mother brought the family to Key West, Florida, where her mother taught elementary school. Crimm finished her BA
at the University of Miami before moving to Texas to finish her MA at Texas Tech University and her PhD from the
University of Texas at Austin under Dr. Nettie Lee Benson in Latin American history. She taught high school for
twenty years before starting at Sam Houston State University in 1992. She is acclaimed for her teaching, winning
local and statewide teaching awards, including the prestigious Piper Award as one of the best teachers in Texas.
She is an entertaining speaker in high demand by educational, historical and community groups in Texas and across
the country. She is married and lives with her husband in Huntsville, Texas.
STACY FULLER began her tenure at the Amon Carter Museum of American Art as the Henry E. Luce Foundation
Works on Paper Intern in June 2003. She later held the positions of the Laura Gilpin Canyon de Chelly Intern and
Instructional Services Manager. In September 2007, she was promoted to the Amon Carter's Director of Education,
where she oversees all educational programs and services. She currently serves as the western region
representative of the Museum Education Division Development Committee for the National Art Education
Association (NAEA). She holds a BA in museum management from Centenary College of Louisiana and an MA in art
history from Texas Christian University.
ANDRES TIJERINA received his PhD from The University of Texas at Austin and is now a professor of history at
Austin Community College. He has received state and national book prizes for his books Tejanos and Texas Under
the Mexican Flag and his other major book Tejano Empire: Life on the South Texas Ranchos. His most widely read
work is the publication of his Vietnam War combat memoirs in the TIME/LIFE BOOKS series The Vietnam
Experience. As a pilot in the Air Force, he flew over one hundred combat missions in Vietnam, receiving the Air
Medal and the Distinguished Flying Cross. A recent recipient of the American Historical Association's Equity Award,
he is also a Fellow of the Texas State Historical Association, for which he is now co-editor of the online Handbook of
Tejano History. He was the founding chairman of the first statewide Texas Hispanic Genealogy Conference in 1979,
a charter member of the board that erected the Tejano Monument at the Texas State Capitol in 2012, and is now
president of the Texas Institute of Letters. He is frequently called upon as a speaker and consultant in Texas History,
most recently on the History Channel for the Lone Star Rising Series.
ANDREW J. TORGET is a historian of nineteenth-century North America at the University of North Texas, where
he directs a digital history lab and teaches on the U.S.-Mexico borderlands. The founder and director of numerous
digital humanities projects—including Mapping Texts, Texas Slavery Project, Voting America, and the History
Engine—he served as co-editor of the Valley of the Shadow project at the University of Virginia, and as the founding
director of the Digital Scholarship Lab at the University of Richmond. The co-editor of several books on the
American Civil War, he has been a featured speaker at Harvard, Stanford, Rice, Duke and the National Archives in
Washington, D. C. In 2011, he was named the inaugural David J. Weber Research Fellow at the Clements Center for
Southwest Studies at Southern Methodist University. His most recent book, Seeds of Empire: Cotton, Slavery and
the Transformation of the Texas Borderlands, 1800–1850, was published earlier in 2015 by University of North
Carolina Press.