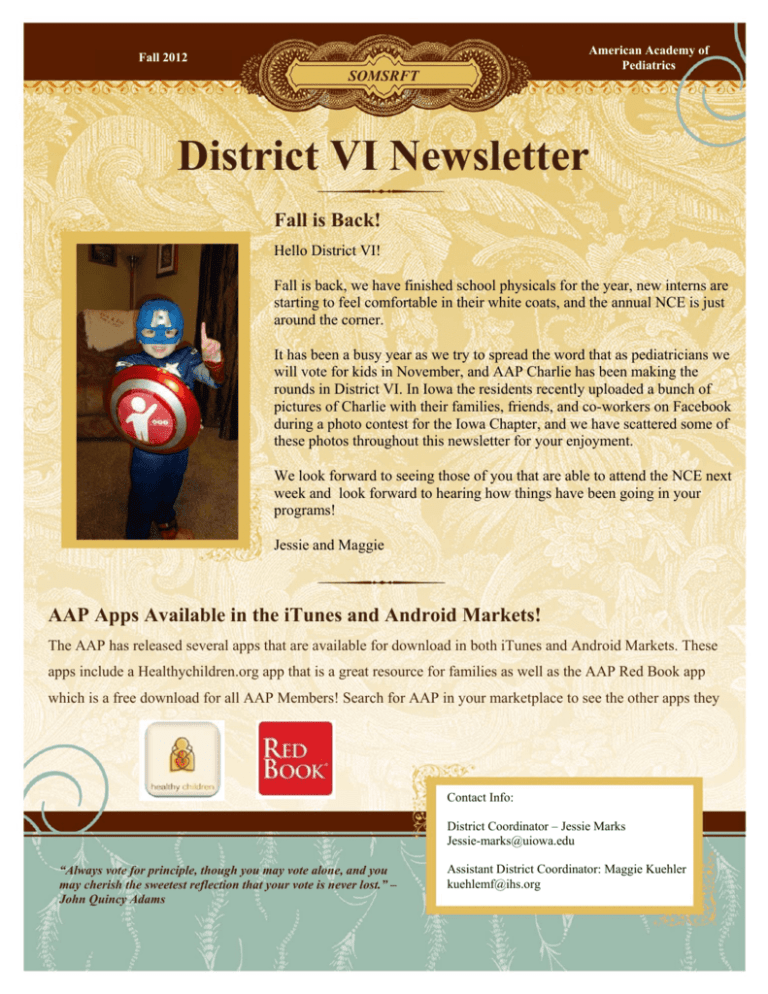 American Academy of
Pediatrics
Fall 2012
SOMSRFT
District VI Newsletter
Fall is Back!
Hello District VI!
Fall is back, we have finished school physicals for the year, new interns are
starting to feel comfortable in their white coats, and the annual NCE is just
around the corner.
It has been a busy year as we try to spread the word that as pediatricians we
will vote for kids in November, and AAP Charlie has been making the
rounds in District VI. In Iowa the residents recently uploaded a bunch of
pictures of Charlie with their families, friends, and co-workers on Facebook
during a photo contest for the Iowa Chapter, and we have scattered some of
these photos throughout this newsletter for your enjoyment.
We look forward to seeing those of you that are able to attend the NCE next
week and look forward to hearing how things have been going in your
programs!
Jessie and Maggie
AAP Apps Available in the iTunes and Android Markets!
The AAP has released several apps that are available for download in both iTunes and Android Markets. These
apps include a Healthychildren.org app that is a great resource for families as well as the AAP Red Book app
which is a free download for all AAP Members! Search for AAP in your marketplace to see the other apps they
Contact Info:
District Coordinator – Jessie Marks
Jessie-marks@uiowa.edu
"Always vote for principle, though you may vote alone, and you
may cherish the sweetest reflection that your vote is never lost." –
John Quincy Adams
Assistant District Coordinator: Maggie Kuehler
kuehlemf@ihs.org
SOMSRFT Program
Section on Medical Students, Residents & Fellowship
Trainees (SOMSRFT) Educational Program
Saturday, October 20, 2012
7:30-8:00 am: Registration & Breakfast
8:00-8:10 am: Introductions & Welcome
8:10-8:20 am: Report from the Section on Young Physicians Chair
8:20-8:30 am:
Anne E Dyson Child Advocacy Award Presentations
8:30-9:15 am: Keynote Address
Kenneth Roberts, MD, FAAP
9:15-9:25 am: Welcome from the AAP President-Elect
9:25-9:45 am: Speeches and Elections of Section National Officers
Vice Chair & Secretary Candidates
9:45-9:55 am: Section Annual Advocacy Project
9:55-10:15 am: Overview of the AAP Resolution Process
10:15-10:30 am: Move to NCE Opening Plenary Session
10:30 am-12:00 pm: NCE Opening Plenary Session
12:00-12:10 pm: Return for Breakout Sessions
12:10-5:00 pm See Resident and Fellowship Trainess or Medical Student
Sections
5:00 pm: Adjourn
5:00-5:30 pm: New Officer Orientation – for newly elected SOMSRFT
Officers
6:00-7:00 pm: SOMSRFT Reception & Poster Display
Mardi Gras World – Mansion
(Transportation provided – please meet promptly in the Hilton
Lobby at 5:45pm)
For Residents and Fellowship Trainees:
12:10-2:00 pm:
District Breakout Sessions

Election of District & Assistant District Coordinators

Development of resolutions
2:00-2:45 pm:
Concurrent Educational Workshop Sessions:
(Choose one)

Multimedia Session to Improve Your Cardiac
Auscultation Skills

Strategic Financial Planning Concepts for Young
Doctors
2:45-3:30 pm:
Legislative Advocacy Update
3:30-5:00 pm:
Debate & Voting on Resolutions
For Medical Students:
12:10-2:00 pm: MS Plenary Session
This session will highlight the important components of being a
successful residency applicant. It promises to be a valuable
opportunity for attendees to ask questions about the entire residency
application process, from preparing to apply to successfully matching.

12:00-12:20 pm: Exploring Pediatrics & the AAP
Lisa Costello, MD, MPH, SOMSRFT MS
Subcommittee Chair

12:20-1:00 pm: Keynote Address
Jeffrey McKinney, MD, PhD, FAAP
Director, Residency Program, UT Southwestern
Dept. of Pediatrics
1:00-2:00 pm – Expert Panel Discussion
Jeffrey McKinney, MD, PhD, FAAP; Rachel
Dawkins, MD, FAAP;
Lynn Gardner, MD, FAAP; Teri Turner, MD,
MPH, MEd, FAAP

2:00-2:45 pm: Pediatrics 101
This session will provide medical students with the opportunity to
learn more about the field of general pediatrics from a practicing
general pediatrician. A general overview of pediatric practice and
interactive pediatric examination tips will be shared.
Rachel Dawkins, MD, FAAP
2:45-3:30 pm:
Legislative Advocacy Update (With Residents and
Fellowship Trainess)
3:30-5:00 pm: Exploring Pediatrics Subspecialties
This session will offer students the opportunity to meet with faculty
from various popular pediatric subspecialties,learn more about these
fields, and why the faculty enjoy them and ultimately chose them for a
career.
Didyouknowthe
AAPispresenton
Twitterand
Facebook?
AAPPresidentDr.Blockhasa
veryactiveTwitterfeedthat
enablesAAPmembersaswell
asotherswithchildhealthand
wellbeinginmindkeepupto
dateonwhatishappeningwith
federallegislation,child
advocacy,andtheAAP.The
AAPfacebookpageisanother
wayofkeepinguptodateand
therearemultipleareasofthe
AAPwithpagesincludingthe
SOMSRFTsection!Manyofthe
stateAAPchaptershavepages
nowtoo,sogotoFacebook,
browsetheoptions,and"like"
asmanypagesasyoucan!
HelpfulToolsatwww.AAP.org
TheAAPadvocacyguideisavailablethroughtheState
AdvocacytabatAAP.org.Thesetrainingmodulescanhelp
youpreparetospeekoutforchildrenatalocal,state,and
federallevel.Whenyouclickonthetrainingmoduletabyou
havetheoptionofviewingapowerpointoropportunitiesto
usethisskill.Theseopportunitiesarebrokendowninto
thingsyoucandoifyougave5minutes,lessthan30minutes,
ormorethan30minutes.Ifyouhavemorequestionson
AdvocacyfeelfreetocontactyourSOMSRFTleadershipor
yourstateAAPchapter.IfyouarenotgettingAdvocacy
Traininginyourresidencyorfellowshipletyourtraining
coordinatorsknowitissomethingyouareinterestedin.