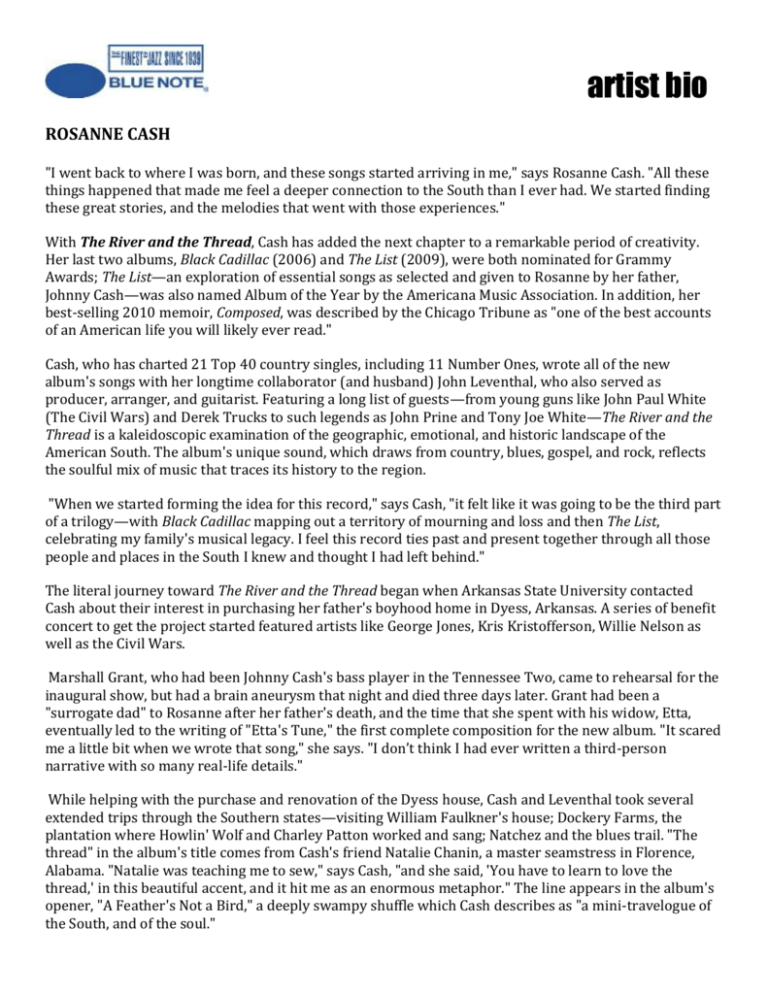 artist bio
ROSANNE CASH
"I went back to where I was born, and these songs started arriving in me," says Rosanne Cash. "All these
things happened that made me feel a deeper connection to the South than I ever had. We started finding
these great stories, and the melodies that went with those experiences."
With The River and the Thread, Cash has added the next chapter to a remarkable period of creativity.
Her last two albums, Black Cadillac (2006) and The List (2009), were both nominated for Grammy
Awards; The List—an exploration of essential songs as selected and given to Rosanne by her father,
Johnny Cash—was also named Album of the Year by the Americana Music Association. In addition, her
best-selling 2010 memoir, Composed, was described by the Chicago Tribune as "one of the best accounts
of an American life you will likely ever read."
Cash, who has charted 21 Top 40 country singles, including 11 Number Ones, wrote all of the new
album's songs with her longtime collaborator (and husband) John Leventhal, who also served as
producer, arranger, and guitarist. Featuring a long list of guests—from young guns like John Paul White
(The Civil Wars) and Derek Trucks to such legends as John Prine and Tony Joe White—The River and the
Thread is a kaleidoscopic examination of the geographic, emotional, and historic landscape of the
American South. The album's unique sound, which draws from country, blues, gospel, and rock, reflects
the soulful mix of music that traces its history to the region.
"When we started forming the idea for this record," says Cash, "it felt like it was going to be the third part
of a trilogy—with Black Cadillac mapping out a territory of mourning and loss and then The List,
celebrating my family's musical legacy. I feel this record ties past and present together through all those
people and places in the South I knew and thought I had left behind."
The literal journey toward The River and the Thread began when Arkansas State University contacted
Cash about their interest in purchasing her father's boyhood home in Dyess, Arkansas. A series of benefit
concert to get the project started featured artists like George Jones, Kris Kristofferson, Willie Nelson as
well as the Civil Wars.
Marshall Grant, who had been Johnny Cash's bass player in the Tennessee Two, came to rehearsal for the
inaugural show, but had a brain aneurysm that night and died three days later. Grant had been a
"surrogate dad" to Rosanne after her father's death, and the time that she spent with his widow, Etta,
eventually led to the writing of "Etta's Tune," the first complete composition for the new album. "It scared
me a little bit when we wrote that song," she says. "I don't think I had ever written a third-person
narrative with so many real-life details."
While helping with the purchase and renovation of the Dyess house, Cash and Leventhal took several
extended trips through the Southern states—visiting William Faulkner's house; Dockery Farms, the
plantation where Howlin' Wolf and Charley Patton worked and sang; Natchez and the blues trail. "The
thread" in the album's title comes from Cash's friend Natalie Chanin, a master seamstress in Florence,
Alabama. "Natalie was teaching me to sew," says Cash, "and she said, 'You have to learn to love the
thread,' in this beautiful accent, and it hit me as an enormous metaphor." The line appears in the album's
opener, "A Feather's Not a Bird," a deeply swampy shuffle which Cash describes as "a mini-travelogue of
the South, and of the soul."
These journeys repeatedly took them through Memphis, the city of Cash's birth and a place that had a
profound impact on the album's direction. They visited the studio of Sun Records, and watched their son
strum a guitar in the same room where her father cut his first record. "The connection to Memphis is
powerful and deep" says Cash.
Another destination illustrated just how tightly packed the sweep of history can be as you approach the
Mississippi Delta. Cash and Leventhal sought out the Tallahatchie Bridge, site of Bobbie Gentry's classic,
mysterious 1967 hit "Ode to Billie Joe." Around the corner was Money Road, and the abandoned country
grocery store where in 1955, 14 year old Emmett Till reportedly flirted with a white woman, leading to
his tragic murder and in turn helping to ignite the Civil Rights movement. Just a few miles away, near
Greenwood, they came across Robert Johnson's gravesite—"it was unbelievably haunting there, just
chilling," she says. The slinky, eerie "Money Road," which closes the album, tells the tale of this area Cash
calls "a vortex of music and revolution."
Other songs on The River and the Thread draw from stories and characters across generations of the Cash
family. "Sunken Lands" is named for the area where Johnny Cash grew up, and recounts the difficult life of
his mother, Carrie. While the sparse, moody Southern pop of "The Long Way Home" draws on details
from the lives of Rosanne and her family, she points out that "the sentiment is universal—most of us go a
long way and try a lot of things before we come home to ourselves. To paraphrase Paul Theroux, 'We go
away to find the changes in ourselves. We go away to find our place in the world.'" "Tell Heaven" is an
achingly beautiful meditation on longing and loneliness.
All of these lines come together in "When the Master Calls the Roll," which was initially a song that
Leventhal and Rodney Crowell were writing for Emmylou Harris. When Cash's son Jake was researching
an 8th grade project on the Civil War, she reminded him that they had ancestors who fought on both
sides of the conflict. When she clicked on the online Civil War database, she was stunned to see a
photograph of William Cash from Massachusetts.
Loving Leventhal's melody of the still-unrecorded song, she approached her ex-husband Crowell about
rewriting the lyrics and crafting a Civil War ballad around her fore bearer. "As we worked on it, the
character started to obsess me," Cash says. "I'd think about him night and day, I couldn't sleep, and I
didn't know how the story would turn out. One morning the last verse came to me in a flood and I began
to cry—I didn't really realize he was going to die until that moment."
As the themes and subjects of The River and the Thread emerged, Cash gradually envisioned how she
wanted to connect the dots into a cohesive work, connecting her own story to the rich history of a region.
"I guess I weave in and out of these songs, in a way," she says. "I don't think I had a complete map of it,
but John really became a guide. We would write something and say, 'This is this part of the geography,
both emotional and physical.'"
Rosanne Cash acknowledges that, even with fifteen albums and four books behind her, it was difficult to
start writing songs again after spending several years immersed in the masterful compositions featured
on The List. "You cannot keep that in your mind, except as an inspiration, a standard to aspire to," she
says. "To say, 'I'm going to write a song as great as "Take These Chains"'—you're not! So the only way to
not get dismantled by that is to stay connected to your own muse, and immerse yourself completely in
what you're doing so it can be as rich and authentic as it can possibly be. That's all you can hope for."
With The River and the Thread, she has risen to that challenge—and emerged with a beautiful and
haunting album, one of the finest works in an extraordinary career.