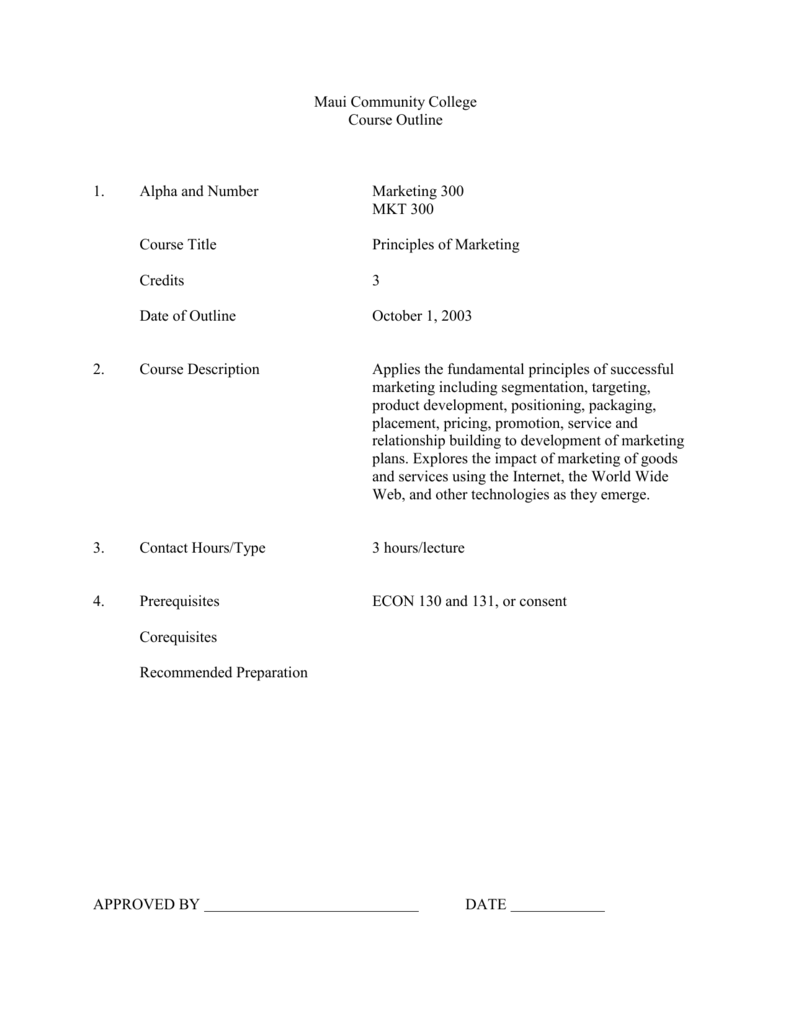 Maui Community College
Course Outline
1.
Alpha and Number
Marketing 300
MKT 300
Course Title
Principles of Marketing
Credits
3
Date of Outline
October 1, 2003
2.
Course Description
Applies the fundamental principles of successful
marketing including segmentation, targeting,
product development, positioning, packaging,
placement, pricing, promotion, service and
relationship building to development of marketing
plans. Explores the impact of marketing of goods
and services using the Internet, the World Wide
Web, and other technologies as they emerge.
3.
Contact Hours/Type
3 hours/lecture
4.
Prerequisites
ECON 130 and 131, or consent
Corequisites
Recommended Preparation
APPROVED BY
DATE
2
5.
General Course Objectives
Compares and contrasts the key concepts in marketing and insights into how these
concepts are applied in different business and non-business settings. Introduces key
perspectives that shape marketing decision-making, including relationship-building,
providing quality and value to consumers, ethics, the use of technology, and
globalization.
6.
Student Learning Outcomes
For assessment purposes, these are linked to # 7 – Recommended Course Content
On successful completion of this course, the student will be able to
a.
b.
c.
d.
e.
f.
g.
h.
i.
j.
k.
l.
m.
n.
o.
p.
define marketing, marketing management, the core concepts and relationships
between customer value, satisfaction, and quality;
explain how to design business portfolios and growth strategies;
explain marketing's role in strategic planning;
describe the marketing process and the forces that influence it;
list the marketing management functions, including the elements of a marketing
plan;
explain how changes in the demographic and economic environments affect
marketing decisions;
define the marketing information system, discuss its parts, and outline the steps in
the marketing research process;
define the consumer market, construct a simple model of buyer behavior and list
the major factors that influence buyer behavior, and the stages in the buyer
decision process;
describe the adoption and diffusion process for new products;
define the steps of target marketing and explain how companies identify attractive
market segments, choose a market-coverage strategy, and position their products
for maximum competitive advantage in the marketplace;
define target marketing and discuss the major levels of market segmentation;
identify and define the factors affecting a firm's pricing decisions including the
impact of consumer perceptions of price and value;
describe the major strategies for pricing current and new products, and explain
how companies find a set of prices that maximizes the profits from the total
product mix;
discuss how companies adjust their prices to take into account different types of
customers and situations, and identify the key issues related to initiating and
responding to price changes;
identify the major channel alternatives open to a company and how channel
members interact and organize to perform the work of the channel;
discuss the nature and importance of physical distribution and integrated logistics,
including how they benefit a company;
3
q.
r.
s.
t.
u.
v.
w.
x.
y.
z.
aa.
bb.
cc.
dd.
ee.
7.
name and define the tools of the marketing communications mix including factors
that affect the design, and discuss the advantages of integrated marketing
communications;
outline the steps in developing effective marketing communication and explain
the methods for setting the promotion budget;
define the roles of advertising, sales promotion, and public relations in the
promotion mix and describe the major decisions involved in developing an
advertising program;
explain how sales-promotion campaigns are developed and implemented and how
companies use public relations to communicate with potential customers;
discuss the role of a company's salespeople in creating value for customers and
building customer relationships;
explain how companies design sales force strategy and structure, and how
companies recruit, select, and train salespeople;
discuss the personal selling process, distinguishing between transaction-oriented
marketing and relationship marketing;
identify the major forms of direct marketing and discuss the benefits including the
trends fueling its rapid growth;
define a customer database and list the ways companies use databases in direct
marketing;
compare the types of online marketing channels, the effect of the Internet on
electronic commerce, and ways marketers can conduct online marketing;
discuss the public policy and ethical issues facing direct marketers;
describe customer value and satisfaction, how companies attract, retain, and grow
profitable customers, the roles of the company value chain, value-delivery
network, and total quality in delivery of customer value and satisfaction;
discuss the need to understand competitors as well as customers through
competitor analysis and the fundamentals of competitive marketing strategies
based on creating value for customers;
identify the key approaches to entering international markets and discuss how the
international trade system, economic, political–legal, and cultural environments
affect a company's international marketing decisions;
explain how companies adapt their marketing mixes for international markets and
identify the major forms of international marketing organization.
Recommended Course Content and Approximate Time Spent on Each Topic
Linked to # 6 – Student Learning Outcomes
1-2 Weeks:
Planning and the Marketing Process (a, b, c, d, e)
1-2 Weeks:
The Marketing Environment, Marketing Research and Information
Systems (f, g)
1-2 Weeks:
Markets and Buying Behavior (f, h, i)
4
8.
1-2 Weeks:
Market Segmentation, Targeting, and Positioning (j, k,)
1-2 Weeks:
Product and Services Strategy, New Product Development/Product LifeCycle (j, k,)
1-2 Weeks:
Pricing Strategies (l, m, n,)
1-2 Weeks:
Distribution Channels, Logistics Management, Retailing and Wholesaling
(o, p, q,)
1-2 Weeks:
Integrated Marketing Communications Strategy (q, r)
1-2 Weeks:
Advertising, Sales Promotion, Public Relations, and Sales Management
(s, t, u, v, w)
1-2 Weeks:
Direct and Online Marketing (x, y, z, aa)
1-2 Weeks:
The Domestic Marketplace: Attracting, Retaining, and Growing
Customers (bb, cc)
1-3 Weeks:
The Global Marketplace: Attracting, Retaining, and Growing Customers
(bb, cc, dd, ee)
0-2 Weeks:
Special Topics (a – ee)
Text and Materials, Reference Materials, Auxiliary Materials and Content
An appropriate text(s) and materials will be chosen at the time the course is to be offered
from those currently available in the field. Examples include
Text(s):
Marketing: An Introduction, Armstrong and Kotler, 2001, Prentice Hall
Marketing: Creating Value for Customers, Churchill, Jr.and Peter, 2nd
edition, 2000, Mc Graw-Hill.
Materials:
Text(s) may be supplemented with
Accompanying practice set if available
Articles and/or handouts prepared by the instructor
Magazine or newspaper articles
Other:
Appropriate films, videos, or internet sites
Television programs
Guest speakers
Other instructional aids
5
9.
Recommended Course Requirements and Evaluation
Specific course requirements are at the discretion of the instructor at the time the course
is being offered. Suggested requirements might include, but are not limited to
Examinations (written and/or oral)
In-class exercises
Homework
Quizzes
Projects/research
Attendance and/or class participation
10.
40-80%
0-30%
0-30%
0-30%
0-40%
0-20%
Methods of Instruction
Instructional methods vary considerable with instructors and specific instructional
methods will be at the discretion of the instructor teaching the course. Suggested
techniques might include, but are not limited to
a.
b.
c.
d.
e.
f.
g.
h.
i.
j.
k.
l.
m.
n.
o.
Quizzes and other tests with feedback and discussion;
Lectures and class discussions;
Problem solving;
PowerPoint presentations;
Videos, DVDs, CD-ROMs;
Guest speakers;
Group activities;
Oral reports and other student presentations;
Games and simulations;
Homework assignments such as
- Reading, or watching, and writing summaries and reactions to accounting
issues in the media including newspapers, video, magazines, journals;
- Lectures, web-based material, and other sources;
- Annual report activities;
- Reading text and reference material and answering discussion questions;
- Research environmental issues, and problems;
Web-based assignments and activities;
Reflective journals;
Group and/ or individual research projects with reports or poster presentations;
Study logs and study groups;
Service-Learning, community service, and/or civic engagement projects; and
other contemporary learning techniques (such as problem-based learning).