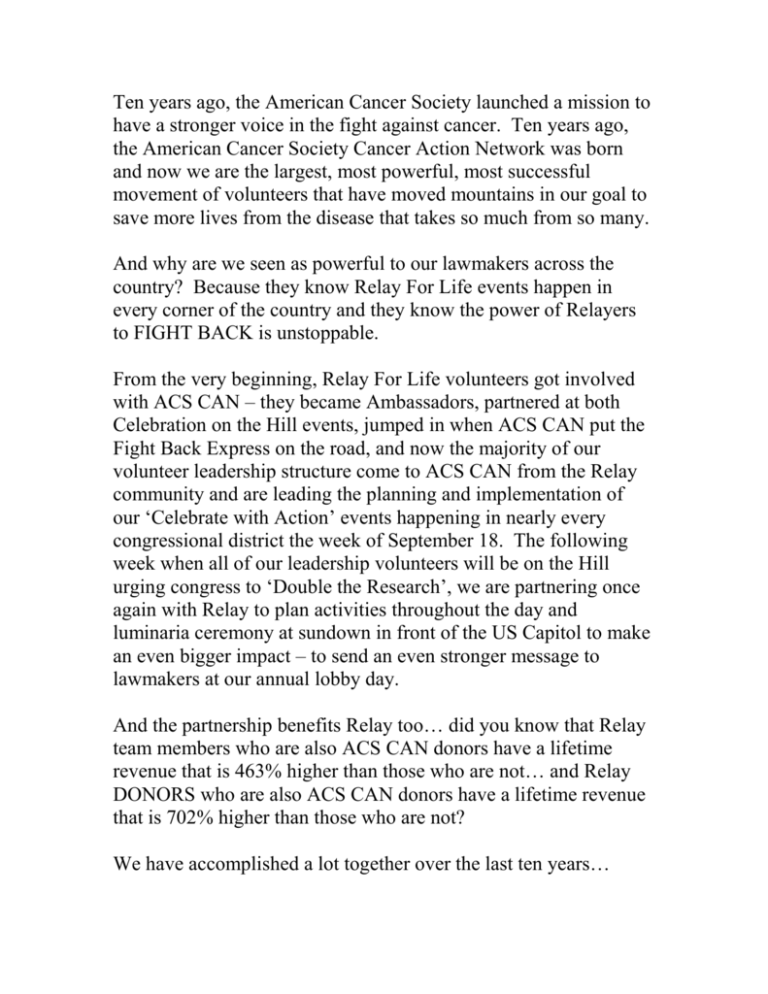 Ten years ago, the American Cancer Society launched a mission to
have a stronger voice in the fight against cancer. Ten years ago,
the American Cancer Society Cancer Action Network was born
and now we are the largest, most powerful, most successful
movement of volunteers that have moved mountains in our goal to
save more lives from the disease that takes so much from so many.
And why are we seen as powerful to our lawmakers across the
country? Because they know Relay For Life events happen in
every corner of the country and they know the power of Relayers
to FIGHT BACK is unstoppable.
From the very beginning, Relay For Life volunteers got involved
with ACS CAN – they became Ambassadors, partnered at both
Celebration on the Hill events, jumped in when ACS CAN put the
Fight Back Express on the road, and now the majority of our
volunteer leadership structure come to ACS CAN from the Relay
community and are leading the planning and implementation of
our 'Celebrate with Action' events happening in nearly every
congressional district the week of September 18. The following
week when all of our leadership volunteers will be on the Hill
urging congress to 'Double the Research', we are partnering once
again with Relay to plan activities throughout the day and
luminaria ceremony at sundown in front of the US Capitol to make
an even bigger impact – to send an even stronger message to
lawmakers at our annual lobby day.
And the partnership benefits Relay too… did you know that Relay
team members who are also ACS CAN donors have a lifetime
revenue that is 463% higher than those who are not… and Relay
DONORS who are also ACS CAN donors have a lifetime revenue
that is 702% higher than those who are not?
We have accomplished a lot together over the last ten years…
 Together, we passed tobacco taxes to prevent our youth
from starting to smoke
 Together, we successfully pushed congress to double
funding for research in 2003
 Together, we are working for a smokefree nation -community by community and state by state
 Together, after a dozen years of hard work, we passed
FDA regulation over tobacco products which is already
beginning to see an impact
 And together, we worked to ensure cancer patients were
front and center when legislation was being formed to
reform our nation's health care system.
We have come so far… we can't stop now. I know that Relayers
will do whatever it takes to give a voice to patients, survivors and
caregivers. Imagine where we can be in the next ten years…
survivors living longer, cancers detected earlier, and preventing
more people from hearing those dreaded words "You Have
Cancer." We CAN continue to make an impact, we CAN continue
to make a difference, we CAN end the suffering cancer causes,
bottom line: we CAN double the hope.
Speaking of 'Double the Hope', I am very excited for you to hear
from our West Virginia (South Atlantic Division) State Lead
Ambassador, George Blough…. George.
Hi! My name is George Blough, 21 year ovarian cancer survivor,
stage 4 since 1997.
 But more importantly I am also a relayer like you.
 We walk together the survivor lap,
 You and I light the luminaries together and we remember
those we have lost,
 Now you have the opportunity join me to make a difference
in the fight against cancer.
We all know the words "You have cancer" are life changing.
When I was first diagnosed I was terrified. I was convinced that I
would never see the leaves change colors again. Well, here I am 21
years later and I can tell you each year the color of the leaves is
more brilliant than the year before.
Every day I look from my kitchen window to see my HOPE
garden. Each year I watch the daffodils peek through the ground I
know I have reached another milestone! I am alive another year
and celebrating each moment I am in.
However, I am only afforded this luxury as a result of over 30
years of cancer research. It took 30 years of federal funding to
develop the drug that saved my life. Had my cancer returned
before 1993, my drug would not have been available for treatment.
I wouldn't be here today.
When you look to the journey of cancer drugs or treatment
protocols we learn…without government funding…cancer
research just doesn't happen!
I know my story is a powerful one. But we know there are many
stories that don't have happy endings.
 Sonny, a friend and fellow relayer, lost his fight.
 Shannon, one of my previous students, died of aggressive
breast cancer at the age of 36, leaving behind a husband two
young children.
 Brookeanne, 36 years old…my friend… Died of cervical
cancer. Her son has lost a mom.
All of us have our stories. I encourage you to tell the stories that
you know, to everyone everywhere!
As an ACS CAN member I am hoping you will join me in
 being a part of the bigger picture and paying it forward.
I hope that in 50 years from today a survivor will look back to
2011 and know that each of us here today acknowledged the
importance of encouraging our Congress to fund cancer research
and to know that each of us in our membership with ACS CAN
made a significant difference in fighting back.
HOPE IS THE BELIEF THAT THINGS WILL GET BETTER
If we can truly double our hope, by doubling our membership, and
doubling government funding, maybe one day there will be double
the stories with happy endings!
Today I am going to demonstrate the power of your voice… (Did
this activity takes 15 seconds)
George Claps, George asks Molly to clap…
Molly points to a table and asks them to clap…
Eventually we get everyone to clap
Calling out to the crowd "do you hear that? Sounds like the
applause the survivors hear as they walk during Relay!"
I will say stop…BIG SILENCE…for 3 seconds…What do you
hear now? Silence….Your clapping was your voice.
The silence represents …those who didn't think it was really that
important to join…those who didn't think they could make a
difference…they are the voices that aren't heard…the silence is the
drug on the shelf waiting for government funding…the clinical
trial that doesn't happen so your loved one doesn't win their battle
against cancer….
Together with everyone becoming a part of ACS CAN, we can
empower fellow Relayers to let our elected officials know that we
have a voice. And that voice can help us all fight back against
cancer.
Recruitment envelopes and pens are on your table. Making
memberships to ACS CAN a part of your fight back piece
completes the picture!
Break the silence! Fight Back! Join ACS CAN today.