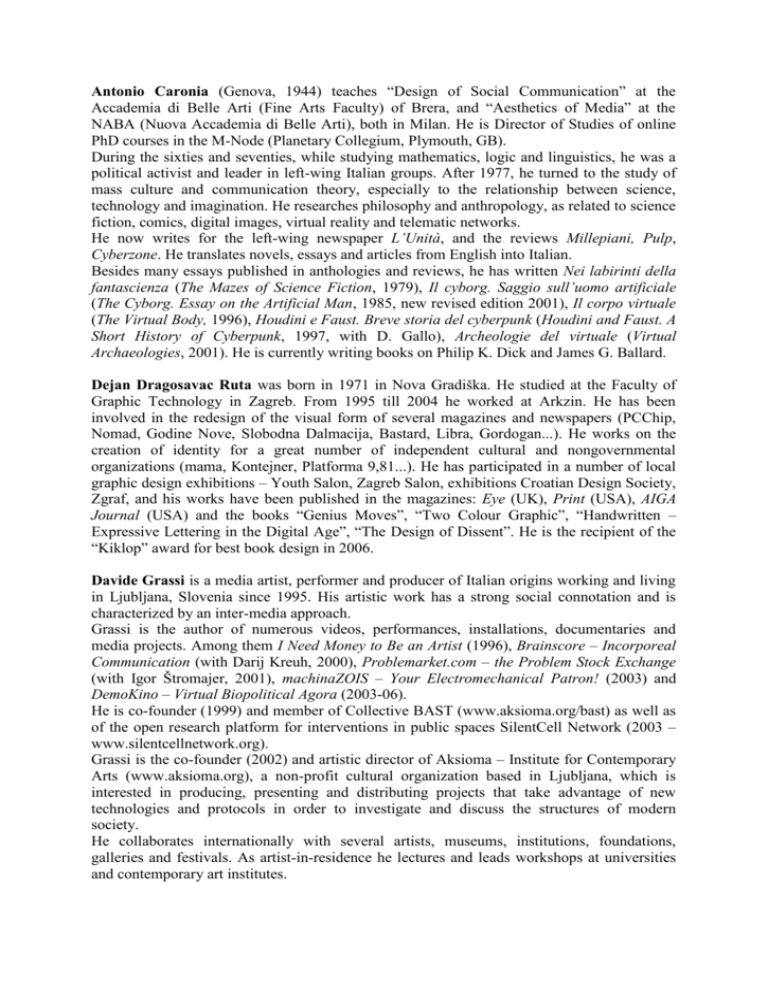 Antonio Caronia (Genova, 1944) teaches "Design of Social Communication" at the
Accademia di Belle Arti (Fine Arts Faculty) of Brera, and "Aesthetics of Media" at the
NABA (Nuova Accademia di Belle Arti), both in Milan. He is Director of Studies of online
PhD courses in the M-Node (Planetary Collegium, Plymouth, GB).
During the sixties and seventies, while studying mathematics, logic and linguistics, he was a
political activist and leader in left-wing Italian groups. After 1977, he turned to the study of
mass culture and communication theory, especially to the relationship between science,
technology and imagination. He researches philosophy and anthropology, as related to science
fiction, comics, digital images, virtual reality and telematic networks.
He now writes for the left-wing newspaper L'Unità, and the reviews Millepiani, Pulp,
Cyberzone. He translates novels, essays and articles from English into Italian.
Besides many essays published in anthologies and reviews, he has written Nei labirinti della
fantascienza (The Mazes of Science Fiction, 1979), Il cyborg. Saggio sull'uomo artificiale
(The Cyborg. Essay on the Artificial Man, 1985, new revised edition 2001), Il corpo virtuale
(The Virtual Body, 1996), Houdini e Faust. Breve storia del cyberpunk (Houdini and Faust. A
Short History of Cyberpunk, 1997, with D. Gallo), Archeologie del virtuale (Virtual
Archaeologies, 2001). He is currently writing books on Philip K. Dick and James G. Ballard.
Dejan Dragosavac Ruta was born in 1971 in Nova Gradiška. He studied at the Faculty of
Graphic Technology in Zagreb. From 1995 till 2004 he worked at Arkzin. He has been
involved in the redesign of the visual form of several magazines and newspapers (PCChip,
Nomad, Godine Nove, Slobodna Dalmacija, Bastard, Libra, Gordogan...). He works on the
creation of identity for a great number of independent cultural and nongovernmental
organizations (mama, Kontejner, Platforma 9,81...). He has participated in a number of local
graphic design exhibitions – Youth Salon, Zagreb Salon, exhibitions Croatian Design Society,
Zgraf, and his works have been published in the magazines: Eye (UK), Print (USA), AIGA
Journal (USA) and the books "Genius Moves", "Two Colour Graphic", "Handwritten –
Expressive Lettering in the Digital Age", "The Design of Dissent". He is the recipient of the
"Kiklop" award for best book design in 2006.
Davide Grassi is a media artist, performer and producer of Italian origins working and living
in Ljubljana, Slovenia since 1995. His artistic work has a strong social connotation and is
characterized by an inter-media approach.
Grassi is the author of numerous videos, performances, installations, documentaries and
media projects. Among them I Need Money to Be an Artist (1996), Brainscore – Incorporeal
Communication (with Darij Kreuh, 2000), Problemarket.com – the Problem Stock Exchange
(with Igor Štromajer, 2001), machinaZOIS – Your Electromechanical Patron! (2003) and
DemoKino – Virtual Biopolitical Agora (2003-06).
He is co-founder (1999) and member of Collective BAST (www.aksioma.org/bast) as well as
of the open research platform for interventions in public spaces SilentCell Network (2003 –
www.silentcellnetwork.org).
Grassi is the co-founder (2002) and artistic director of Aksioma – Institute for Contemporary
Arts (www.aksioma.org), a non-profit cultural organization based in Ljubljana, which is
interested in producing, presenting and distributing projects that take advantage of new
technologies and protocols in order to investigate and discuss the structures of modern
society.
He collaborates internationally with several artists, museums, institutions, foundations,
galleries and festivals. As artist-in-residence he lectures and leads workshops at universities
and contemporary art institutes.
Grassi has presented his work at Manifesta 4, Frankfurt, Germany; ZKM, Karlsruhe,
Germany; ARCO, Madrid, Spain; ISEA 2002, Nagoya, Japan; Museo Nacional de Bellas
Artes, Buenos Aires, Argentina; Itaú Cultural, Sao Paulo, Brazil; List Art Center, Brown
University, Providence, U.S.A.; IASPIS, Stockholm, Sweden; the Slovene Museum of
Contemporary Arts, Ljubljana, Slovenia; the National Museum of Contemporary Art,
Bucharest, Romania; Kiasma, Museum of Contemporary Art, Helsinki, Finland.
Marina Gržinić was born in 1958 in Croatia. She lives in Ljubljana, Slovenia and works in
Ljubljana and Vienna. She is a researcher at the Institute of Philosophy at the ZRC SAZU
(Scientific and Research Center of the Slovenian Academy of Science and Art) in Ljubljana
and a Professor at the Academy of Fine Arts in Vienna. She also works as a freelance media
theorist, art critic and curator.
She has been involved with video art since 1982. http://www.grzinic-smid.si
Her most recent books are: Une fiction reconstruite. Europe de l'Est, post-socialisme et rétroavant-garde [Fiction Reconstructed. Eastern Europe, Postsocialism and Retro-avantgarde],
L'Harmattan, Paris, 2005; Gržinić, AVANGARDA I POLITIKA: istočnoevropska paradigma i
rat na Balkanu [Avant-garde and Politics: The Eastern European Paradigm and the War in
the Balkans], Beogradski krug, Belgrade, Serbia and Montenegro, 2005; and Gržinić, Estetika
kibersvijeta i učinci derealizacije [Aesthetics of Cyberspace and the Effects of Derealisation], Multimedijalni institut mi2 – mama Zagreb, Croatia and Košnica – Centar za
komunikaciju i kulturu, Sarajevo, BiH, 2005.
Ivana Ivković studies at the Department of Dramaturgy at the Academy of Drama Arts in
Zagreb. She is a member of the editorial board of Frakcija Magazine for Performing Arts and
also collaborates with the 3rd Program of Croatian Radio, with several publications, with the
Center for Drama Art and works as the general coordinator of Zagreb – Cultural Kapital of
Europe 3000, a project jointly organized by Zagreb's eight independent cultural organizations
from the fields of performing arts, new media, visual arts, architecture and theory. She
collaborates as a dramaturge with two Zagreb-based independent companies – oour (dance
productions: orangecut (2004), To be Confirmed (2005)) and BADco. (productions: Deleted
Messages, Fleshdance (2004), research project ...2005...shared space in 2005).
Leonardo Kovačević is an editor of philosophy and theology on the 3rd Program of Croatian
Radio. He jointly heads the Transverzala program of the Multimedia Institute in Zagreb with
Vesna Vuković, translates and publishes articles from the field of contemporary aesthetic and
political theory, and philosophy of religion. He lives and works in Zagreb, Croatia.
Bojana Kunst, PhD, is a philosopher and performance theoretician. She is currently working
as a researcher at the University of Ljubljana, Faculty of Arts – Department for Sociology. In
the year 2005, she was a guest professor at the Institute for Applied Theatre Science in
Giessen. She is a member of the editorial board of Maska Magazine. Her essays have
appeared in numerous journals and publications and she has taught and lectured extensively in
Europe. She has published three books, among them Impossible Body (Ljubljana 1999),
Dangerous Connections: Body, Philosophy and Relation to the Artificial (Ljubljana, 2004).
She is also working as a dramaturge (recently with Hooman Sharifi, Paz Rojo and Cristian
Duarte). She also leads the international seminar for performing arts in Ljubljana.
Tomislav Medak is a philosopher with interests in constellations of contemporary social,
biopolitical and media theory. He co-ordinates the theory and research program and
publishing activities at the Multimedia Institute in Zagreb. He is active as a performer and
choreographer with the Zagreb-based company BADco.
Petar Milat is co-director of the theory department 'past.forward' of the net.culture center
"mama" in Zagreb, and a non-academic scholar and translator. He is the editor of several
philosophical, social and media theory book-series and is especially interested in the
interrelations between contemporary social theory and aesthetics, with an accent on French
and Italian philosophical contexts. Milat lives in the Yugoslav triangle Belgrade-KorčulaZagreb.
Aldo Milohnić, MA in sociology of culture, is a researcher at the Institute for Contemporary
Social and Political Studies (Peace Institute Ljubljana) where he leads research projects in the
fields of sociology of culture and cultural politics. He is editor of the Politike book series, and
member of Maska and Frakcija editorial boards. He is the co-author and co-editor of several
books and collections of essays on performing arts theory, epistemology of the humanities,
sociology of migrations and cultural policy, among others: Along the Margins of Humanities
(1996, with Rastko Močnik), Europe's Gatekeepers. The Politics of Migration and Asylum in
Eastern Europe (2001), The Book Culture (2005) and Culture Ltd: Material Conditions of
Cultural Production (2006). He is currently editing a thematic issue of the Maska journal on
the topic "Artivism or How to Do Things with Performative Actions" (forthcoming in spring
2006).
Domenico Quaranta is a doctoral student in Art, Communication and New Technologies at
the University of Genova. His work as an art critic and curator is strongly focused on new
media, net art, the use and abuse of the digital and bio technologies. His first book, NET ART
1994-1998. La vicenda di Äda'web, about the first years of net art and the history of the New
York based "digital foundry" Äda'web, was published in 2004. In 2005, he curated the
"GameScenes" section of the Piemonte Share Festival 2005 (on game hacking and game art)
and co-curated, along with Luca Lampo, Marco Deseriis and 0100101110101101.ORG, the
"Connessioni Leggendarie" exhibition on the history of net.art. He is now working (with
Matteo Bittanti) on a book on game aesthetics in game art.