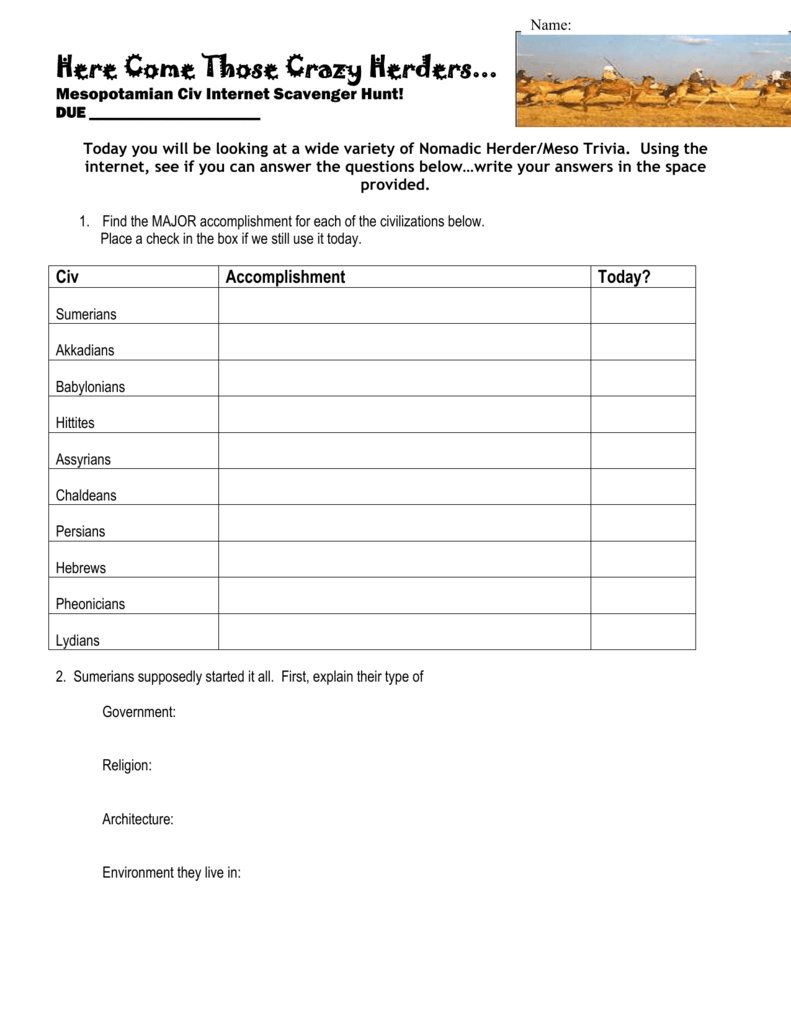 Name: _________________________
Here Come Those Crazy Herders...
Mesopotamian Civ Internet Scavenger Hunt!
DUE ______________________
Today you will be looking at a wide variety of Nomadic Herder/Meso Trivia. Using the
internet, see if you can answer the questions below…write your answers in the space
provided.
1. Find the MAJOR accomplishment for each of the civilizations below.
Place a check in the box if we still use it today.
Civ
Accomplishment
Sumerians
Akkadians
Babylonians
Hittites
Assyrians
Chaldeans
Persians
Hebrews
Pheonicians
Lydians
2. Sumerians supposedly started it all. First, explain their type of
Government:
Religion:
Architecture:
Environment they live in:
Today?
3. What is the Code of Hammarabi & where did it originate? Find one modern day example of this.
4. What is the Legal System of the Hebrews & how is it different than that of the Hittites?
5. What was the greatest achievement of the Lydians? What economic system came from it?
6. Print out a sample of the Phoenician alphabet & attach it to your answers. Which of "our letters" do you see in their
alphabet? How is this a good example of cultural diffusion?
7. Please create a timeline of the Ancient Mesopotamian civilizations on word. When you finish it, print it out and attach
it to this sheet. The format is your choice, just include dates. You are also more than welcome to use Google
Images…but its not required. Make sure to include ALL of the following: Sumerians, Akkadians, Babylonians, Hittites,
Assyrians. Chaldeans, Persians, Hebrews, Phoenicians, Lydians. DO NOT JUST PRINT OUT ONE ALREADY ON THE
INTERNET….THAT'S PLAGARISM!
EC. Find some Mesopotamia quizzes online….see how you do!
Write any good quiz websites below & the grade you got on the quizzes.