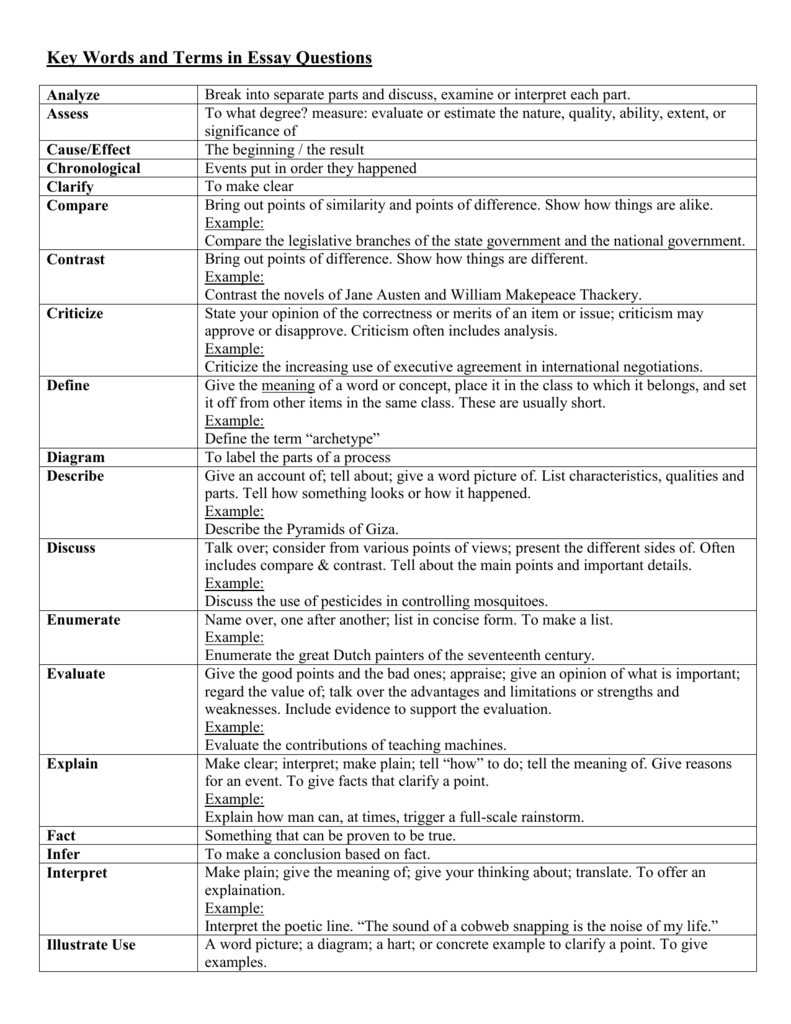 Key Words and Terms in Essay Questions
Analyze
Assess
Cause/Effect
Chronological
Clarify
Compare
Contrast
Criticize
Define
Diagram
Describe
Discuss
Enumerate
Evaluate
Explain
Fact
Infer
Interpret
Illustrate Use
Break into separate parts and discuss, examine or interpret each part.
To what degree? measure: evaluate or estimate the nature, quality, ability, extent, or
significance of
The beginning / the result
Events put in order they happened
To make clear
Bring out points of similarity and points of difference. Show how things are alike.
Example:
Compare the legislative branches of the state government and the national government.
Bring out points of difference. Show how things are different.
Example:
Contrast the novels of Jane Austen and William Makepeace Thackery.
State your opinion of the correctness or merits of an item or issue; criticism may
approve or disapprove. Criticism often includes analysis.
Example:
Criticize the increasing use of executive agreement in international negotiations.
Give the meaning of a word or concept, place it in the class to which it belongs, and set
it off from other items in the same class. These are usually short.
Example:
Define the term "archetype"
To label the parts of a process
Give an account of; tell about; give a word picture of. List characteristics, qualities and
parts. Tell how something looks or how it happened.
Example:
Describe the Pyramids of Giza.
Talk over; consider from various points of views; present the different sides of. Often
includes compare & contrast. Tell about the main points and important details.
Example:
Discuss the use of pesticides in controlling mosquitoes.
Name over, one after another; list in concise form. To make a list.
Example:
Enumerate the great Dutch painters of the seventeenth century.
Give the good points and the bad ones; appraise; give an opinion of what is important;
regard the value of; talk over the advantages and limitations or strengths and
weaknesses. Include evidence to support the evaluation.
Example:
Evaluate the contributions of teaching machines.
Make clear; interpret; make plain; tell "how" to do; tell the meaning of. Give reasons
for an event. To give facts that clarify a point.
Example:
Explain how man can, at times, trigger a full-scale rainstorm.
Something that can be proven to be true.
To make a conclusion based on fact.
Make plain; give the meaning of; give your thinking about; translate. To offer an
explaination.
Example:
Interpret the poetic line. "The sound of a cobweb snapping is the noise of my life."
A word picture; a diagram; a hart; or concrete example to clarify a point. To give
examples.
Justify
Opinion
Outline
Predict
Prove
Question
Reflect
Refute
Relate
Sequence
State
Summarize
To what extent
Trace
Example:
Illustrate the use of catapults in amphibious warfare of Alexander.
Show good reason for; give your evidence; present facts to support your position.
Example:
Justify the American entry into World War II.
Belief based on what a person thinks or feels
Describe main ideas; characteristics or events. Does not necessarily mean, write
Roman numeral letter outline.
To make a guess about the future
Establish the truth of something by giving factual evidence or logical reasons.
Especially use facts brought out in class.
Example:
Prove that in a full-employment economy, a society can get more of one product only
by giving up another product.
To ask.
To think about
To prove a given position to be false
Show connections between events or ideas; provide a larger context. To show how
things are alike or connected.
To put in correct order
Explain concisely.
Sum up; give the main points briefly. Include conclusions; avoid unnecessary details.
Example:
Summarize the ways in which man preserves food.
The measurement of an action
Follow the course of; follow the trail of; give a description of progress. To tell about
the progress or growth.
Example:
Trace the development of television in school instruction.