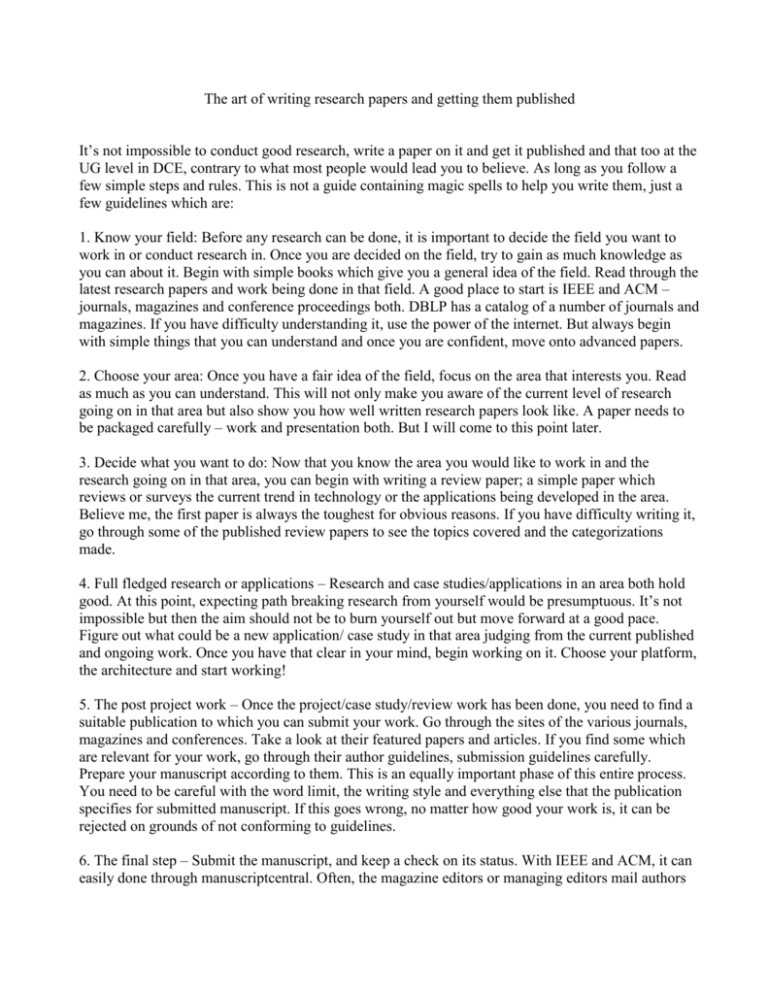 The art of writing research papers and getting them published
It's not impossible to conduct good research, write a paper on it and get it published and that too at the
UG level in DCE, contrary to what most people would lead you to believe. As long as you follow a
few simple steps and rules. This is not a guide containing magic spells to help you write them, just a
few guidelines which are:
1. Know your field: Before any research can be done, it is important to decide the field you want to
work in or conduct research in. Once you are decided on the field, try to gain as much knowledge as
you can about it. Begin with simple books which give you a general idea of the field. Read through the
latest research papers and work being done in that field. A good place to start is IEEE and ACM –
journals, magazines and conference proceedings both. DBLP has a catalog of a number of journals and
magazines. If you have difficulty understanding it, use the power of the internet. But always begin
with simple things that you can understand and once you are confident, move onto advanced papers.
2. Choose your area: Once you have a fair idea of the field, focus on the area that interests you. Read
as much as you can understand. This will not only make you aware of the current level of research
going on in that area but also show you how well written research papers look like. A paper needs to
be packaged carefully – work and presentation both. But I will come to this point later.
3. Decide what you want to do: Now that you know the area you would like to work in and the
research going on in that area, you can begin with writing a review paper; a simple paper which
reviews or surveys the current trend in technology or the applications being developed in the area.
Believe me, the first paper is always the toughest for obvious reasons. If you have difficulty writing it,
go through some of the published review papers to see the topics covered and the categorizations
made.
4. Full fledged research or applications – Research and case studies/applications in an area both hold
good. At this point, expecting path breaking research from yourself would be presumptuous. It's not
impossible but then the aim should not be to burn yourself out but move forward at a good pace.
Figure out what could be a new application/ case study in that area judging from the current published
and ongoing work. Once you have that clear in your mind, begin working on it. Choose your platform,
the architecture and start working!
5. The post project work – Once the project/case study/review work has been done, you need to find a
suitable publication to which you can submit your work. Go through the sites of the various journals,
magazines and conferences. Take a look at their featured papers and articles. If you find some which
are relevant for your work, go through their author guidelines, submission guidelines carefully.
Prepare your manuscript according to them. This is an equally important phase of this entire process.
You need to be careful with the word limit, the writing style and everything else that the publication
specifies for submitted manuscript. If this goes wrong, no matter how good your work is, it can be
rejected on grounds of not conforming to guidelines.
6. The final step – Submit the manuscript, and keep a check on its status. With IEEE and ACM, it can
easily done through manuscriptcentral. Often, the magazine editors or managing editors mail authors
for more information and clarification for which authors have 48 hours to respond. The manuscript
will go through a peer review process after which the decision is communicated to the authors. If they
accept manuscripts but require revision, the editor will let you know the reviewers comments and the
changes required. Depending upon the process followed by the publication, the copy editing process
will begin hereafter. This varies from one publication to another.
7. Finally, the publication!! – You will see your paper in the scheduled volume and issue of the
journal, the magazine or the conference proceeding which will be communicated to you in advance.
For more specific questions or for getting an idea of how some works published at the UG level look
like, mail me at pretsbhargava@gmail.com
Preeti Bhargava (DCE – IT, Class of 2007)
Member Technical Staff – Oracle Web Services Manager
Oracle India Pvt. Ltd.