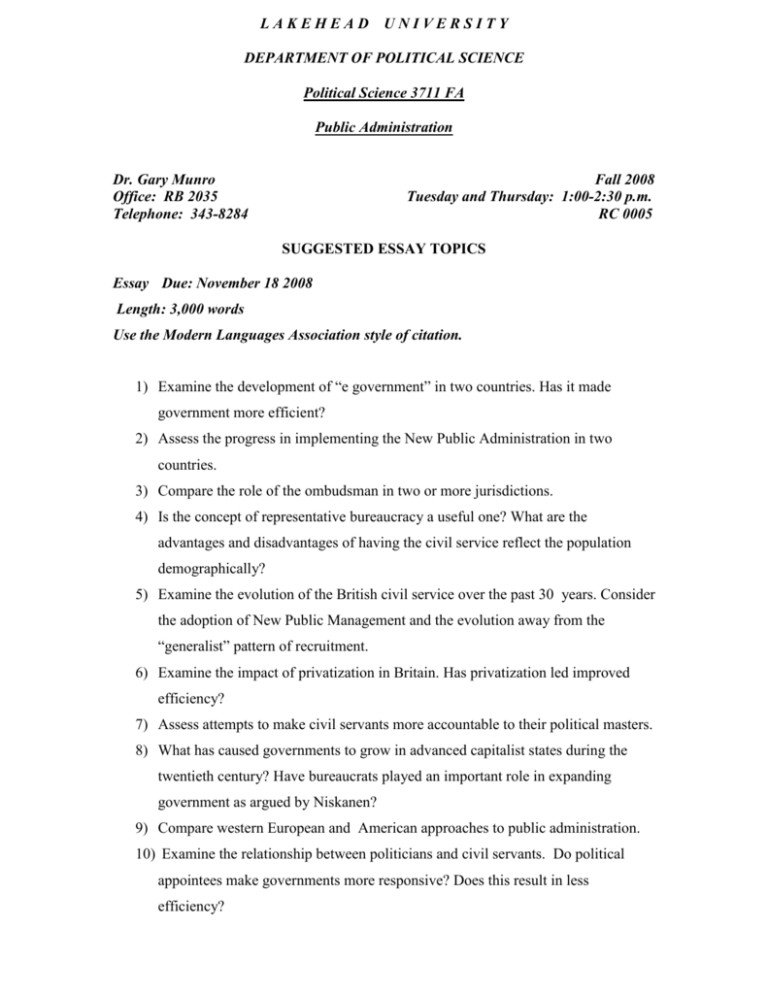 LAKEHEAD
UNIVERSITY
DEPARTMENT OF POLITICAL SCIENCE
Political Science 3711 FA
Public Administration
Dr. Gary Munro
Office: RB 2035
Telephone: 343-8284
Fall 2008
Tuesday and Thursday: 1:00-2:30 p.m.
RC 0005
SUGGESTED ESSAY TOPICS
Essay Due: November 18 2008
Length: 3,000 words
Use the Modern Languages Association style of citation.
1) Examine the development of "e government" in two countries. Has it made
government more efficient?
2) Assess the progress in implementing the New Public Administration in two
countries.
3) Compare the role of the ombudsman in two or more jurisdictions.
4) Is the concept of representative bureaucracy a useful one? What are the
advantages and disadvantages of having the civil service reflect the population
demographically?
5) Examine the evolution of the British civil service over the past 30 years. Consider
the adoption of New Public Management and the evolution away from the
"generalist" pattern of recruitment.
6) Examine the impact of privatization in Britain. Has privatization led improved
efficiency?
7) Assess attempts to make civil servants more accountable to their political masters.
8) What has caused governments to grow in advanced capitalist states during the
twentieth century? Have bureaucrats played an important role in expanding
government as argued by Niskanen?
9) Compare western European and American approaches to public administration.
10) Examine the relationship between politicians and civil servants. Do political
appointees make governments more responsive? Does this result in less
efficiency?