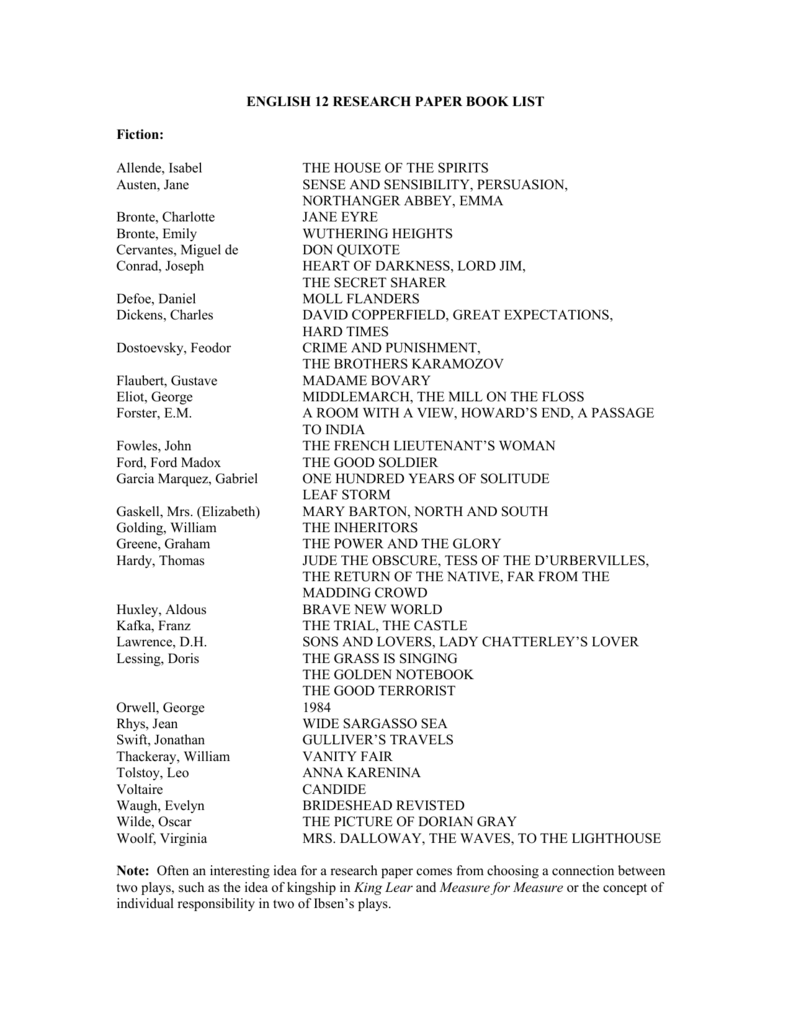 ENGLISH 12 RESEARCH PAPER BOOK LIST
Fiction:
Allende, Isabel
Austen, Jane
Bronte, Charlotte
Bronte, Emily
Cervantes, Miguel de
Conrad, Joseph
Defoe, Daniel
Dickens, Charles
Dostoevsky, Feodor
Flaubert, Gustave
Eliot, George
Forster, E.M.
Fowles, John
Ford, Ford Madox
Garcia Marquez, Gabriel
Gaskell, Mrs. (Elizabeth)
Golding, William
Greene, Graham
Hardy, Thomas
Huxley, Aldous
Kafka, Franz
Lawrence, D.H.
Lessing, Doris
Orwell, George
Rhys, Jean
Swift, Jonathan
Thackeray, William
Tolstoy, Leo
Voltaire
Waugh, Evelyn
Wilde, Oscar
Woolf, Virginia
THE HOUSE OF THE SPIRITS
SENSE AND SENSIBILITY, PERSUASION,
NORTHANGER ABBEY, EMMA
JANE EYRE
WUTHERING HEIGHTS
DON QUIXOTE
HEART OF DARKNESS, LORD JIM,
THE SECRET SHARER
MOLL FLANDERS
DAVID COPPERFIELD, GREAT EXPECTATIONS,
HARD TIMES
CRIME AND PUNISHMENT,
THE BROTHERS KARAMOZOV
MADAME BOVARY
MIDDLEMARCH, THE MILL ON THE FLOSS
A ROOM WITH A VIEW, HOWARD'S END, A PASSAGE
TO INDIA
THE FRENCH LIEUTENANT'S WOMAN
THE GOOD SOLDIER
ONE HUNDRED YEARS OF SOLITUDE
LEAF STORM
MARY BARTON, NORTH AND SOUTH
THE INHERITORS
THE POWER AND THE GLORY
JUDE THE OBSCURE, TESS OF THE D'URBERVILLES,
THE RETURN OF THE NATIVE, FAR FROM THE
MADDING CROWD
BRAVE NEW WORLD
THE TRIAL, THE CASTLE
SONS AND LOVERS, LADY CHATTERLEY'S LOVER
THE GRASS IS SINGING
THE GOLDEN NOTEBOOK
THE GOOD TERRORIST
1984
WIDE SARGASSO SEA
GULLIVER'S TRAVELS
VANITY FAIR
ANNA KARENINA
CANDIDE
BRIDESHEAD REVISTED
THE PICTURE OF DORIAN GRAY
MRS. DALLOWAY, THE WAVES, TO THE LIGHTHOUSE
Note: Often an interesting idea for a research paper comes from choosing a connection between
two plays, such as the idea of kingship in King Lear and Measure for Measure or the concept of
individual responsibility in two of Ibsen's plays.
Drama:
Anouilh, Jean
Aristophanes
Beckett, Samuel
Chechov, Anton
Euripedes
Ibsen, Henrik
Sartre, Jean Paul
Shakespeare, William
Shaw, George Bernard
Stoppard, Tom
Wilde, Oscar
ANTIGONE, BECKETT
LYSISTRATA
WAITING FOR GODOT, ENDGAME
THE CHERRY ORCHARD, THE SEAGULL
MEDEA
A DOLL'S HOUSE, GHOSTS, HEDDA GABLER
NO EXIT, DIRTY HANDS
MIDSUMMER NIGHT'S DREAM, MEASURE FOR
MEASURE, MACBETH, MERCHANT OF VENICE,
TAMING OF THE SHREW, OTHELLO, RICHARD III, THE
TEMPEST, etc.
PYGMALION, ARMS AND THE MAN
ROSENCRANTZ AND GUILDENSTERN ARE DEAD
LADY WINDEMERE'S FAN, THE IMPORTANCE OF
BEING EARNEST
This is a list of suggestions. If you would like to read another piece of world literature or
research a collection of poetry, just check your selection with me.
SUMMER READINIG REQUIREMENT: In addition, incoming English 12 students
are to read Three Cups of Tea, by Greg Mortenson and David Oliver Relin. This
acclaimed non-fiction work has been on national best sellers lists since it was published.
It is the heroic account of one man's efforts to change life for impoverished youngsters in
remote parts of Pakistan and Afghanistan through building schools. One of the authors,
David Relin, was the keynote speaker at this year's Food For Thought luncheon.