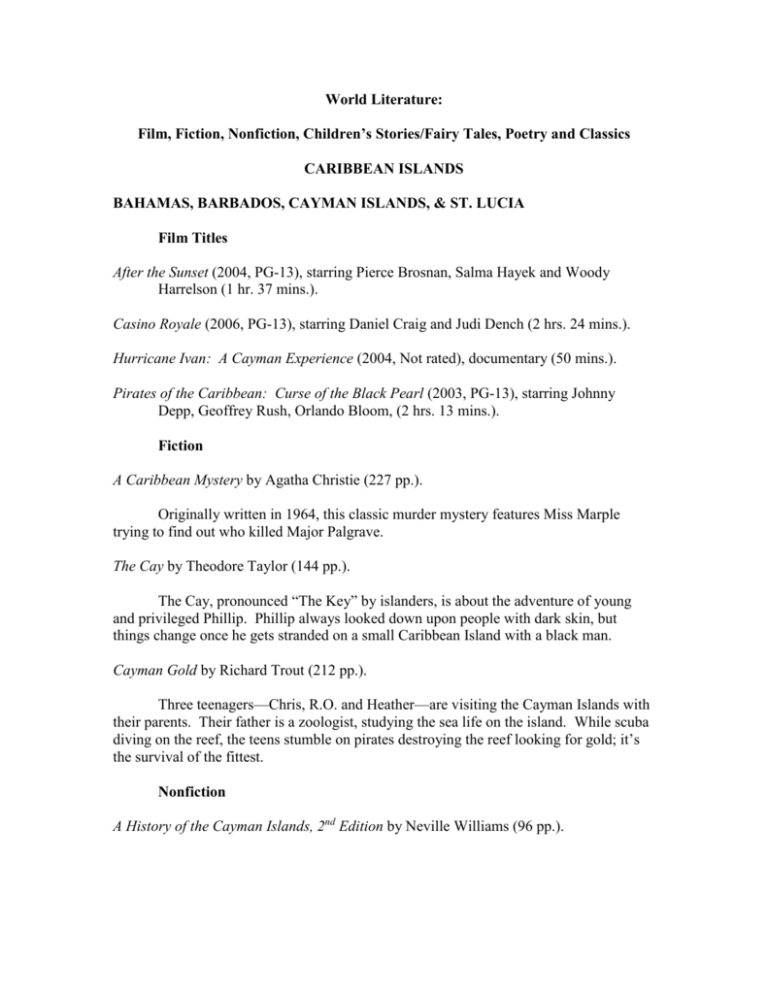 World Literature:
Film, Fiction, Nonfiction, Children's Stories/Fairy Tales, Poetry and Classics
CARIBBEAN ISLANDS
BAHAMAS, BARBADOS, CAYMAN ISLANDS, & ST. LUCIA
Film Titles
After the Sunset (2004, PG-13), starring Pierce Brosnan, Salma Hayek and Woody
Harrelson (1 hr. 37 mins.).
Casino Royale (2006, PG-13), starring Daniel Craig and Judi Dench (2 hrs. 24 mins.).
Hurricane Ivan: A Cayman Experience (2004, Not rated), documentary (50 mins.).
Pirates of the Caribbean: Curse of the Black Pearl (2003, PG-13), starring Johnny
Depp, Geoffrey Rush, Orlando Bloom, (2 hrs. 13 mins.).
Fiction
A Caribbean Mystery by Agatha Christie (227 pp.).
Originally written in 1964, this classic murder mystery features Miss Marple
trying to find out who killed Major Palgrave.
The Cay by Theodore Taylor (144 pp.).
The Cay, pronounced "The Key" by islanders, is about the adventure of young
and privileged Phillip. Phillip always looked down upon people with dark skin, but
things change once he gets stranded on a small Caribbean Island with a black man.
Cayman Gold by Richard Trout (212 pp.).
Three teenagers—Chris, R.O. and Heather—are visiting the Cayman Islands with
their parents. Their father is a zoologist, studying the sea life on the island. While scuba
diving on the reef, the teens stumble on pirates destroying the reef looking for gold; it's
the survival of the fittest.
Nonfiction
A History of the Cayman Islands, 2nd Edition by Neville Williams (96 pp.).
6-2
Williams writes about pirates hiding their gold in the bluffs of Cayman Brac and
describes why the island was named Cayman Islands. He also describes the value of the
turtle and how the people have survived through so many hurricanes.
Children's Story
An Evening in Guanima: A Treasury of Folktales from the Bahamas, 2nd Edition by
Patricia Glinton-Meicholas (159 pp.).
Bahamian folktales are primarily a part of African heritage and are meant to be
performed. This collection contains magic drums, ghosts, obedient and disobedient
children, heroes, tricksters, and birds that assume human form where poetic justice rings
true.
My Grandpa and the Sea by Katherine Orr (32 pp.).
Grandpa lives on the Caribbean Island of St. Lucia and teaches his granddaughter
Lila about appreciation. He's one of the fishermen of the island who makes his living the
old way, the non greedy way.
CUBA
Film Titles
American Experience: Fidel Castro (2005, Not rated), documentary (2 hrs.).
Cuba Story, 1953 (2002, Not rated), documentary (50 mins.).
Dirty Dancing: Havana Nights (2004, PG-13), starring Romola Garai and Diego Luna (1
hr. 26 mins.).
Fidel: The Untold Story (2003, Not rated), starring Fidel Castro and Harry Belafonte (1
hr. 31 mins.).
Thirteen Days (2001, PG-13), starring Shawn Driscoll and Kevin Costner (2 hrs. 27
mins.).
Fiction
Raining Sardines by Enrique Flores-Galbis (176 pp.).
Set in pre-Castro Cuba, this is the story of two girls' struggle to save wild horses
from the hands of a wealthy landowner who's running the horses off to grow a coffee
plantation—or so he says.
From Amigos to Friends by Pelayo "Pete" Garcia (242 pp.).
6-3
Based on historical fact, this is a book about three boys' coming-of-age stories as
a result of the Cuban Revolution. David, Carlos, and Luis grow up quickly when they go
into exile and become refugees.
Heat by Mike Lupica (220 pp.).
Michael Arroyo is the star pitcher of his little league team but jealousy starts a
rumor that he is older than 12 years old and that causes a big problem. Michael cannot
produce a birth certificate because his Papi died of a heart attack after they fled Cuba.
Michael cares for his younger brother, but social services is on the horizon.
Cuba 15 by Nancy Osa (304 pp.).
With a Cuban father and a Polish mother, Violat Paz's 15th birthday is going to be
different. Her grandparents on her father's side are coming to visit, so she's having a
Cuban 15 or quinceanera party even though she's not familiar with Cuban traditions.
Cubanita by Gaby Triana (208 pp.).
Seventeen-year-old Isabel Díaz is ready to leave her Miami home to attend
college in the fall and be the American girl she is, but her Mami pushes her to focus on
her Cuban heritage and home—in its truest sense!
Flight to Freedom by Ana Veciana-Suarez (224 pp.).
This novel is based on 13-year-old Yara's actual diary accounts of fleeing from
Castro's Cuba and transitioning to the American way of life in the late Sixties.
Nonfiction
Next Year in Cuba: A Cubano's Coming-of-age in America by Gustavo Pérez Firmat
(213 pp.).
Gustavo Perez Firmat and his entire family escaped from Cuba when Castro came
into power in 1960. The book starts when he is 11 years old growing up in Dade County,
Florida, and continues through his graduation from college, his marriage, and their
rearing of his "ABCs"—American Born Cubans! The title comes from a Cuban tradition
at Christmas.
Hemingway in Cuba by Hilary Hemingway and Carlene Brennan (288 pp.).
Ernest Hemingway's niece Hilary partners with Carlene Brennan to give readers a
view of the life Hemingway lived in Cuba from 1928 to 1954.
Exiled Memories: A Cuban Childhood by Pablo Medina (135 pp.).
6-4
Pablo Medina arrived in the United States at the age of 12 when his family fled
the Castro regime in 1960. As an adult, he recalls his ideal childhood in Cuba in an effort
to make sense of its revolution.
Children's Story
Cuban Kids by George Ancona (40 pp.).
The author uses his camera to take photos of kids in their regular routines to make
the nonfiction story of their lives in Cuba meaningful.
Martina the Beautiful Cockroach: A Cuban Folktale by Carmen Agra Deedy and
illustrated by Michael Austin (32 pp.).
Martina Josefina Catalina Cucaracha is a beautiful 21-day-old cockroach living in
Old Havana. Because it's time for her to find a husband, she's told to use hot coffee for a
lure, but nothing turns out right until Perez the mouse responds appropriately for her.
Poetry Resources
Cool Salsa: Bilingual Poems on Growing Up Latino in the United States (Sandra M.
Castillo, Oscar Hijuelos, Carolina Hospital, Pablo Medina, Berta G. Montalvo &
E.J. Vega, poets) edited by Lori M. Carlson (160 pp.).
Cubanisimo!: The Vintage Book of Contemporary Cuban Literature edited by Cristina
Garcia (400 pp.).
Classics
Jose Marti: Selected Writings translated by Esther Allen (496 pp.).
Islands in the Stream by Ernest Hemingway (448 pp.).
HAITI
Film Titles
The Agronomist (2001, PG-13), documentary (1 hr. 30 mins.).
The Man by the Shore (1993, Not rated), starring Jennifer Zubar, Toto Bissainthe, JeanMichel Martial, Patrick Rameau, and Mireille Metellus (1 hr. 45 mins.).
Port-au-Prince is Mine (2000, Not rated), documentary (57 mins.).
Fiction
6-5
Anacaona, Golden Flower, Haiti, 1490 by Edwidge Danticat (192 pp.).
In 15th century Haiti, there lived a young, beautiful queen by the name of
Anacaona who gracefully ruled the Tainos until the Spanish conquistadors arrived and
brought much devastation.
Behind the Mountains by Edwidge Danticat (166 pp.).
Celine's father left her and her family in Haiti to make a better life for all of them
in New York. After five years, the family reunites with him. This is 13-year-old
Celine's diary, from October 2000 to March 2001, where she records her experience
adjusting to a new way of life.
Fresh Girl by Jaira Placide (216 pp.).
Mardi, a Haitian-American 14 year old, is dealing with an awful lot these days.
She can handle the teasing and a certain boy, but it's what happened to her while she was
living in Haiti with her grandmother during a military coup that's making her behave
strangely.
Tonight, by Sea by Frances Temple (160 pp.).
Paulie is a young girl living in Belle Fleuve with her Uncle and Grann Adeline.
After the military overthrow of Jean-Bertrand Aristide, the Macoutes or bad men, are
wreaking terror. Her uncle decides to build a boat—rather than so many coffins—so they
can flee to "Mee-ay-mee" a.k.a Miami for safety.
Nonfiction
Restavec by Jean-Robert Cadet (304).
If parents agreed to let their children read Mathabane's Kaffir Boy, this is another
one just as horrifying. Restavecs are young Haitian slaves who are denied education,
dignity, and love. Jean-Robert escaped his life as a restavec and lived to tell about it in
this autobiography that shows the importance of education.
Children's Story
The Magic Orange Tree and other Haitian Folktales compiled by Diane Wolkstein (224
pp.).
This is a collection of 27 folktales, including "The Magic Orange Tree" which is
about a girl and her evil stepmother.
Selavi, That Is Life: A Haitian Story of Hope by Landowne Youme (40 pp.).
6-6
Selavi is a homeless boy living on the streets of Port-au-Prince. With the help of
a church, he and other street children build a "home" and radio station where they can
care for themselves and others.
Poetry Resources
Open Gate: An Anthology of Haitian Creole Poetry edited by Paul Laraque and Jack
Hirschman (235 pp.).
When the Tom-Tom Beats: Selected Prose & Poetry by Jacques Roumain (109 pp.).
Classics
Krik? Krak! by Edwidge Danticat (240 pp.).
Masters of the Dew by Jacques Roumain and translated by Langston Hughes and Mercer
Cook (188 pp.).
JAMAICA
Film Titles
Bob Marley and The Wailers: The Bob Marley Story (1984, Not rated), documentary (1
hr. 4 mins.).
Cool Runnings (1993, PG), starring John Candy, Doug E. Doug, Leon, Malik Yoba, and
Rawle Lewis (1 hr.38 mins.).
Marcus Garvey: Look for Me in the Whirlwind (2001, not rated), documentary (1hr. 30
mins.).
Fiction
A Jamaican Storyteller's Tale by Lorrimer Burford (164 pp.).
As a small boy, Cecil and his family leave Jamaica and go to Florida to work in
the sugar cane fields around Okeechobee. Cecil loves to hear his father's storytelling, but
his mother wants him to learn proper English and attend school.
Abeng by Michelle Cliff (176 pp.).
Twelve-year-old Clare Savage begins to consider what it means to be raised by
multiracial parents in Jamaica. Her father is white and extremely prejudiced, and her
mother is mixed but yields to her husband. Because Clare is light, she is treated
differently than her darker best friend.
6-7
Pirates! by Celia Rees (340 pp.).
This award-winning novel will keep the most reluctant of readers turning the
pages with the swashbuckling adventures of two girls. The daughter of a rich merchant
and the other a daughter of a Jamaican plantation slave disguise themselves as pirates for
an 18th century adventure of a lifetime.
Every Time a Rainbow Dies by Rita Williams-Garcia (176 pp.).
For mature readers only, this is the story of 16-year-old Thulani who witnesses a
rape and assists the victim. Thulani is also dealing with the fact that his mother, ill with
cancer, decided to leave their New York home to return to their native Jamaica to die.
Nonfiction
Slipstream: A Daughter Remembers by Rachel Manley (304 pp.).
Michael Manly was the Prime Minister of Jamaica for 11 years in the Seventies
and Eighties and is associated with Jamaica's independence. This is his story as told by
his daughter, Rachel, beginning with her view as an 8 year old through her adulthood.
The Gathering of the Healers by Robert and Julia Roskind (304 pp.).
Don't let the length intimidate you. In response to Jamaica's increase in violence,
these authors challenged all Jamaicans to embrace Bob Marley's message of One Love,
Jamaica's Message to the World. By encouraging Jamaica to heal itself with love and
forgiveness, the murder rate in Jamaica dropped by 20 per cent.
Children's Story
Doctor Bird: Three Lookin' Up Tales from Jamaica by Gerald Hausman and Ashley
Wolff (40 pp.).
Three tales starring the one and only Doctor Bird, a hummingbird that is only
native to Jamaica and is its national bird, is revered in the Jamaican culture. Doctor bird
is believed to have magic powers and uses "tricks" to teach lessons to animals.
Anancy the Spider Man by Philip M. Sherlock and illustrated by Marcia Brown (96 pp.).
Fifteen Jamaican folk tales are included, featuring Anancy, a clever arachnid that
is the protagonist in many Jamaican children stories. It is believed these stories were
brought to Jamaica by storytelling African slaves.
J Is for Jamaica by Benjamin Zephaniah (32 pp.).
6-8
This is an ABC book of Jamaican culture where C is for "cricket" not "cat" and U
is for "ugli fruit" and not "unicorn."
Poetry Resources
Selected Poems of Claude McKay by Claude McKay (110 pp.).
Classics
Brother Man by Roger Mais (191 pp.)
The Hills Were Joyful Together by Roger Mais (304 pp.).
PUERTO RICO
Film Titles
Boricua Beisbol (Major League Baseball): The Passion of Puerto Rico (2003, Not
rated), documentary (1 hr. 25 mins.).
Memories of Puerto Rico (2007, Not rated), video and photos (1 hr. 11 mins.).
Fiction
Call Me Maria by Judith Ortiz Cofer (144 pp.).
Having been born and raised in Puerto Rico, Maria's world gets rattled when she
decides to join her father in the barrio of New York where she's introduced to another
language—Spanglish.
The Meaning of Consuelo by Judith Ortiz Cofer (185 pp.).
Consuelo, whose name means comfort and consolation, is the elder of two girls
growing up in Puerto Rico in the Fifties. Consuelo constantly has to take care of her little
sister Milagros who actively brings drama into their lives, while their mother tries to live
by tradition with their father who's enamored by the glamour of the United States. Both
Consuleo and her country must learn independence.
Going Home by Nicholasa Mohr (192 pp.).
Although Felita is Puerto Rican by blood, she is an American by birth. When the
opportunity arises for her to spend an entire summer with her uncle in Puerto Rico, Felita
jumps at the chance. Felita is both glad and sad when she must leave to return to New
York. Readers might want to read its prequel, Felita (112 pp.), where she's trying to
adjust to a new American neighborhood where she gets teased for her ethnicity.
6-9
Emily Goldberg Learns to Salsa by Micol Ostow (288 pp.).
When Emily's mother left Puerto Rico to pursue an education in New York, there
was no reason to return home except when her own mother passes away. Emily
accompanies her mother to the funeral and spends a life-changing summer in Puerto Rico
learning about culture and family secrets, past and present.
Nonfiction
Silent Dancing: A Partial Remembrance of a Puerto Rican Childhood by Judith Ortiz
Cofer (168 pp.)
In 13 essays and some poems, Judith alternates between hot and cold while
growing up in Puerto Rico during the summers and in New York during the school year.
After her father joined the Navy, he would send for her and her mother and brother to
join him in New York. While he went out to sea, they would return to their home
country. Such is the life of young Judith as she dances within two cultures.
When I Was Puerto Rican by Esmeralda Santiago (288 pp.).
In this memoir, Esmeralda recounts growing up in rural Puerto Rico with seven
siblings and discontented parents. Seeking a better economic life in America, she and her
family move to their abuela's (grandmother's) house in New York City. Esmeralda
attends a school where teachers don't know how to teach a teenager who knows no
English. Its sequel, Almost a Woman (336 pp.), picks up where she left off as a young
teenager through to just days before her 21st birthday.
Pride of Puerto Rico: The Life of Roberto Clemente by Paul Robert Walker (176 pp.).
As the title implies, Walker captures the pride of a country for a boy who
becomes a great baseball player in spite of growing up playing with a stick and a ball
made of rags. While touring with the Pittsburgh Pirates, all was not fun and games for
Roberto as he experiences prejudice for the first time.
Children's Story
The Golden Flower: A Taino Myth from Puerto Rico by Nina Jaffe and illustrated by
Enrique O. Sanchez (32 pp.).
A Taino Indian tells the story of how Puerto Rico was created. At first there was
nothing until a boy plants a seed on top of a mountain and the rest is history.
Juan Bobo and the Horse of Seven Colors: A Puerto Rican Legend by Jan Mike and
illustrated by Charles Reasoner (32 pp.).
6-10
According to the author, "Juan Bobo stories were told by the jibaros to make fun
of the often pompous and silly behavior of the aristocratic Spanish rulers and the Puerto
Ricans who imitated them." In this case Juan Bobo (John Fool) captures a magical horse
of seven colors who trades seven magical tail hairs in exchange for his freedom. How
Juan Bobo uses his wishes will make even a princess laugh.
Poetry Resources
Cool Salsa: Bilingual Poems on Growing Up Latino in the United States (Judith Ortiz
Cofer, Pedro Pietri, & Johanna Vega, poets) edited by Lori M. Carlson (160 pp.).
The Year of Our Revolution: New and Selected Stories and Poems by Judith Ortiz Cofer
(128 pp.).
Classics
The Labyrinth by Enrique A. Laguerre (275 pp.).
Down These Mean Streets by Piri Thomas (352 pp.).
La Charca (The Pond) by Manuel Zeno-Gandia (216 pp.).
EUROPEAN CONTINTENT
BOSNIA
Film Titles
Grbavica (Esma's Secret): The Land of My Dreams (2007, Not rated), starring Mirjana
Karanovic (II), Luna Mijovic, and Leon Lucev (1 hr. 30 mins.) . English
subtitles.
Fiction
Under the Sun by Arthur Dorros (224 pp.).
While reading about 13-year-old Ehmet's struggle to survive in war-torn Sarajevo
in the early 1990s, readers might make the connection between this war and the
Holocaust.
Nonfiction
Zlata's Diary by Zlata Filipovic (208 pp.).
6-11
Zlata Filipovic started her diary in the 5th grade and kept it for two years.
Beginning in September 1991, she writes about what life was like for her and her family
during the war.
Sarajevo Days, Sarajevo Nights by Elma Softic (200 pp.).
This is a collection of diary entries and letters written by Sarajevo native, Elma
Softic. The first entry begins in April 1992 and follows her life living in Bosnia during
the horrors of war.
Children's Story
A Bosnian Family by Robin Landew Silverman (64 pp.).
There are a lot of pictures in this true story about the Duspers, a Bosnian family
who leaves their country to seek refuge in Grand Forks, North Dakota. The Yugoslavian
fairy tale, "Bas Celik," is also included.
Gleam and Glow by Eve Bunting and illustrated by Peter Sylvada (32 pp.).
Based on a true story, Bunting tells of 8-year-old Viktor and how two little
goldfish offer hope in a country torn by civil war.
Poetry Resources
Heart of Darkness: Poems by Ferida Durakovic (109 pp.).
Sarajevo Blues by Semezdin Mehmedinovic (122 pp.).
The Horse Has Six Legs: An Anthology of Serbian Poetry edited by Charles Simic (224
pp.).
Classics
Sarajevo Marlboro by Miljenko Jergovic and translated by Stela Tomasevic (180 pp.).
CZECHOSLOVAKIA/CZECH REPUBLIC
Film Titles
Kafka (1991, PG-13), starring Jeremy Irons, Theresa Russell, and Joel Grey (1 hr. 45
mins.).
Prague Spring (1999, Not rated), documentary (1 hr. 21 mins.).
The White Dove (Bila Holubice) (1960, Not rated), starring Gustav Puttjer (1 hr. 7 mins.).
6-12
Fiction
The Book of Jude by Kimberly Heuston (217 pp.).
Jude is not your typical American teenager. Not only is she brilliant but so is her
mother. After receiving a fellowship, Jude's mother decides to take the entire family to
Prague to study. Unfortunately, unbeknownst to her mother, Jude is fighting against
herself in a psychological war that is set against the backdrop of the Prague Spring when
Alexander Dubcek became the leader of the Communist Party in Czechoslovakia in1968.
Rivka's Way by Teri Kanefield (137 pp.).
Set in 1778, this is the story of 15-year-old Rivka Liebermann and her desire to
see more than what she has in the Jewish ghetto. After she finds out about her arranged
marriage to Oskar Kara, she decides to risk everything by disguising herself as a
Christian boy and venturing into Prague by herself.
The Three Golden Keys by Peter Sis (64 pp.).
The author is magically transported to Prague, but his old home is locked by three
huge padlocks. In finding the keys, he is told of three ancient tales: about the knight
Bruncvik, the Golem, and the clockmaker Master Hanus.
Nonfiction
The Twelve Little Cakes by Dominika Dery (349 pp.).
In this memoir, the author pens her life's story beginning at the age of four when
she first dreams of becoming a ballet dancer after seeing "Swan Lake" performed.
Although her pursuit of becoming a dancer is part of the story, it is more the story of her
family's difficult life during the Communist Revolution; her parents are considered
outlaws around Prague.
The Czech Americans: The Immigrant Experience by Stephanie Saxon-Ford (106 pp.).
This is a simply written book about the Czechs emigrating from their country
beginning in the 1800's and their struggles and triumphs adjusting to life in North
America.
The Wall: Growing Up Behind the Iron Curtain by Peter Sis (56 pp.).
Using drawings to help tell this autobiography, this is Sis's story growing up in
Prague under communist rule.
Children's Story
6-13
Madlenka's Dog by Peter Sis (32 pp.).
Little Madlenka wants a dog more than anything in the whole world. When she
figures her parents won't let her have one, she decides to take her imaginary dog for a
walk around her block and comes home with a few surprises.
Golem by David Wisniewski (32 pp.).
The Jews of 16th century Prague are being mercilessly persecuted as a result of the
Blood Lie. In that time hostile gentiles claimed that Jews were mixing the blood of
Christian children with the flour and water of matzo. A rabbi uses magic powers to
conjure up a golem, Hebrew for "shapeless mass," out of clay to save his people. It is
believed that this story was the inspiration behind Mary Shelley's Frankenstein.
Poetry Resources
The Poetry of Jaroslav Seifert edited by George Gibian (255 pp.).
I Never Saw another Butterfly by Hana Volavkova (128 pp.).
Classics
My Antonia by Willa Cather (298 pp.).
The Metamorphosis by Franz Kafka (224 pp.).
Valerie and Her Weeks of Wonders by Vitezslav Nezval and translated by David Short
(185 pp.).
IRELAND
Film Titles
The Bells of St. Mary's (1946, G), starring Bing Crosby and Ingrid Bergman (2 hrs. 6
mins.).
The McCourts of New York (1999, Not rated), starring the McCourt brothers: Malachy,
Frank, Alphie, and Mike (1 hr. 16 mins.).
Waking Ned Devine (1998, PG), starring Ian Bannen, David Blake Kelly, and Fionnula
Flanagan (1 hr. 31 mins.).
Fiction
Reading in the Dark by Seamus Deane (213 pp.).
6-14
Beginning in 1945, an Irish boy begins his story by telling of a family secret: his
mother sees ghosts. In reality, his Uncle Eddie was blown up in 1922 for being an Irish
Republic Army gunman and it's this narrator's quest to find the truth.
The Commitments by Roddy Doyle (176 pp.).
"The Commitments" is an Irish version of "The Blues Brothers." A group of Irish
teenagers decide that they will bring "soul" to Dublin in the Eighties by listening to
James Brown, Otis Redding, and the like for hours at a time. After a brief period of
fame, they pay a heavy price which begs the question—was it worth it? (Note: An Rrated movie by the same name was made based on this book).
Paddy Clarke Ha Ha Ha by Roddy Doyle (288 pp.).
Ten-year-old Patrick is adept at getting into mischief in this humorous coming-ofage story set in Dublin. Paddy's reasoning behind his working-class parents' arguments
is both moving and poignant.
The Gift of the Pirate Queen by Patricia Reilly Giff (192 pp.).
Since Grace O'Malley's mother passed away, she's been in charge of taking care
of her father and little sister who's a diabetic. Cousin Fiona is coming all of the way
from Ireland to help, and Grace doesn't want things to change even if things aren't going
so well.
Nonfiction
Angela's Ashes by Frank McCourt (288 pp.).
Frank McCourt had a rough childhood, growing up in Ireland with an alcoholic
father with too many mouths to feed. Excerpts from the film version by the same title
released in 2000 and rated R for profanity and nudity could be shown.
Children's Story
Tales for the Telling: Irish Folk and Fairy Stories by Edna O'Brien and illustrated by
Michael Forman (127 pp.).
Twelve classic Irish tales are included, among them "Two Giants." Finn was the
biggest and bravest giant in all of Ireland, but he used his brains to trick Scotland's giant
McConigle to leave without a fight. What he does will have readers amused.
Poetry Resources
An Anthology of Irish Literature edited by David H. Greene (288 pp.).
6-15
Ireland in Poetry edited by Charles Sullivan (208 pp.).
Classics
The Dubliners by James Joyce (190 pp.).
Dracula by Bram Stoker (336 pp.).
Gulliver's Travels by Jonathan Swift (336 pp.).
The Importance of Being Ernest by Oscar Wilde (76 pp.).
POLAND
Film Titles
Ladies in Lavender (2005, PG-13), starring Maggie Smith and Judi Dench (1 hr. 44
mins.).
Louder than Bombs (2001, Not rated), starring Rafal Mackowiak, Sylwia Juszckzak,
Madalena Schejbal (1 hr. 32 mins.).
Fiction
A Coal Miner's Bride: The Diary of Anetka Kaminska (Dear America Series) by Susan
Campbell Bartoletti (224 pp.).
This is a fictional account of what it might have been like for a 13-year-old girl in
the late 1800's while giving an accurate account of the immigration of the Poles to the
Pennsylvania coal-mining towns. In Anetka's case, her Tata (father) trades her hand in
marriage to an old coal miner in exchange for his bringing the family to America for a
better life.
Rodzina by Karen Cusman (215 pp.).
In the late 1800s, Rodzina Clara Jadwiga Anastazya Brodski escapes Poland at
the age of two with her mother and father. When she is orphaned and living in streets in
Chicago at 12 years of age, she is eventually herded into an orphan train to go out West.
To help herself and the other children from worrying themselves sick over what will
become of them, Rodzina tells Polish folktales and stories of her family.
Eva Underground by Dandi Daley Mackall (256 pp.).
After her mother's death, Eva Lott's father decides to make a drastic move during
her senior year. Of all places in the world to go, he moves them from the comfort of the
6-16
Chicago suburbs to behind the Iron Curtain in Poland. Set in 1978, historical fiction
buffs will enjoy learning about Lech Walesa, the winner of the 1983 Nobel Peace Prize;
the Solidarity Movement; and the election of Pope John Paul II, the first Polish Pope.
Others will enjoy reading about Eva's romance that gets her desiring to stay in this
foreign land.
Nonfiction
Alicia: My Story by Alicia Appleman-Jurman (448 pp).
This autobiography is Alicia's account of Germany's invasion of Poland during
World War II. As a young Jewish girl growing up in Buczacz, Poland, Alicia's life goes
from normal to horrific after she survives the deaths of her entire family.
The Cage by Ruth Minsky Sender (224 pp.).
Riva Minska recalls what it was like for her growing up in the Lodz ghetto in
Poland during the Holocaust. First it's her mother and then Riva and her younger
brothers are taken to the death camps; Riva survives. For readers interested in how Riva
rebuilds her life and emigrates to America, read her sequel—To Life (240 pp.).
Behind the Secret Window: A Memoir of a Hidden Childhood during World War Two by
Nelly S. Toll (161 pp.).
Nelly went into hiding at the age of six when the Nazis took over her homeland of
Lwow, Poland, in 1941. Her artwork and journal are what saved her.
Poland in Pictures by Jeffrey Zuehlke (80 pp.).
As the name implies, this is a photographic trade book of Poland replete with its
stunning cathedrals and landscapes. Information is included about three topics: the land,
history and government, and its people.
Children's Story
Rechenka's Eggs by Patricia Polacco (32 pp.).
An old woman, known for painting beautiful eggs for the Easter Festival, finds a
wounded goose that she names Rechenka. As Rechenka gains her strength, she
accidentally destroys the old woman's creations and lays special eggs as a way to mend
her mistake. One special egg gives the old woman a gift that will stay with her forever.
Always Remember Me: How One Family Survived World War II by Marisabina Russo
(48 pp.).
See Chapter Four.
6-17
Poetry Resources
View with a Grain of Sand: Selected Poems by Wislawa Szymborska (224 pp.).
Classics
Poland by James A. Michener (640 pp.).
Notes from the Warsaw Ghetto by Emmanuel Ringelblum and translated by Jacob Sloan
(359 pp.)
On the Field of Glory by Henryk Sienkiewicz and translated by Miroslaw Lipinski (255
pp.).
RUSSIAN FEDERATION
Film Titles
Dr. Zhivago (2001, 1965, PG-13), starring Omar Sharif and Julie Christie (3 hrs. 20
mins.).
The Fiddler on the Roof (1971, G), starring Topol, Norma Crane, and Leonard Frey, (3
hrs.).
Fiction
One Way to Ansonia by Judie Angell (196 pp.).
Rose Olshansky was 10 years old when she left Russia for New York, the day her
father surprised his new wife with Rose and her four siblings on his wedding day! Only
Rose's younger sister Celia was welcomed into his American home, and the rest were
doled out to four different families. The story follows Rose from 1893 to 1899 and her
willingness to learn to make a better life for herself in this new country.
Sworn Enemies by Carol Matas (132 pp.).
Aaron is revered in his Russian community for his academic ability, while Zev is
jealous of Aaron's success. The two Russian Jews have numerous confrontations until
both are forced to work together if they want to escape forced military service.
Burying the Sun by Gloria Whelan (224 pp.).
As the Germans are coming into Russia in 1941, 15-year-old Georgi and his
family do all that they can for the war effort to protect Leningrad and the beautiful
artwork of the Hermitage Museum. Readers who enjoy Whelan's writing might enjoy
6-18
two others set in historic Russia, Angel on the Square (304 pp.) and The Impossible
Journey (256 pp.), both with teen girls as protagonists.
Nonfiction
A Calendar of Wisdom by Leo Tolstoy (378 pp.).
Although this is clearly not a young adult work, this book is among the very best
creations of human genius. A dream of Tolstoy for 15 years was to collect "the wisdom
of the centuries in one book" for a general audience. Tolstoy draws on the greatest works
of religion, philosophy, and literature to write a practical spiritual guide on how to live in
peace with oneself filled with kindness, satisfaction, and happiness.
Children's Story
The Sea King's Daughter: A Russian Legend by Aaron Shepard and illustrated by
Gennady Spirin (40 pp.).
While playing his gusli (a kind of harp) to keep the rich noble's guests dancing,
poor Sadko is noticed by the Sea King to play at his underwater palace. The Sea King is
so impressed by him that he offers Sadko an amazing gift that if accepted will cost Sadko
what he loves most in the world.
The Frog Princess by Patrick J. Lewis and illustrated by Gennady Spirin (32 pp.).
A tsar instructs his three sons to find their respective brides by each shooting an
arrow "deep into the heart of Russia." Two of the three capture typical beauties, but the
youngest son's arrow is found by a frog. As is predictable in most fairy tales, the frog
turns out being a beautiful maiden that is under a spell which the son must break. The art
in the book captures the spirit of Vasilisa the Wise from Russian folklore who was famed
for her exquisite household skills, particularly embroidery.
Poetry Resources
Stories and Prose Poems by Alexander Solzhenitsyn (267 pp.).
Classics
Crime and Punishment by Fyodor Dostoevsky (576 pp.).
A Day in the Life of Ivan Denisovich by Aleksandr Solzhenitsyn (160 pp.).
War and Peace by Leo Tolstoy (1,472 pp.).
We by Yevgeny Zamyatin (256 pp.).
6-19
SPAIN
Film Titles
The Sea Inside (2004, PG-13), starring Javier Bardem, Belen Rueda, and Lola Duenas, (2
hrs. 5 mins.).
Fiction
The Alchemist: A Fable About Following Your Dream by Paulo Coelho (208 pp.).
A shepherd boy named Santiago dreams of treasure in Egypt so leaves his home
to seek his fortune even though he was quite content with his simple life in Andalusia.
Although the author is Brazilian, this fable has had huge appeal in Latin American
countries.
Returning to A by Dorien Ross (168 pp.).
This semi-autobiographical novel is the story of 16-year-old Loren and her pursuit
to learn how to play the flamenco guitar from the gypsies in Andalusia to help her deal
with her brother's overdose and death. As she tries to master the classical musical form
usually denied to women, this New Yorker must also sort out her almost immediate
attraction to a certain Spaniard.
Nonfiction
Driving Over Lemons: An Optimist in Andalucia by Chris Stewart (272 pp.).
Although this is not a young adult work, the author is a former drummer of
Genesis and the humor in this book will appeal to teens. Chris and his wife leave their
English home to relocate to a farmhouse in Granada, Spain, in the middle of nowhere.
What they expect and what they find are two very different things as their dreams
become humorous realities.
Children's Story
The Three Golden Oranges by Alma Ada Flor and illustrated by Reg Cartwright (32 pp.).
Three brothers—Santiago, Tomas, and Matias—visit an old woman to see about
how to find brides. She gives them very specific directions to obtain three golden
oranges and to work together to make their dreams come true. Their quest illustrates the
value of loyalty and the consequences of being selfish. The author's note explains how
oranges are a part of Spain's history.
The Story of Ferdinand by Munro Leaf and illustrated by Robert Lawson (72 pp.).
6-20
This classic Spanish children's story is about a bull named Ferdinand who doesn't
act like a bull is supposed to; he'd rather smell flowers than fight with a matador. During
an unfortunate encounter with a bee, Ferdinand displays what the crowd has been waiting
for but not for too long.
Poetry Resources
Introduction to Spanish Poetry edited by Eugenio Florit (160 pp.).
Poet in New York: A Bilingual Edition by Federico Garcia Lorca and translated by Greg
Simon and Steven F. White (288 pp.).
Classics
Don Quixote by Miguel de Cervantes and translated by Tobias Smollett (1,168 pp.).
The Sun Also Rises by Ernest Hemingway (256 pp.).
Tales of the Alhambra by Washington Irving (308 pp.).
The Celestina: A Fifteenth-Century Spanish Novel in Dialogue by Fernando De Rojas
and translated by Lesley Byrd Simpson (162 pp.).
TURKEY (MIDDLE EAST)
Film Titles
The Accidental Spy (2001, PG-13), starring Jackie Chan and Eric Tsang (1 hr. 27 mins.).
Crossing the Bridge: The Sound of Istanbul (2006, Not rated), documentary (1 hr. 30
mins.).
Gallipoli (1981, PG), starring Mel Gibson, Mark Lee, and Harold Hopkins (1 hr. 50
mins.).
Fiction
Against the Storm by Gaye Hicyilmaz (200 pp.).
Based on a story reported in the Turkish Press, the author tells the story of
Mehmet and his parents' quest for a better life in the capital city of Ankara. As they soon
find out, things aren't any better there than in their home village and in some ways
worse—they become beholding to a mean uncle.
Nonfiction
6-21
The Other Side of the Mountain by Erendiz Atasu and translated by Elizabeth Malsen
(283 pp.).
From memoirs, poems, love letters, and journals left by her mother, Atasu pieces
together the history of her family going back three generations to the Ottoman Empire
through Mustafa Kemal Ataturk. As she pieces together her heritage, Atasu sees how the
country's history shaped her family's belief system. This work earned Turkey's most
valued literary prize.
Children's Story
The Hungry Coat by Demi (40 pp.).
Nasrettin Hoca (A.D. 1208-1284) was a teacher who's often a main character in
Turkish folktales. In this tale while en route to a banquet, Nasrettin assists some villagers
who are having problems with a goat and soils his coat. Shunned by people at the
banquet, Nasrettin leaves, bathes, and returns in a clean coat which he stuffs with food.
His witty reply makes the reading worthwhile.
Folk Tales of Turkey by Somnath Dhar (124 pp.).
Among the 12 traditional Turkish folktales is "Orhan and Ayesha," the story of a
Turkish prince named Orhan who falls in love and asks Ayesha for her hand in marriage.
When Orhan goes missing, the dark Kara Kaptan takes advantage of the situation and
tries to take Ayesha as his bride instead.
Poetry Resources
Nightingales & Pleasure Gardens: Turkish Love Poems edited by Talat S. Halman and
Jayne L. Warner (159 pp.).
Classics
The Book of Dede Korkut: A Turkish Epic by anonymous and translated by Geoffrey
Lewis (168 pp.).
Memed My Hawk by Kemal Yashar and translated by Edouard Roditi (392 pp.).
NORTH AMERICAN CONTINENT
MEXICO
Film Titles
All the Pretty Horses (2002, PG-13), starring Matt Damon, Penélope Cruz, and Henry
Thomas, (1 hr. 57 mins.).
6-22
Fun in Acapulco (1963, PG), starring Elvis Presley and Ursula Andress (1 hr. 37 mins.).
The Three Amigos (1986, PG), starring Chevy Chase, Steve Martin, and Martin Short (1
hr. 45 mins.).
Fiction
Bless Me, Última by Rudolfo Anaya (262 pp.).
Antonio Marez is growing up in New Mexico during the Forties. He is torn
between the traditions of his family and the American ways of his classmates in school.
Ultima serves as his curandera, or mentor, in this coming-of-age story.
Leaving Tabasco by Carmen Boullosa and translated by Geoff Hargroves (244 pp.).
In this fictional retrospective of Demira Ulloa's coming of age in Mexico during
the politically charged Sixties, the author uses a memoir format to weave a story about a
girl's search for self using magical realism that is typical in many Latin American texts.
The House on Mango Street by Sandra Cisneros (128 pp.).
In a beautiful and intense series of vignettes and poems, Esperanzo shares her
coming-of-age trials and tribulations as a Mexican-American growing up in an
oppressive area of Chicago. She describes her Hispanic neighborhood along with her
dreams of a real house in which to live.
Esperanza Rising by Pam Muñoz Ryan (288 pp.).
After her father's murder, 13-year-old Esperanza and her mother leave their
wealthy estate in Mexico and flee to California during The Depression of the Thirties. In
this "riches to rags" coming-of-age story, Esperanza must overcome many of her own
prejudicial issues.
Becoming Naomi Leon by Pam Muñoz Ryan (246 pp.).
Naomi and her brother Owen happily live with their Gram in a close-knit
community in California. When their mother, an alcoholic woman who abandoned them
years before, wants custody of just Naomi, they all go to Oaxaca, Mexico, in search of
their biological father for help.
The Jumping Tree: A Novel by René Saldaña (192 pp.).
Readers share in the experiences of Rey Castanada during his middle school years
while living in Texas, across the border from his Mexican relatives. As Rey matures, he
6-23
begins to see the differences in opportunities for and treatment of those on the U.S. side
and the Mexican side of the border.
Help Wanted: Stories by Gary Soto by Gary Soto (224 pp.).
Ten short stories are in this collection about Mexican-American teenagers
growing up in California.
Nonfiction
Living Up the Street by Gary Soto (176 pp.).
The author recounts what it was like for him growing up in the barrios of Fresno,
California. Soto experienced many hardships on his way to becoming a successful author
and poet, and he shares how he overcame those obstacles. Soto has a second work, Small
Faces (126 pp.), that continues his life's recollections, beginning with his marriage to his
Japanese wife and continuing through the raising of his daughter.
Children's Story
The Lizard and the Sun: A Folktale in English and Spanish by Alma Flor Ada and
illustrated by Felipe Davalos (48 pp.).
Once upon a time in ancient Mexico, the sun suddenly disappeared. All the
animals searched and searched but all eventually gave up except for the lizard.
Big Bushy Mustache by Gary Soto (32 pp.).
Everyone tells Ricky that he looks like his mother until his teacher passes out
costumes to celebrate Cinco de Mayo.
Poetry Resources
Cool Salsa: Bilingual Poems on Growing Up Latino in the United States (Alicia Gaspar
de Alba, Ana Castillo, Sandra Cisneros, Pat Mora, Amado Nervo, Trinidad
Sanchez, & Gary Soto, Gina Valdes, poets) edited by Lori M. Carlson (160 pp.).
Classics
The Underdogs: A Novel of the Mexican Revolution by Mariano Azuelo (149 pp.).
Like Water for Chocolate: A Novel in Monthly Installments with Recipes, Romances, and
Home Remedies by Laura Esquivel (256 pp.).
The Monkey Grammarian by Octavio Paz (176 pp.).
6-24
NATIVE AMERICAN
Film Titles
Dances with Wolves (1990, PG-13), starring Kirk Baltz, Tantoo Cardinal, and Kevin
Kostner (3 hrs. 56 mins.).
The Education of Little Tree (1997, PG), Joseph Ashton, James Cromwell, Tantoo
Cardinal, Leni Parker, and Rebecca Dewey II (1 hr. 55 mins.).
Smoke Signals (1998, PG-13), starring Adam Beach and Evan Adams (1 hr. 29 mins.).
Song of Hiawatha (1996, PG), starring Graham Greene II and Litefoot (1 hr. 54 mins.).
Spirit Rider (2001, Not rated), starring Michelle St. John and Tom Jackson (2 hrs.).
Squanto: A Warrior's Tale (1994, PG), starring Adam Beach and Sheldon Peters
Wolfchild (1 hr. 42 mins.).
Fiction
The Absolutely True Diary of a Part-Time Indian by Sherman Alexie (240 pp.).
This semi-autobiographical novel is the story of Arnold Spirit, better known as
Junior, who's told that the only way he'll make it in the world is to leave the Indian
Reservation and get educated in the white school. This 14 year old survives being an
outcast at school and learns many realities about the "Rez" that are bigger than he is.
The Journal of Jesse Smoke, A Cherokee Boy by Joseph Bruchac (203 pp.).
This historical fiction novel, researched and written by an author who's Cherokee,
is based on the removal of the Cherokee nation called the Trail of Tears. In diary format,
16-year-old Jesse Smoke gives one perspective of this gruesome part of history during
the 19th century.
Living Stories of the Cherokee by Barbara R. Duncan (272 pp.).
Various storytellers share some of the old and new stories of the Cherokee in
authentic voices. Many stories have passed through many generations, but readers will
see their relevance today.
Sing Down the Moon by Scott O'Dell (128 pp.).
Based on a historic event—the forced migration of the Navahos from their
original homeland in 1864—15-year-old Bright Morning tells the story from her Native
6-25
American point of view. She tells the story of her capture by Spanish slave traders, her
escape, her return to her clan, and the spirit-breaking effects of the relocation.
Nonfiction
Growing Up Native American by Bill Adler, Ines Hernandez, and Patricia Riley (336
pp.).
Twenty two writers tell what it was like for them to grow up as Native Americans.
Many children faced hardships as in the case of Jodi Ann and Billie Jim in "Grace."
These two are placed in an orphanage and treated as indentured servants.
The Education of Little Tree, A True Story by Forrest Carter (228 pp.).
The author recounts what it was like growing up in the Appalachian Mountains
during The Depression. He shares the prejudice displayed to the Cherokee Indians and
the pride they managed to maintain in spite of their treatment.
Rising Voices: Writings of Young Native Americans edited by Arlene B. Hirschfelder &
Beverly R. Singer (144 pp.).
The editors have compiled several short essays and poems written by young
Native Americans. These 19th and 20th century literary pieces are personal in nature, yet
reflect concerns relative to most people today such as identity, family, prejudice, and
oppression.
Children's Story
Yonder Mountain: A Cherokee Legend by Robert H. Bushyhead, Jean L. Bushyhead &
Kay Thorpe Bannon and illustrated by Kristina Rodanas (32 pp.)
An old chief wants to find someone to lead his tribe after he's gone, so he sends
up three possible men to the top of a mountain to bring back something. Two return with
items to help their people, but one returns with nothing in hand but with his heart in the
right place.
Seminole Diary: Remembrances of a Slave by Dolores Johnson (32 pp.)
Written in dated journal form, a young slave named Libby recounts her family's
escape from a white plantation and how the Seminole Indians helped them.
Poetry Resources
Broken Flute: The Native Experience in Books for Children by Doris Seale (480 pp.).
The Cherokee Lottery: A Sequence of Poems by William Jay Smith (72 pp.).
6-26
Classics
Wildcat, the Seminole by Electa Clark (192 pp.).
House Made of Dawn by N. Scott Momaday (198 pp.).
PANAMA
Film Titles
A Man, a Plan, a Canal—Panama (2004, 1987, Not rated), documentary with author
David McCullough (1 hr.).
Fiction
Marisol and Magdalena: The Sound of Our Sisterhood by Veronica Chambers (176 pp.).
Marisol's and Magdalena's mothers grew up together in Panama, and now their
13-year-old daughters are best friends, or mejores amigas, growing up together in
Brooklyn. Unfortunately, neither Marisol or Magdalena know much Spanish or about
their heritage for that matter. Marisol's mother chooses to act and send her daughter to
live with her grandmother, or abuela, in Panama, leaving Magdalena wondering if she's
lost her mejor amiga.
Come Together, Fall Apart by Christina Henriquez (306 pp.).
In eight short stories and a novella by the book's title, this collection presents
Panama in transition before and after Manuel Noriega's expulsion from office. In journal
entries written by a 15-year-old boy, readers see the protagonist's family falling apart
while America is coming together for a Panamanian invasion.
Nonfiction
The Building of the Panama Canal in Historic Photographs by Ulrich Keller (176 pp.).
Over 100 historic photographs tell the story of the construction of the Panama
Canal.
Magnificent Molas: The Art of the Kuna Indian by Michael Perrin and translated by
Deke Dusinberre (201 pp.).
This is a beautiful book that tells the story of the Kuna (Cuna) Indians and their
culture. Kuna is the name given by whites to the Indians who live on the archipelago, or
San Blas Islands, off the Atlantic Coast of Panama, to the south of the canal. The title
6-27
refers to the pieces of bright cloth the Kuna women make into clothes and the book
includes many pictures of these "fabric paintings."
Children's Story
Mola: Cuna Life Stories and Art by Maricel E. Presilla (32 pp.).
The Cuna Indians have a unique way of making molas, or artistic blouses, which
are composed of several layers of cloth that are worked in a technique called reverse
appliqué. Each page has a detail or full panel of a mola to enhance the text, describing
their lives and customs with quotes and songs.
Poetry Resources
Locks, Crocs, and Skeeters: The Story of the Panama Canal by Nancy Winslow Parker
(32 pp.).
Classics
The Tailor of Panama by John Le Carre (416 pp.).
SOUTH AMERICAN CONTINENT
ARGENTINA
Film Titles
Tango (Saura) (1998, PG-13), starring Miguel Ángel Solá, Cecilia Narova, and Mía
Maestro (1 hr. 52 mins.).
Valentin (2004, PG-13), starring Julieta Cardinali, Rodrigo Noya, and Carmen Maura (1
hr. 26 mins.).
Fiction
The Dirty War by Charles Slaughter (166 pp.).
Atre and his best friend Chino are two young boys living in a suburb of Buenos
Aires. The setting is during the "Dirty War" of the mid-70s, a time of civil unrest when
people mysteriously "disappeared" when they questioned the government. The boys'
carefree lifestyle takes a direct turn when Arte's father goes missing.
Nonfiction
Hunger of Memory: The Education of Richard Rodriguez by Richard Rodriguez (224
pp.).
6-28
Even though it was published in 1983, this book is still available and worth
reading. The author was brought up in a Latin-American household where he only spoke
Spanish until the age of six and started to go to school. Richard felt alienated from his
family for becoming a "scholarship boy" and writes about his dealing with school,
religion, his dark complexion, and affirmative action.
Children's Story
Juan Bobo and the Three-Legged Pot by Lucia M. Gonzalez and illustrated by Lulu
Delacre (5 pp.).
Juan Bobo is one of Latin America's famous folk heroes, and this story is about
his confrontation with a three-legged pot that ought to be able to walk faster than a child
with only two legs.
Poetry Resources
Cool Salsa: Bilingual Poems on Growing Up Latino in the United States (Luis Alberto
Ambroggio, poet) edited by Lori M. Carlson (160 pp.).
An Anthology of Contemporary Latin-American Poetry edited by Dudley Fitts (667 pp.).
Classics
The Honorary Consul by Graham Greene (310 pp.).
The Gaucho Martin Fierro by Jose Hernandez (99 pp.).
BRAZIL
Film Titles
Chronically Unfeasible (2000, not rated), starring Umberto Magnani and Cecil Thiré (1
hr. 41 mins.).
God Is Brazilian (2003, not rated), starring Antônio Fagundes and Wagner Moura (1 hr.
50 mins.).
Hour of the Star (1987, not rated), starring Marcelia Cartaxo and José Dumont (1 hr. 36
mins.).
Fiction
Asphalt Angels by Ineke Holtwijk (184 pp.).
6-29
Although this story is based on the author's meeting of a young boy in a homeless
shelter in Rio de Janeiro, it is about a made up 13 year old named Alex who's thrown into
the street by his stepfather after Alex's mother dies. Alex tries to remain clean, but life is
hard in the streets of Brazil especially when the "Asphalt Angels" is your new family.
Jaguar by Roland Smith (256 pp.).
It's just 14-year-old Jake and his dad, but unfortunately his dad's restlessness
takes him on wild pursuits to save endangered species all over the world. Jake leaves his
home in New York to follow his dad to Brazil and soon realizes his dad is planning to
stay because of his work in the Amazon Rain Forest.
Nonfiction
An Invisible Minority: Brazilians in New York City by Maxine Margolis (141 pp.).
The author gives the whys and hows of Brazilian immigration to the United
States, especially to New York.
Children's Story
The Sea Serpent's Daughter: A Brazilian Legend by Margaret H. Lippert (32 pp.).
This is a Brazilian legend that explains how nightfall became a part of the lives of
the people in the Amazon Rain Forest as told by Bonita, the daughter of the Great Sea
Serpent who lives at the bottom of the dark ocean.
So Say the Little Monkeys by Nancy van Laan (40 pp.).
Based on a Brazilian folktale, this rhythmic story is about the playfulness of
monkeys and all of their "jabbering" along the Rio Negro (black river) in Brazil.
Poetry Resources
An Anthology of Twentieth-Century Brazilian Poetry edited by Elizabeth Bishop and
Emanuel Brasil (203 pp.).
Looking for Poetry: Poems by Carlos Drummond de Andrade and Rafael Alberti and
Songs from the Quechua translated by Mark Strand (192 pp.).
Classics
Iracema by Jose Martiniano de Alencar and translated by Clifford E. Landers (148 pp.).
Memoirs of a Militia Sergeant by Manuel Antonio de Almeida (208 pp.).
6-30
Dom Casmurro by Joaquim Maria Machado de Assis and translated by John Gledson
(288 pp.).
CHILE
Film Titles
Machuca (2004, PG-13), starring Matías Quer, Ariel Mateluna, and Manuela Martelli (2
hrs. 1 min.). English subtitles.
Fiction
City of the Beasts by Isabel Allende (406 pp.).
Fifteen-year-old Alexander goes to live with his eccentric grandmother who's on
a quest to find "the Beast" that lives in the far corners of the Amazon jungle. On his
journey, Alex meets 12-year-old Nadios Santos, a girl raised in the Amazon, who helps
him help the People of the Mist.
Nonfiction
Travels in a Thin Country: A Journey through Chile by Sara Wheeler (302 pp.).
While on a cruise ship, Sara Wheeler meets a Chilean worker who tells her she
should write a book about his country. She travels for six months, going from North to
South, and learns about the people, the country, and the politics.
Children's Story
The Enchanted Raisin by Jacqueline Balcells and translated by Elizabeth Gamble Miller
(104 pp.).
Chilean author Blacells gives us a gift with seven original children's short stories.
The title story is about three mischievous boys whose antics wear their mother down into
a shriveled raisin.
Poetry Resources
Pablo Neruda: Selected Poems edited by Pablo Neruda and translated by Anthony
Kerrigan (512 pp.).
Classics
The House of the Spirits by Isabel Allende (448 pp.).
COLOMBIA
6-31
Film Titles
Clear and Present Danger (1994, PG-13), starring Harrison Ford, Willem Dafoe, and
Anne Archer (2 hrs. 21 mins.).
Missing Peace: The Kidnapping of Ingrid Betancourt (2005, Not rated), documentary (1
hr. 32 mins.).
Romancing the Stone (1984, PG), starring Michael Douglas, Kathleen Turner, and Danny
DeVito (1 hr. 45 mins.).
Fiction
Celebrating the Hero by Lyll Becerra de Jenkins (192 pp.).
Camila Draper's Colombian heritage has always fascinated her, so she jumps at
the chance to go to Santander, Colombia, for a celebration ceremony to honor her late
grandfather. This 17 year old finds out more than she'd care to know about her family
and the differences of a culture she thought she knew.
The Treasure of Diogenes Sampuez by James Munves (186 pp.).
Diogenes' father has died and Uncle Mauricio is selling off everything on the
family farm. Diogenes sets off with his younger sister and a friend across the Sierra
Nevada Mountains in Northern Columbia to find an older brother in Cartagena.
Stories of Life and Death / Historias De Vida Y Muerte by the Students of Fundacion
Creando Cambio (96 pp.).
Students from 10 to 16 years of age write their own fiction stories about living in
a poor town in Soacha, Columbia. Black and white photographs add to this troubling
glimpse into the lives of impoverished kids with dreams that we in the United States take
for granted. Both the Spanish and the English translation are presented.
Boy Kills Man by Matt Whyman (152 pp.).
Sonny is a 13-year-old grade school dropout who's growing up in an
impoverished barrio in Colombia. El Fantasma offers Sonny and his best friend Alberto
money in exchange for their "souls."
Nonfiction
Out of War: True Stories from the Front Lines of the Children's Movement for Peace in
Colombia by Sara Cameron (186 pp.).
6-32
In nine gripping narratives, Columbian teenagers detail death threats, killings,
gang violence, and poverty and how the Children's Movement for Peace in Columbia has
helped them overcome—one voice at a time.
Secrets of Colombian Cooking by Patricia McCausland-Gallo (251 pp.).
It is said that "a way to a man's heart is through his stomach," and perhaps we can
learn that eating is also an entry into a country's love. The author provides a nice
narrative to accompany many recipes that gives readers an additional Colombian flavor.
Presidential Homes of Colombia by Benjamin Villegas and Juan Gustavo Cobo Borda,
and translated by Andrew Alexander Reid (160 pp.).
Photos and descriptions of three Presidential homes, two in Bogotá and one in
Cartagena, are described by one of Colombia's most prominent poets, Juan Gustavo
Cobo Borda.
Children's Story
The Monkey People: A Colombian Folktale by Eric Metaxas and illustrated by Diana
Bryan (32 pp.).
Imagine moving every time your house gets too dirty, such is the behavior of this
Amazon tribe until an old man makes monkeys out of leaves to do all of their work.
Poetry Resources
Colombia International Poetry Web.
Cool Salsa: Bilingual Poems on Growing Up Latino in the United States (Daniel Jacome
Roca, poet) edited by Lori M. Carlson (160 pp.).
Classics
Love in the Time of Cholera by Gabriel Garcia Marquez (368 pp.).
One Hundred Years of Solitude by Gabriel Garcia Marquez (464 pp.).
PERU
Film Titles
The Bridge of San Luis Rey (2005, PG), starring Robert De Niro, Gabriel Byrne, and
Kathy Bates (2 hrs. 4 mins.).
Galapagos (1999, Not rated), starring Kenneth Branagh and David Pawson (39 mins.).
6-33
Master and Commander: The Far Side of the World (2003, PG-13), starring Russell Crowe, Paul
Bettany, and James D'Arcy (2 hrs. 18 mins.).
Secrets of Lost Empires: Inca (1997, Not rated), documentary (1 hr.).
Fiction
Go and Come Back by Joan Abelove (192 pp.).
A young teenager named Alicia instructs "two old fat ladies from New York"
about her village's culture. Abelove lived in the Amazon jungle for two years and shows
how behaviors of one culture can be misunderstood by another.
Secret of the Andes by Ann Nolan Clark (128 pp.).
Cusi, a young Inca Indian, only knows the hidden valley in Peru where he has
always lived with Chuto, the Old One. The day comes when Cusi decides to leave with
his pet llama to go to Cuzco, the Holy Place of the Ancients, to discover who he is.
A Gift for Ampato by Susan Van de Grier and illustrated by Mary Jane Gerber (112 pp.).
After a mummified body of a young girl was found on the slopes of Nevado
Ampato in 1995, the author created this story based on Inca culture. When crops failed,
young women were chosen to become human sacrifices for the gods. It was considered a
great honor to be selected, but when Timta is chosen, she thinks differently.
Evil Star: Book Two of the Gatekeepers by Anthony Horowitz (320 pp.).
Matt is one of five special teenagers who is chosen to save the world from evil
(the Old Ones). In this book, Matt meets up with Pedro, a street kid in Peru, and together
they must close the second gate. Language barriers get in the way of their efforts.
Interested readers may want to read the first book in the series Raven's Gate set in
Yorkshire (272 pp.) or the third book Nightrise set in Nevada (368 pp.), but neither is
necessary for understanding this book.
Nonfiction
Insight Guide Peru edited by Pam Barrett (267 pp.).
This guide informs the reader of ancient and recent Peruvian history and serves as
an excellent source for the enrichment of the Peruvian literature experience.
Children's Story
Llama and the Great Flood: A Folktale from Peru by Ellen Alexander (39 pp.).
6-34
A llama dreams of a great flood that will fill the world and tells is master who
then takes his family and belongings up to the highest peak in the Andes. They meet
every animal there on Mount Willka Qutu, and so it is believed we all are descendents of
Willka Qutu since the flood destroyed everything else.
Moon Rope by Lois Ehlert and translated by Amy Prince (32 pp.).
Based on an ancient Peruvian tale and presented in both English and Spanish, this
wonderful picture book explains the face we see in the moon and why moles live in the
ground.
Poetry Resources
The Complete Poetry: A Bilingual Edition by César Vallejo and translated by Clayton
Eshleman (732 pp.).
Classics
Letters from a Peruvian Woman by Francoise de Graffigny and translated by David
Kornacker (174 pp.).
Birds without a Nest: A Novel by Clorinda Matto de Turner and translated by J. G. H.
(205 pp.).