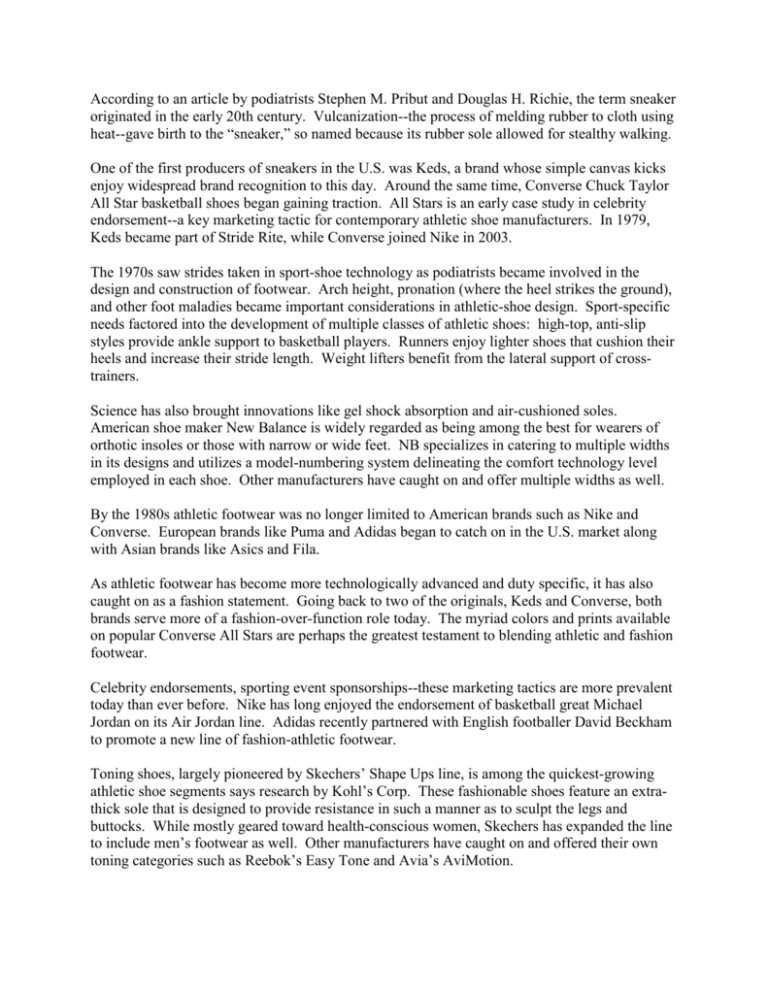 According to an article by podiatrists Stephen M. Pribut and Douglas H. Richie, the term sneaker
originated in the early 20th century. Vulcanization--the process of melding rubber to cloth using
heat--gave birth to the "sneaker," so named because its rubber sole allowed for stealthy walking.
One of the first producers of sneakers in the U.S. was Keds, a brand whose simple canvas kicks
enjoy widespread brand recognition to this day. Around the same time, Converse Chuck Taylor
All Star basketball shoes began gaining traction. All Stars is an early case study in celebrity
endorsement--a key marketing tactic for contemporary athletic shoe manufacturers. In 1979,
Keds became part of Stride Rite, while Converse joined Nike in 2003.
The 1970s saw strides taken in sport-shoe technology as podiatrists became involved in the
design and construction of footwear. Arch height, pronation (where the heel strikes the ground),
and other foot maladies became important considerations in athletic-shoe design. Sport-specific
needs factored into the development of multiple classes of athletic shoes: high-top, anti-slip
styles provide ankle support to basketball players. Runners enjoy lighter shoes that cushion their
heels and increase their stride length. Weight lifters benefit from the lateral support of crosstrainers.
Science has also brought innovations like gel shock absorption and air-cushioned soles.
American shoe maker New Balance is widely regarded as being among the best for wearers of
orthotic insoles or those with narrow or wide feet. NB specializes in catering to multiple widths
in its designs and utilizes a model-numbering system delineating the comfort technology level
employed in each shoe. Other manufacturers have caught on and offer multiple widths as well.
By the 1980s athletic footwear was no longer limited to American brands such as Nike and
Converse. European brands like Puma and Adidas began to catch on in the U.S. market along
with Asian brands like Asics and Fila.
As athletic footwear has become more technologically advanced and duty specific, it has also
caught on as a fashion statement. Going back to two of the originals, Keds and Converse, both
brands serve more of a fashion-over-function role today. The myriad colors and prints available
on popular Converse All Stars are perhaps the greatest testament to blending athletic and fashion
footwear.
Celebrity endorsements, sporting event sponsorships--these marketing tactics are more prevalent
today than ever before. Nike has long enjoyed the endorsement of basketball great Michael
Jordan on its Air Jordan line. Adidas recently partnered with English footballer David Beckham
to promote a new line of fashion-athletic footwear.
Toning shoes, largely pioneered by Skechers' Shape Ups line, is among the quickest-growing
athletic shoe segments says research by Kohl's Corp. These fashionable shoes feature an extrathick sole that is designed to provide resistance in such a manner as to sculpt the legs and
buttocks. While mostly geared toward health-conscious women, Skechers has expanded the line
to include men's footwear as well. Other manufacturers have caught on and offered their own
toning categories such as Reebok's Easy Tone and Avia's AviMotion.
Research, much of it sponsored by Skechers, is sketchy at best in proving toning shoes' health
claims. However, clever marketing has convinced the public that shelling out $100+ for toners is
a worthwhile investment.
There is but one trend that could hamper athletic shoes' growth: a grassroots movement toward
barefoot running. This anti-shoe crowd, while small, is gaining some national attention.
However, with improved technology, fashion savvy, health consciousness, and the fact that shoes
are consumable, Americans will, undoubtedly, continue to drive the multi-billion-dollar athleticshoe industry.