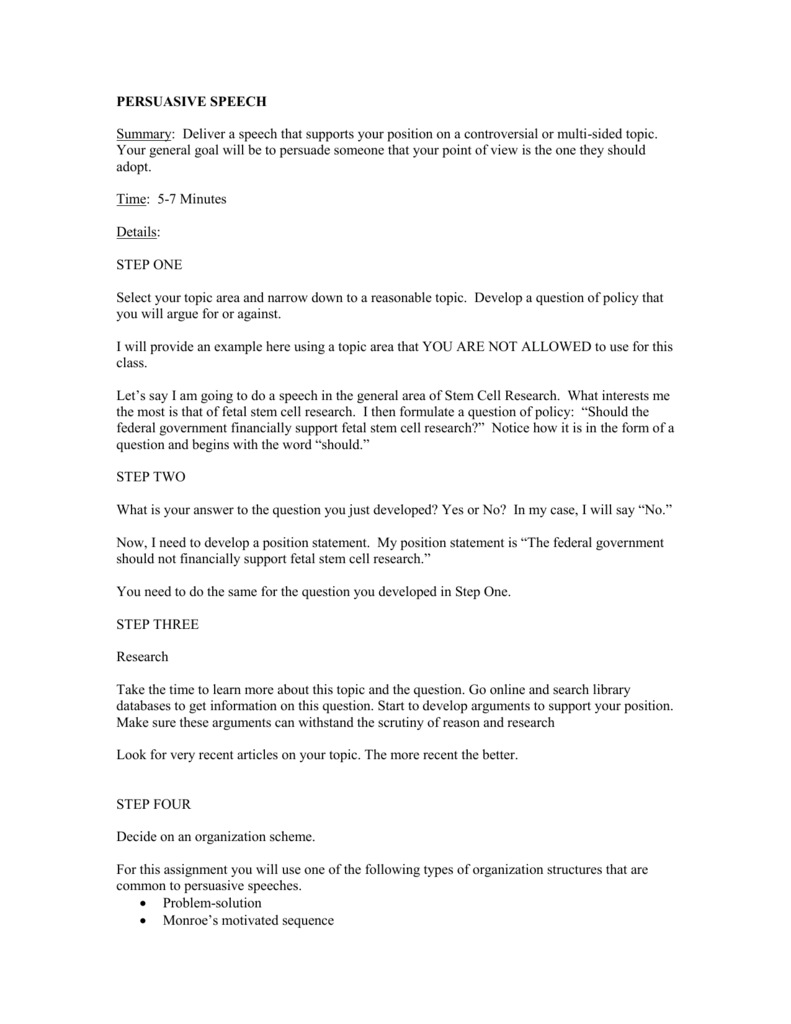 PERSUASIVE SPEECH
Summary: Deliver a speech that supports your position on a controversial or multi-sided topic.
Your general goal will be to persuade someone that your point of view is the one they should
adopt.
Time: 5-7 Minutes
Details:
STEP ONE
Select your topic area and narrow down to a reasonable topic. Develop a question of policy that
you will argue for or against.
I will provide an example here using a topic area that YOU ARE NOT ALLOWED to use for this
class.
Let's say I am going to do a speech in the general area of Stem Cell Research. What interests me
the most is that of fetal stem cell research. I then formulate a question of policy: "Should the
federal government financially support fetal stem cell research?" Notice how it is in the form of a
question and begins with the word "should."
STEP TWO
What is your answer to the question you just developed? Yes or No? In my case, I will say "No."
Now, I need to develop a position statement. My position statement is "The federal government
should not financially support fetal stem cell research."
You need to do the same for the question you developed in Step One.
STEP THREE
Research
Take the time to learn more about this topic and the question. Go online and search library
databases to get information on this question. Start to develop arguments to support your position.
Make sure these arguments can withstand the scrutiny of reason and research
Look for very recent articles on your topic. The more recent the better.
STEP FOUR
Decide on an organization scheme.
For this assignment you will use one of the following types of organization structures that are
common to persuasive speeches.
 Problem-solution
 Monroe's motivated sequence

Refutation
Start to organize the speech and bring in the information and supporting material to support your
position. Don't forget that every speech has an introduction, body and conclusion. (In the Monroe
Motivated Sequence organization the Attention step is your intro and the Action step is your
conclusion.)
STEP FIVE
Write the speech
PROHIBITED SPEECH TOPIC
The following are NOT allowed in this class. These speech topics are either overdone or no
reasonable person would disagree with the premise.
















Drinking and driving
Abortion
Stem Cell research
Global Warming
Recycling
Blood or organ donation
Legalization of marijuana
Smoking
Seat Belts
Drinking age
Joining a fraternity or sorority
Doing community service
Gun control
Prayer in schools
Steroids
Death Penalty
CRITERIA
This is a 5 to 7 minute speech
You need to cite in your speech at least five (5) different sources.
Use at least one visual aid in speech
You must construct a formal outline that is turned in through turnitin.com.
Hand in a works cited on the day of your speech
Deliver in an extemporaneous manner. DO NOT READ THIS SPEECH.
Design and deliver this speech according the standards discussed in class with special attention to
improving on the areas indicated in previous evaluations.