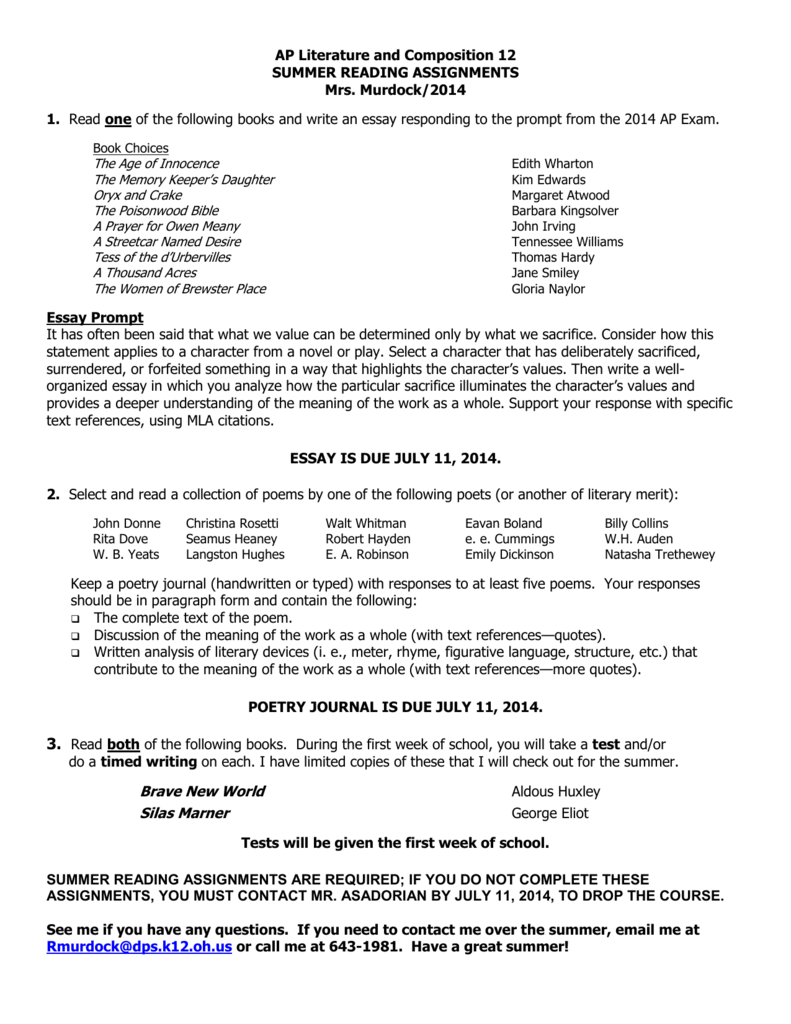 AP Literature and Composition 12
SUMMER READING ASSIGNMENTS
Mrs. Murdock/2014
1. Read one of the following books and write an essay responding to the prompt from the 2014 AP Exam.
Book Choices
The Age of Innocence
The Memory Keeper's Daughter
Oryx and Crake
The Poisonwood Bible
A Prayer for Owen Meany
A Streetcar Named Desire
Tess of the d'Urbervilles
A Thousand Acres
The Women of Brewster Place
Edith Wharton
Kim Edwards
Margaret Atwood
Barbara Kingsolver
John Irving
Tennessee Williams
Thomas Hardy
Jane Smiley
Gloria Naylor
Essay Prompt
It has often been said that what we value can be determined only by what we sacrifice. Consider how this
statement applies to a character from a novel or play. Select a character that has deliberately sacrificed,
surrendered, or forfeited something in a way that highlights the character's values. Then write a wellorganized essay in which you analyze how the particular sacrifice illuminates the character's values and
provides a deeper understanding of the meaning of the work as a whole. Support your response with specific
text references, using MLA citations.
ESSAY IS DUE JULY 11, 2014.
2. Select and read a collection of poems by one of the following poets (or another of literary merit):
John Donne
Rita Dove
W. B. Yeats
Christina Rosetti
Seamus Heaney
Langston Hughes
Walt Whitman
Robert Hayden
E. A. Robinson
Eavan Boland
e. e. Cummings
Emily Dickinson
Billy Collins
W.H. Auden
Natasha Trethewey
Keep a poetry journal (handwritten or typed) with responses to at least five poems. Your responses
should be in paragraph form and contain the following:
 The complete text of the poem.
 Discussion of the meaning of the work as a whole (with text references—quotes).
 Written analysis of literary devices (i. e., meter, rhyme, figurative language, structure, etc.) that
contribute to the meaning of the work as a whole (with text references—more quotes).
POETRY JOURNAL IS DUE JULY 11, 2014.
3. Read both of the following books. During the first week of school, you will take a test and/or
do a timed writing on each. I have limited copies of these that I will check out for the summer.
Brave New World
Silas Marner
Aldous Huxley
George Eliot
Tests will be given the first week of school.
SUMMER READING ASSIGNMENTS ARE REQUIRED; IF YOU DO NOT COMPLETE THESE
ASSIGNMENTS, YOU MUST CONTACT MR. ASADORIAN BY JULY 11, 2014, TO DROP THE COURSE.
See me if you have any questions. If you need to contact me over the summer, email me at
[email protected] or call me at 643-1981. Have a great summer!