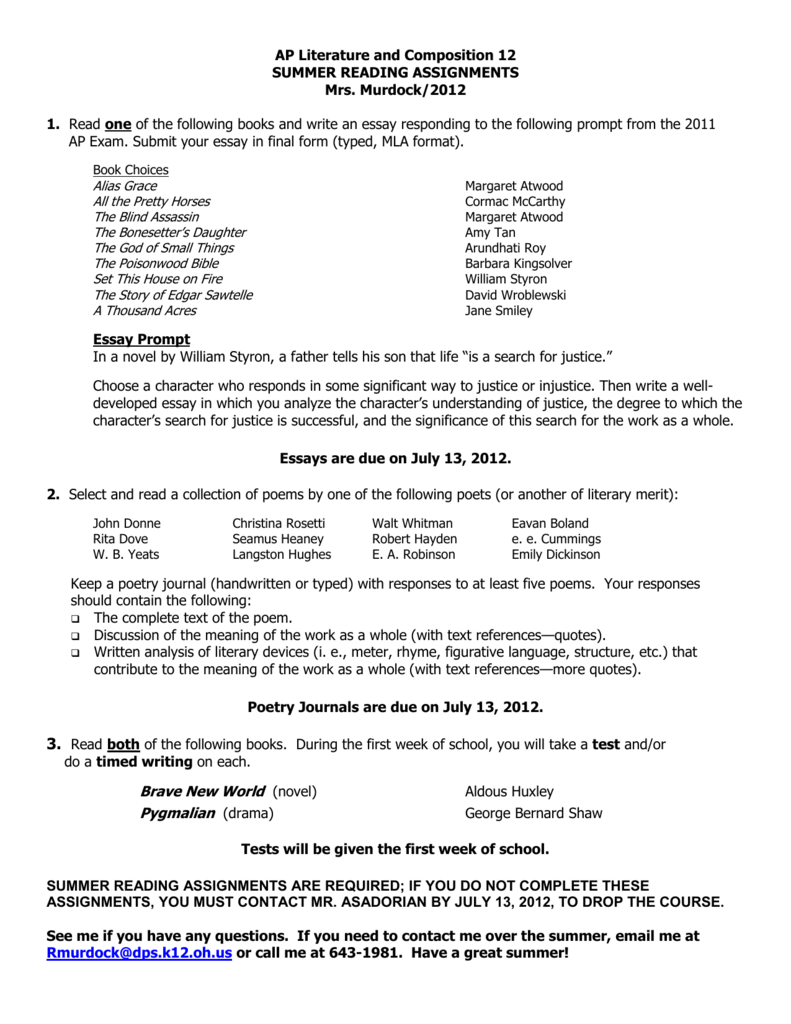 AP Literature and Composition 12
SUMMER READING ASSIGNMENTS
Mrs. Murdock/2012
1. Read one of the following books and write an essay responding to the following prompt from the 2011
AP Exam. Submit your essay in final form (typed, MLA format).
Book Choices
Alias Grace
All the Pretty Horses
The Blind Assassin
The Bonesetter's Daughter
The God of Small Things
The Poisonwood Bible
Set This House on Fire
The Story of Edgar Sawtelle
A Thousand Acres
Margaret Atwood
Cormac McCarthy
Margaret Atwood
Amy Tan
Arundhati Roy
Barbara Kingsolver
William Styron
David Wroblewski
Jane Smiley
Essay Prompt
In a novel by William Styron, a father tells his son that life "is a search for justice."
Choose a character who responds in some significant way to justice or injustice. Then write a welldeveloped essay in which you analyze the character's understanding of justice, the degree to which the
character's search for justice is successful, and the significance of this search for the work as a whole.
Essays are due on July 13, 2012.
2. Select and read a collection of poems by one of the following poets (or another of literary merit):
John Donne
Rita Dove
W. B. Yeats
Christina Rosetti
Seamus Heaney
Langston Hughes
Walt Whitman
Robert Hayden
E. A. Robinson
Eavan Boland
e. e. Cummings
Emily Dickinson
Keep a poetry journal (handwritten or typed) with responses to at least five poems. Your responses
should contain the following:
 The complete text of the poem.
 Discussion of the meaning of the work as a whole (with text references—quotes).
 Written analysis of literary devices (i. e., meter, rhyme, figurative language, structure, etc.) that
contribute to the meaning of the work as a whole (with text references—more quotes).
Poetry Journals are due on July 13, 2012.
3. Read both of the following books. During the first week of school, you will take a test and/or
do a timed writing on each.
Brave New World (novel)
Pygmalian (drama)
Aldous Huxley
George Bernard Shaw
Tests will be given the first week of school.
SUMMER READING ASSIGNMENTS ARE REQUIRED; IF YOU DO NOT COMPLETE THESE
ASSIGNMENTS, YOU MUST CONTACT MR. ASADORIAN BY JULY 13, 2012, TO DROP THE COURSE.
See me if you have any questions. If you need to contact me over the summer, email me at
[email protected] or call me at 643-1981. Have a great summer!