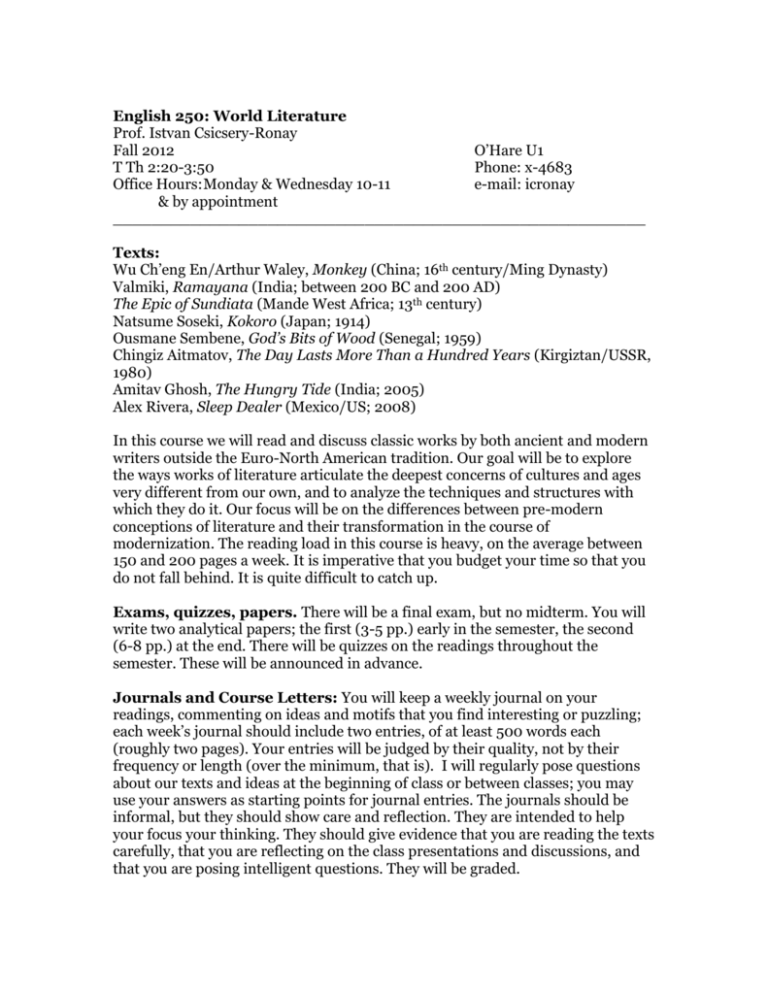 English 250: World Literature
Prof. Istvan Csicsery-Ronay
Fall 2012
O'Hare U1
T Th 2:20-3:50
Phone: x-4683
Office Hours: Monday & Wednesday 10-11
e-mail: icronay
& by appointment
_______________________________________________________
Texts:
Wu Ch'eng En/Arthur Waley, Monkey (China; 16th century/Ming Dynasty)
Valmiki, Ramayana (India; between 200 BC and 200 AD)
The Epic of Sundiata (Mande West Africa; 13th century)
Natsume Soseki, Kokoro (Japan; 1914)
Ousmane Sembene, God's Bits of Wood (Senegal; 1959)
Chingiz Aitmatov, The Day Lasts More Than a Hundred Years (Kirgiztan/USSR,
1980)
Amitav Ghosh, The Hungry Tide (India; 2005)
Alex Rivera, Sleep Dealer (Mexico/US; 2008)
In this course we will read and discuss classic works by both ancient and modern
writers outside the Euro-North American tradition. Our goal will be to explore
the ways works of literature articulate the deepest concerns of cultures and ages
very different from our own, and to analyze the techniques and structures with
which they do it. Our focus will be on the differences between pre-modern
conceptions of literature and their transformation in the course of
modernization. The reading load in this course is heavy, on the average between
150 and 200 pages a week. It is imperative that you budget your time so that you
do not fall behind. It is quite difficult to catch up.
Exams, quizzes, papers. There will be a final exam, but no midterm. You will
write two analytical papers; the first (3-5 pp.) early in the semester, the second
(6-8 pp.) at the end. There will be quizzes on the readings throughout the
semester. These will be announced in advance.
Journals and Course Letters: You will keep a weekly journal on your
readings, commenting on ideas and motifs that you find interesting or puzzling;
each week's journal should include two entries, of at least 500 words each
(roughly two pages). Your entries will be judged by their quality, not by their
frequency or length (over the minimum, that is). I will regularly pose questions
about our texts and ideas at the beginning of class or between classes; you may
use your answers as starting points for journal entries. The journals should be
informal, but they should show care and reflection. They are intended to help
your focus your thinking. They should give evidence that you are reading the texts
carefully, that you are reflecting on the class presentations and discussions, and
that you are posing intelligent questions. They will be graded.
Every two weeks I will expect a feedback letter from each of you, reflecting on the
texts and discussions, posing questions and offering suggestions. I will respond to
these letters as well as I can.
Grades. Grades will be determined approximately in the following manner:
papers 25%, journals and letters 20%, quizzes 20%, final exam 15%, discussions
20%.
Calendar:
WEEK 1
Aug
WEEK 2
Aug
WEEK 3
Sept
WEEK 4
23 Th
Introductions
28 T
30 Th
What is The World?
What is Literature?
4 T
6 Th
Monkey (1-77)
Monkey (78-145)
11 T
13 Th
Monkey (146-246)
Monkey (247-305)
18 T
20 Th
Sundiata
Sundiata
WEEK 5
WEEK 6
25 T
27 Th
WEEK 7
Oct
WEEK 8
2
4
T
Th
Ramayana (3-114)
Ramayana (114-225)
Ramayana (229-342)
Ramayana (342-456)
9 T
11 Th
Ramayana (457-570)
Ramayana (570-686)
15 - 21
Fall Break
23 T
25 Th
Kokoro (1-80)
Kokoro (81-162)
WEEK 9
WEEK 10
WEEK 11
Nov
WEEK 12
WEEK 13
WEEK 14
30 T
1 Th
Kokoro (162-248)
God's Bits of Wood (1-77)
6 T
8 Th
God's Bits of Wood (78-161)
God's Bits of Wood (162-245)
13 T
15 Th
The Day Lasts More Than a Hundred Years (9-120)
The Day Lasts More Than a Hundred Years (121246)
20 T
25-26
The Day Lasts More Than a Hundred Years (246351)
Thanksgiving Break
27 T
29 Th
The Hungry Tide (3-113)
The Hungry Tide (113-223)
4 T
6 Th
The Hungry Tide (223-330)
Sleep Dealer
WEEK 15
WEEK 16
Dec
Final Exam 13 Th
1:00-4:00
A note on grades. Here are my basic guidelines for grading students work.
For A work, I look for some combination of the following qualities: originality
(approaching a problem in a fresh and unconventional way), initiative (choosing
topics and problems originating from your own interests), commitment (working
through a problem thoroughly, using either wide-ranging scholarly research or
complex argumentation that is aware of counter-arguments), aesthetic sensitivity
(ability and desire to respond to poetic art and critical reflection), and expository
craft (i.e., good writing, displaying skill at persuasive argument).
B work displays careful reflection about a problem that has been posed by critics
or in class; evidence of the scholarly commentary, including divergent critical
positions; careful attention to writing and the construction of an argument; and
evidence of understanding literary language and analytical argument.
C work will usually display honest grappling with problems posed by critics and
class discussions; competent construction of arguments; evidence of
comprehension of poetic language and dramatic construction; competent control
of writing.
D work shows inadequate commitment to reflecting on problems posed by
criticism and class-discussions, or inadequate performance of assigned tasks and
projects. D work lacks originality, interest, and responsiveness to the work of the
class. Ds are often the result of hastiness, inadequate preparation, and/or lack of
respect for the texts and commentary.
Fs result from failure to complete work – and this includes submitting bullshit to
conceal the fact –, to pay adequate attention, or to make the effort to adequately
understand and complete the course tasks. An F is not a moral judgment; it refers
only to performance in class. Excessive absences often lead to Fs. In most cases,
work that is a week overdue cannot be made up.