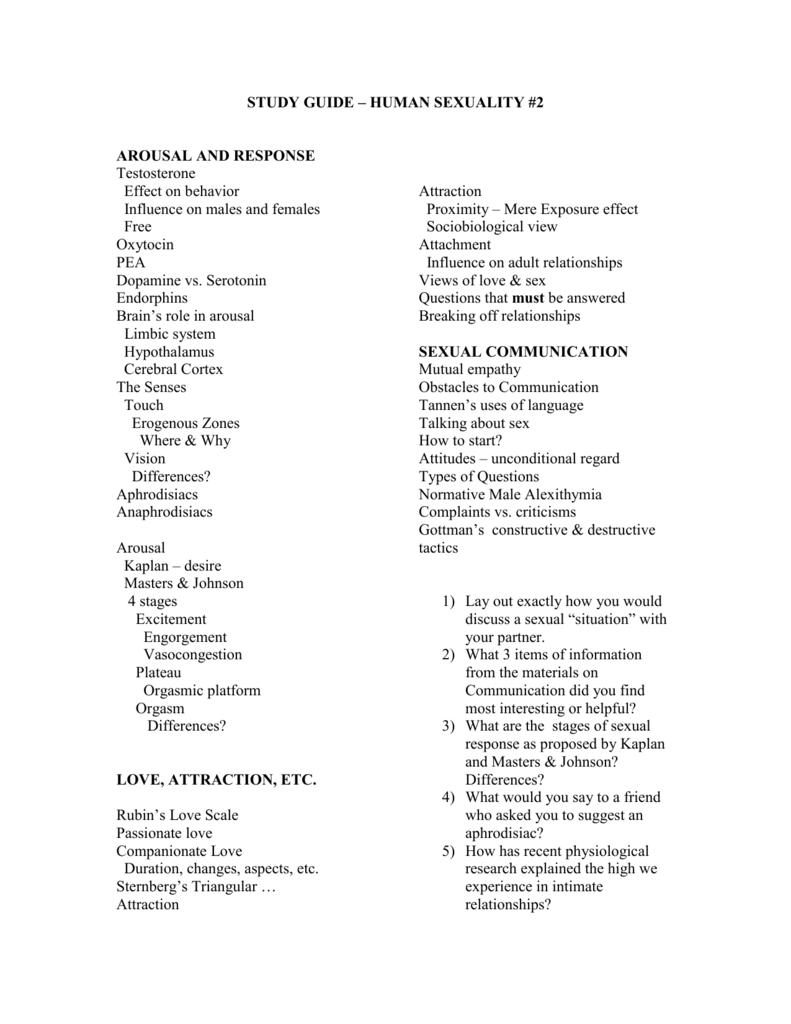 STUDY GUIDE – HUMAN SEXUALITY #2
AROUSAL AND RESPONSE
Testosterone
Effect on behavior
Influence on males and females
Free
Oxytocin
PEA
Dopamine vs. Serotonin
Endorphins
Brain's role in arousal
Limbic system
Hypothalamus
Cerebral Cortex
The Senses
Touch
Erogenous Zones
Where & Why
Vision
Differences?
Aphrodisiacs
Anaphrodisiacs
Arousal
Kaplan – desire
Masters & Johnson
4 stages
Excitement
Engorgement
Vasocongestion
Plateau
Orgasmic platform
Orgasm
Differences?
LOVE, ATTRACTION, ETC.
Rubin's Love Scale
Passionate love
Companionate Love
Duration, changes, aspects, etc.
Sternberg's Triangular …
Attraction
Attraction
Proximity – Mere Exposure effect
Sociobiological view
Attachment
Influence on adult relationships
Views of love & sex
Questions that must be answered
Breaking off relationships
SEXUAL COMMUNICATION
Mutual empathy
Obstacles to Communication
Tannen's uses of language
Talking about sex
How to start?
Attitudes – unconditional regard
Types of Questions
Normative Male Alexithymia
Complaints vs. criticisms
Gottman's constructive & destructive
tactics
1) Lay out exactly how you would
discuss a sexual "situation" with
your partner.
2) What 3 items of information
from the materials on
Communication did you find
most interesting or helpful?
3) What are the stages of sexual
response as proposed by Kaplan
and Masters & Johnson?
Differences?
4) What would you say to a friend
who asked you to suggest an
aphrodisiac?
5) How has recent physiological
research explained the high we
experience in intimate
relationships?