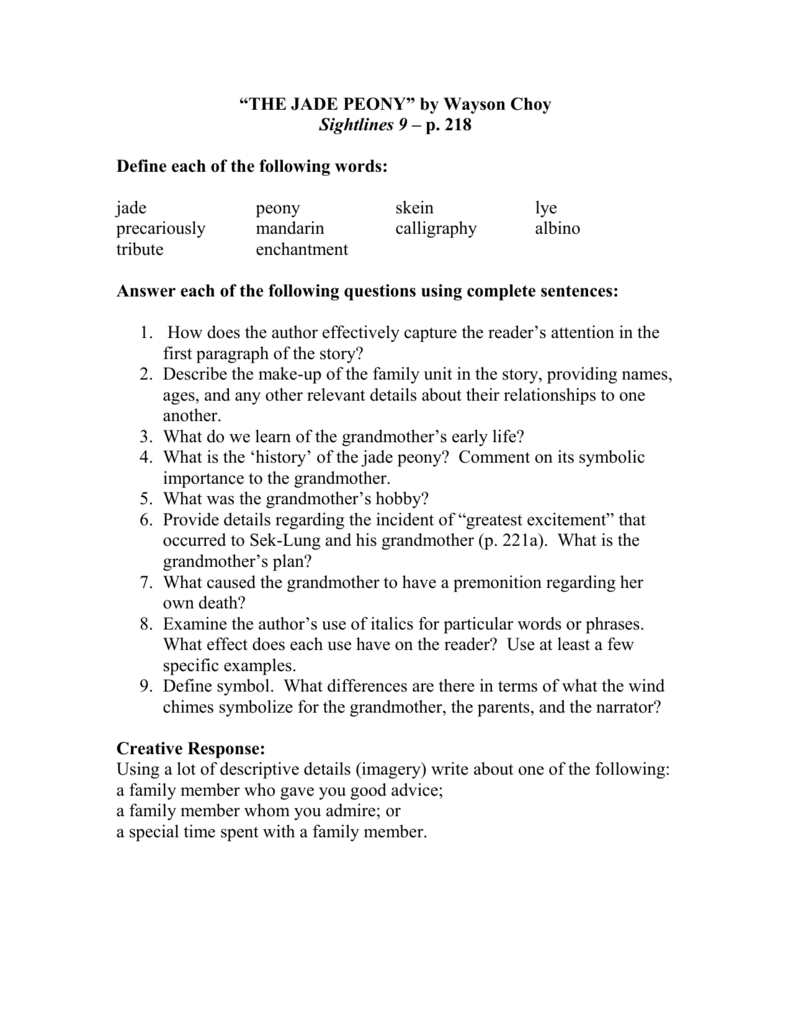 "THE JADE PEONY" by Wayson Choy
Sightlines 9 – p. 218
Define each of the following words:
jade
precariously
tribute
peony
mandarin
enchantment
skein
calligraphy
lye
albino
Answer each of the following questions using complete sentences:
1. How does the author effectively capture the reader's attention in the
first paragraph of the story?
2. Describe the make-up of the family unit in the story, providing names,
ages, and any other relevant details about their relationships to one
another.
3. What do we learn of the grandmother's early life?
4. What is the 'history' of the jade peony? Comment on its symbolic
importance to the grandmother.
5. What was the grandmother's hobby?
6. Provide details regarding the incident of "greatest excitement" that
occurred to Sek-Lung and his grandmother (p. 221a). What is the
grandmother's plan?
7. What caused the grandmother to have a premonition regarding her
own death?
8. Examine the author's use of italics for particular words or phrases.
What effect does each use have on the reader? Use at least a few
specific examples.
9. Define symbol. What differences are there in terms of what the wind
chimes symbolize for the grandmother, the parents, and the narrator?
Creative Response:
Using a lot of descriptive details (imagery) write about one of the following:
a family member who gave you good advice;
a family member whom you admire; or
a special time spent with a family member.