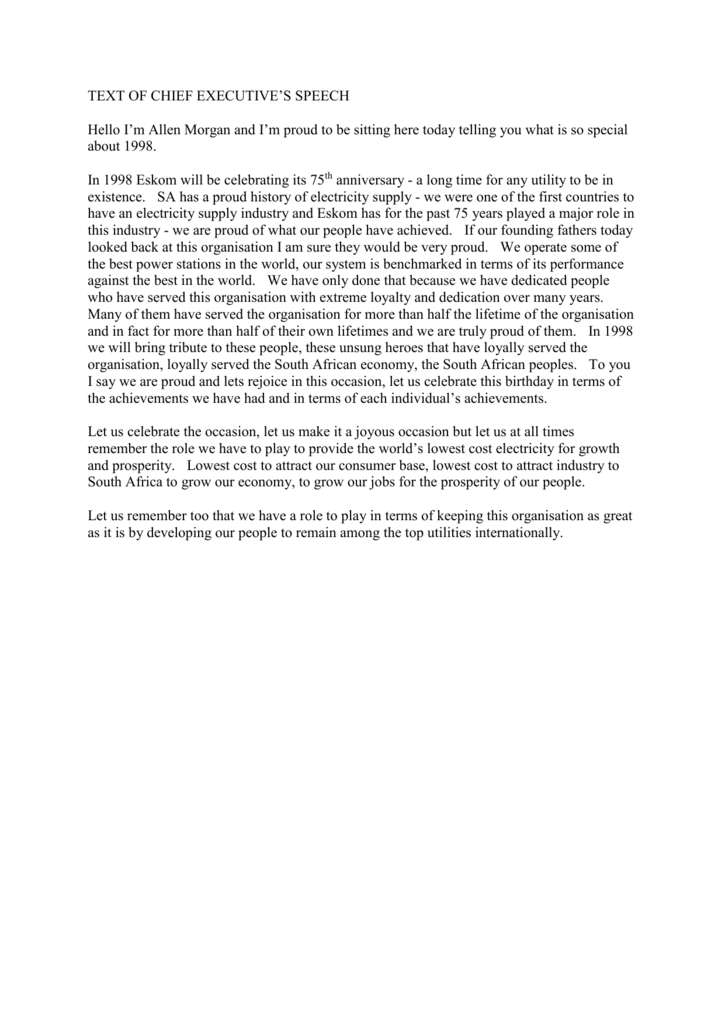 TEXT OF CHIEF EXECUTIVE'S SPEECH
Hello I'm Allen Morgan and I'm proud to be sitting here today telling you what is so special
about 1998.
In 1998 Eskom will be celebrating its 75th anniversary - a long time for any utility to be in
existence. SA has a proud history of electricity supply - we were one of the first countries to
have an electricity supply industry and Eskom has for the past 75 years played a major role in
this industry - we are proud of what our people have achieved. If our founding fathers today
looked back at this organisation I am sure they would be very proud. We operate some of
the best power stations in the world, our system is benchmarked in terms of its performance
against the best in the world. We have only done that because we have dedicated people
who have served this organisation with extreme loyalty and dedication over many years.
Many of them have served the organisation for more than half the lifetime of the organisation
and in fact for more than half of their own lifetimes and we are truly proud of them. In 1998
we will bring tribute to these people, these unsung heroes that have loyally served the
organisation, loyally served the South African economy, the South African peoples. To you
I say we are proud and lets rejoice in this occasion, let us celebrate this birthday in terms of
the achievements we have had and in terms of each individual's achievements.
Let us celebrate the occasion, let us make it a joyous occasion but let us at all times
remember the role we have to play to provide the world's lowest cost electricity for growth
and prosperity. Lowest cost to attract our consumer base, lowest cost to attract industry to
South Africa to grow our economy, to grow our jobs for the prosperity of our people.
Let us remember too that we have a role to play in terms of keeping this organisation as great
as it is by developing our people to remain among the top utilities internationally.