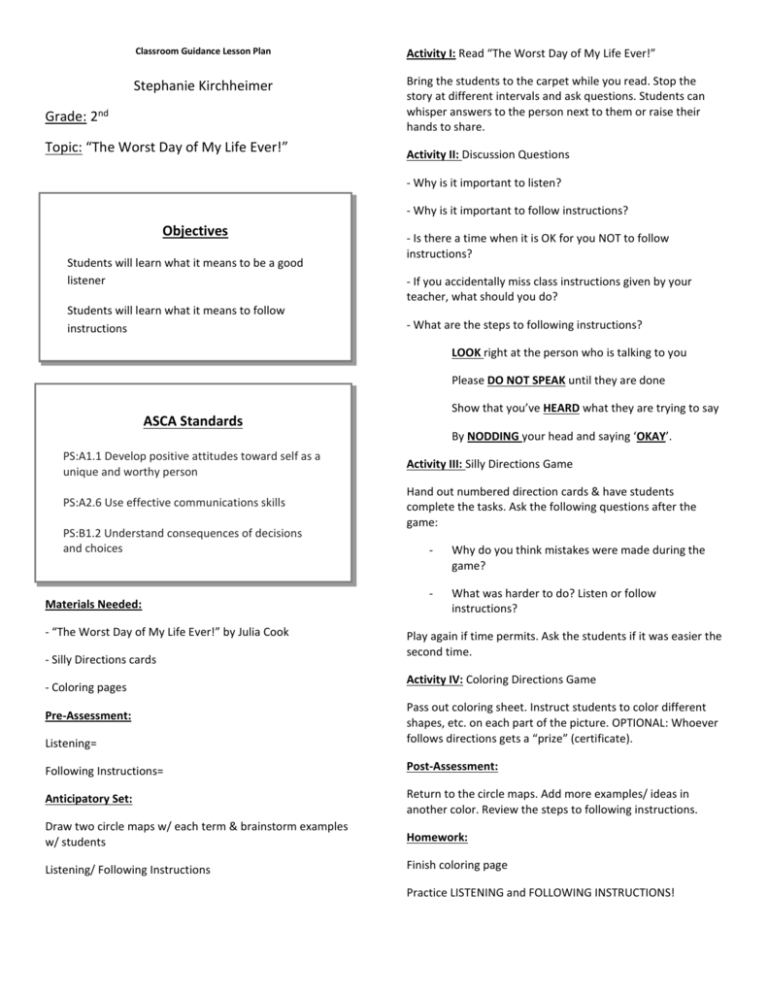 Classroom Guidance Lesson Plan
Activity I: Read "The Worst Day of My Life Ever!"
Stephanie Kirchheimer
Bring the students to the carpet while you read. Stop the
story at different intervals and ask questions. Students can
whisper answers to the person next to them or raise their
hands to share.
Grade: 2nd
Topic: "The Worst Day of My Life Ever!"
Activity II: Discussion Questions
- Why is it important to listen?
- Why is it important to follow instructions?
Objectives
Students will learn what it means to be a good
listener
Students will learn what it means to follow
instructions
- Is there a time when it is OK for you NOT to follow
instructions?
- If you accidentally miss class instructions given by your
teacher, what should you do?
- What are the steps to following instructions?
LOOK right at the person who is talking to you
Please DO NOT SPEAK until they are done
Show that you've HEARD what they are trying to say
ASCA Standards
By NODDING your head and saying 'OKAY'.
PS:A1.1 Develop positive attitudes toward self as a
unique and worthy person
Activity III: Silly Directions Game
PS:A2.6 Use effective communications skills
Hand out numbered direction cards & have students
complete the tasks. Ask the following questions after the
game:
PS:B1.2 Understand consequences of decisions
and choices
Materials Needed:
- "The Worst Day of My Life Ever!" by Julia Cook
- Silly Directions cards
- Coloring pages
-
Why do you think mistakes were made during the
game?
-
What was harder to do? Listen or follow
instructions?
Play again if time permits. Ask the students if it was easier the
second time.
Activity IV: Coloring Directions Game
Listening=
Pass out coloring sheet. Instruct students to color different
shapes, etc. on each part of the picture. OPTIONAL: Whoever
follows directions gets a "prize" (certificate).
Following Instructions=
Post-Assessment:
Anticipatory Set:
Return to the circle maps. Add more examples/ ideas in
another color. Review the steps to following instructions.
Draw two circle maps w/ each term & brainstorm examples
w/ students
Homework:
Listening/ Following Instructions
Finish coloring page
Pre-Assessment:
Practice LISTENING and FOLLOWING INSTRUCTIONS!