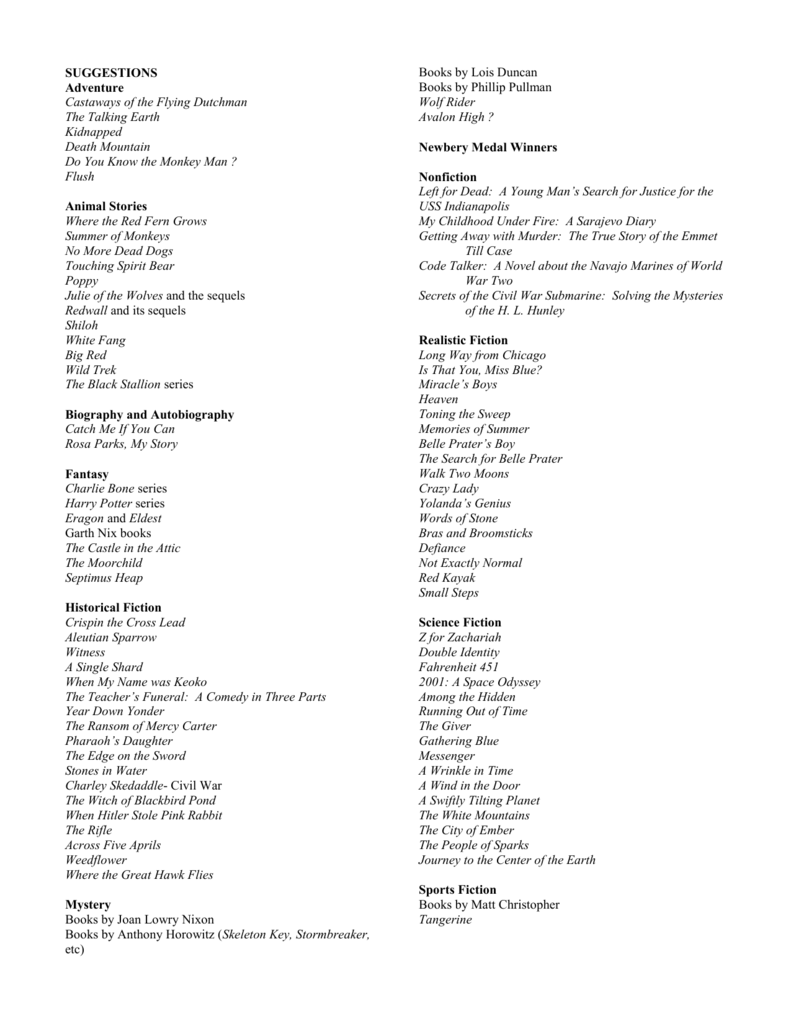 SUGGESTIONS
Adventure
Castaways of the Flying Dutchman
The Talking Earth
Kidnapped
Death Mountain
Do You Know the Monkey Man ?
Flush
Animal Stories
Where the Red Fern Grows
Summer of Monkeys
No More Dead Dogs
Touching Spirit Bear
Poppy
Julie of the Wolves and the sequels
Redwall and its sequels
Shiloh
White Fang
Big Red
Wild Trek
The Black Stallion series
Biography and Autobiography
Catch Me If You Can
Rosa Parks, My Story
Fantasy
Charlie Bone series
Harry Potter series
Eragon and Eldest
Garth Nix books
The Castle in the Attic
The Moorchild
Septimus Heap
Historical Fiction
Crispin the Cross Lead
Aleutian Sparrow
Witness
A Single Shard
When My Name was Keoko
The Teacher's Funeral: A Comedy in Three Parts
Year Down Yonder
The Ransom of Mercy Carter
Pharaoh's Daughter
The Edge on the Sword
Stones in Water
Charley Skedaddle- Civil War
The Witch of Blackbird Pond
When Hitler Stole Pink Rabbit
The Rifle
Across Five Aprils
Weedflower
Where the Great Hawk Flies
Mystery
Books by Joan Lowry Nixon
Books by Anthony Horowitz (Skeleton Key, Stormbreaker,
etc)
Books by Lois Duncan
Books by Phillip Pullman
Wolf Rider
Avalon High ?
Newbery Medal Winners
Nonfiction
Left for Dead: A Young Man's Search for Justice for the
USS Indianapolis
My Childhood Under Fire: A Sarajevo Diary
Getting Away with Murder: The True Story of the Emmet
Till Case
Code Talker: A Novel about the Navajo Marines of World
War Two
Secrets of the Civil War Submarine: Solving the Mysteries
of the H. L. Hunley
Realistic Fiction
Long Way from Chicago
Is That You, Miss Blue?
Miracle's Boys
Heaven
Toning the Sweep
Memories of Summer
Belle Prater's Boy
The Search for Belle Prater
Walk Two Moons
Crazy Lady
Yolanda's Genius
Words of Stone
Bras and Broomsticks
Defiance
Not Exactly Normal
Red Kayak
Small Steps
Science Fiction
Z for Zachariah
Double Identity
Fahrenheit 451
2001: A Space Odyssey
Among the Hidden
Running Out of Time
The Giver
Gathering Blue
Messenger
A Wrinkle in Time
A Wind in the Door
A Swiftly Tilting Planet
The White Mountains
The City of Ember
The People of Sparks
Journey to the Center of the Earth
Sports Fiction
Books by Matt Christopher
Tangerine
My seventh-graders had 7 choices for literature
circles. All were hits. The choices were: The Land (
a profound story) by Mildred Taylor (for fans of Roll of
Thunder, Hear My Cry), Milkweed by Jerry Spinelli
(riveting), Touching Spirit Bear by Ben Mikaelson (
powerful), Crispin by Avi (suspenseful), Olive's
Ocean by Kevin Henkes (touching), Good Night, Mr.
Tom by Michelle Margorian (unforgettable), and
Becoming Naomi Leon by Pam Munoz Ryan (she
wrote Esperanza Rising, another good choice). All
listed are GREAT summer reading for teachers of
middle school students. I highly recommend these
books.