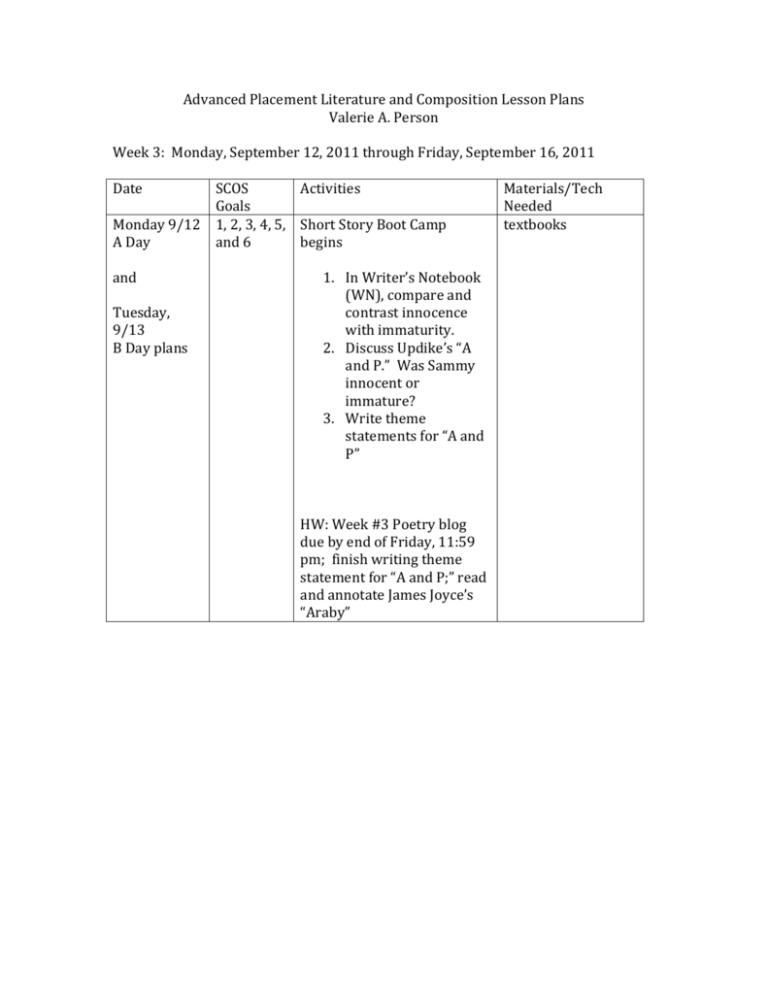 Advanced Placement Literature and Composition Lesson Plans
Valerie A. Person
Week 3: Monday, September 12, 2011 through Friday, September 16, 2011
Date
Monday 9/12
A Day
and
Tuesday,
9/13
B Day plans
SCOS
Activities
Goals
1, 2, 3, 4, 5, Short Story Boot Camp
and 6
begins
1. In Writer's Notebook
(WN), compare and
contrast innocence
with immaturity.
2. Discuss Updike's "A
and P." Was Sammy
innocent or
immature?
3. Write theme
statements for "A and
P"
HW: Week #3 Poetry blog
due by end of Friday, 11:59
pm; finish writing theme
statement for "A and P;" read
and annotate James Joyce's
"Araby"
Materials/Tech
Needed
textbooks
Wednesday
9/14
A Day
and
Thursday
9/15
B Day plans
1, 2, 3, 4, 5,
and 6
1. Pair/share theme
statements on white
boards; share as a
class-does your theme
statement contain a
"So What?"
2. Discuss "Araby" –
clarify points in the
story
3. Compare lyrics of Don
Henley song "End of
Innocence" with
"Araby" in groups and
then share info with
class.
4. Discuss the
ambiguities,
contrasting ideas,
tensions in "Araby"
(epiphany versus
blindness OR reality
versus illusion) – then
go back and reread
story and circle
diction related to one
of those two pairs.
5. If time, analyze the
diction in first two
paragraphs and
discuss how MOOAW
is foreshadowed in
those two paragraphs
– write a paragraph
explaining it
HW: Poetry Blog Week 3
response due by end of day
Friday, 9/16; read short
story "How Far She Went" for
tomorrow and annotate
details of how conflict(s)
is/are mirrored in the setting
Music video of
Henley song "This is
the End of
Innocence"
Copies of "Araby"
Copies of Mary
Hood's "How Far
She Went"
Friday 9/16
Split Day
42" each for
A and B
sections
1, 2, 3, 4, 5,
and 6
1. Pair/share the diction Copies of "The Bass,
in "Araby" – students The River and Sheila
write a paragraph
Mant"
explaining how
diction of the piece
contributes to
MOOAW.
2. In small groups, chart
out details of
conflict(s) mirrored in
setting of "How Far
She Went" - present
HW: Read the short story
"The Bass, The River and
Sheila Mant" and annotate
for conflict(s) in piece.