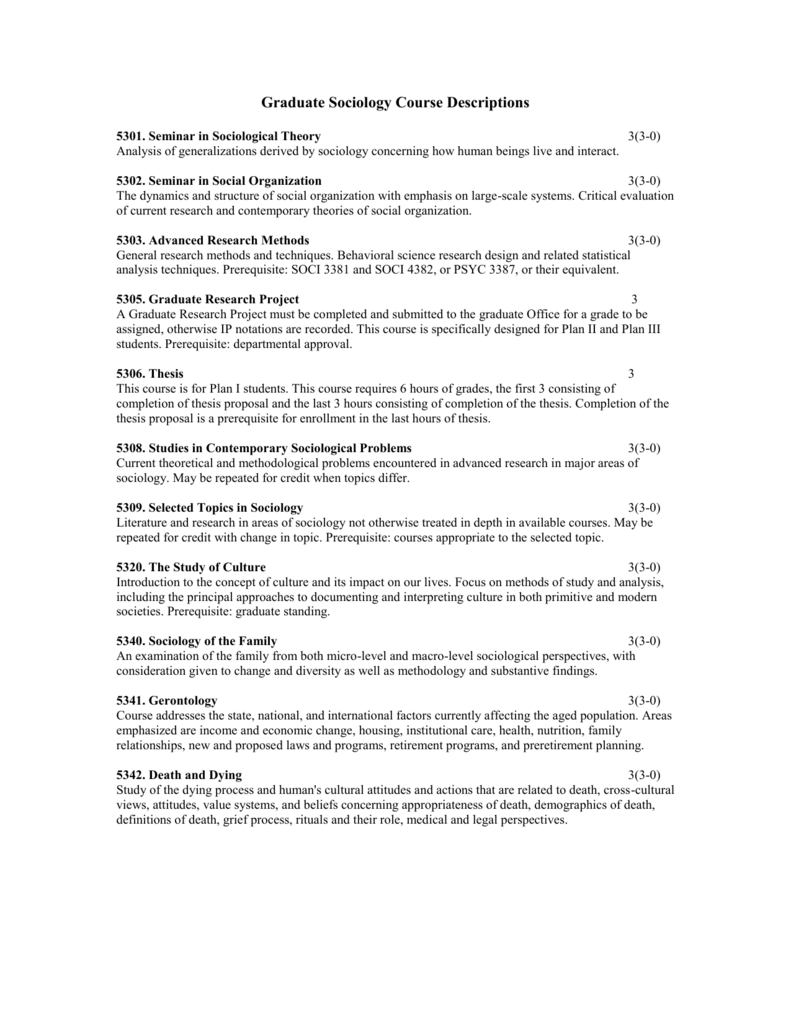 Graduate Sociology Course Descriptions
5301. Seminar in Sociological Theory
3(3-0)
Analysis of generalizations derived by sociology concerning how human beings live and interact.
5302. Seminar in Social Organization
3(3-0)
The dynamics and structure of social organization with emphasis on large-scale systems. Critical evaluation
of current research and contemporary theories of social organization.
5303. Advanced Research Methods
3(3-0)
General research methods and techniques. Behavioral science research design and related statistical
analysis techniques. Prerequisite: SOCI 3381 and SOCI 4382, or PSYC 3387, or their equivalent.
5305. Graduate Research Project
3
A Graduate Research Project must be completed and submitted to the graduate Office for a grade to be
assigned, otherwise IP notations are recorded. This course is specifically designed for Plan II and Plan III
students. Prerequisite: departmental approval.
5306. Thesis
3
This course is for Plan I students. This course requires 6 hours of grades, the first 3 consisting of
completion of thesis proposal and the last 3 hours consisting of completion of the thesis. Completion of the
thesis proposal is a prerequisite for enrollment in the last hours of thesis.
5308. Studies in Contemporary Sociological Problems
3(3-0)
Current theoretical and methodological problems encountered in advanced research in major areas of
sociology. May be repeated for credit when topics differ.
5309. Selected Topics in Sociology
3(3-0)
Literature and research in areas of sociology not otherwise treated in depth in available courses. May be
repeated for credit with change in topic. Prerequisite: courses appropriate to the selected topic.
5320. The Study of Culture
3(3-0)
Introduction to the concept of culture and its impact on our lives. Focus on methods of study and analysis,
including the principal approaches to documenting and interpreting culture in both primitive and modern
societies. Prerequisite: graduate standing.
5340. Sociology of the Family
3(3-0)
An examination of the family from both micro-level and macro-level sociological perspectives, with
consideration given to change and diversity as well as methodology and substantive findings.
5341. Gerontology
3(3-0)
Course addresses the state, national, and international factors currently affecting the aged population. Areas
emphasized are income and economic change, housing, institutional care, health, nutrition, family
relationships, new and proposed laws and programs, retirement programs, and preretirement planning.
5342. Death and Dying
3(3-0)
Study of the dying process and human's cultural attitudes and actions that are related to death, cross-cultural
views, attitudes, value systems, and beliefs concerning appropriateness of death, demographics of death,
definitions of death, grief process, rituals and their role, medical and legal perspectives.
5343. Working with the Aged
3(3-0)
Course emphasis is on working with the aged client, especially within a family context, and the services
targeted for this segment of the population. The Older Americans Act and other legislation affecting older
persons will be reviewed.
5344. Issues in Aging
3(3-0)
A variable topics course that will focus upon a current issue confronting older persons and their families,
with emphasis on the basic and applied research. Possible issues include caregiving, housing issues,
retirement adjustment, and widowhood adjustment. Prerequisite: SOCI 5341 or equivalent.
5345. Minority Aging
3(3-0)
Analysis and comparison of the ways racial/ethnic differences affect the aging experience and quality of
life for older African Americans, Hispanic Americans, Asian Americans, and Native Americans, with
attention given to gender and social class issues.
5346. Sociology of Hispanic Aged
3(3-0)
Analysis of the aging experience and quality of life for older Hispanic Americans with attention given to
gender and social class issues. Prerequisite: SOCI 5341 or comparable course with approval of instructor.
To earn graduate credit for any undergraduate course authorized in the graduate catalog, the student must
complete an extra assignment of graduate level quality that is not required of undergraduate students. The
following advanced undergraduate courses have been approved by the Graduate Council for graduate
credit: SOCI 4307. The Family and Marriage. SOCI 4341. Sociology of Aging. SOCI 4362. Race
Relations. SOCI 4382. Methods of Social Research. SOCI 4383. Social Theory.