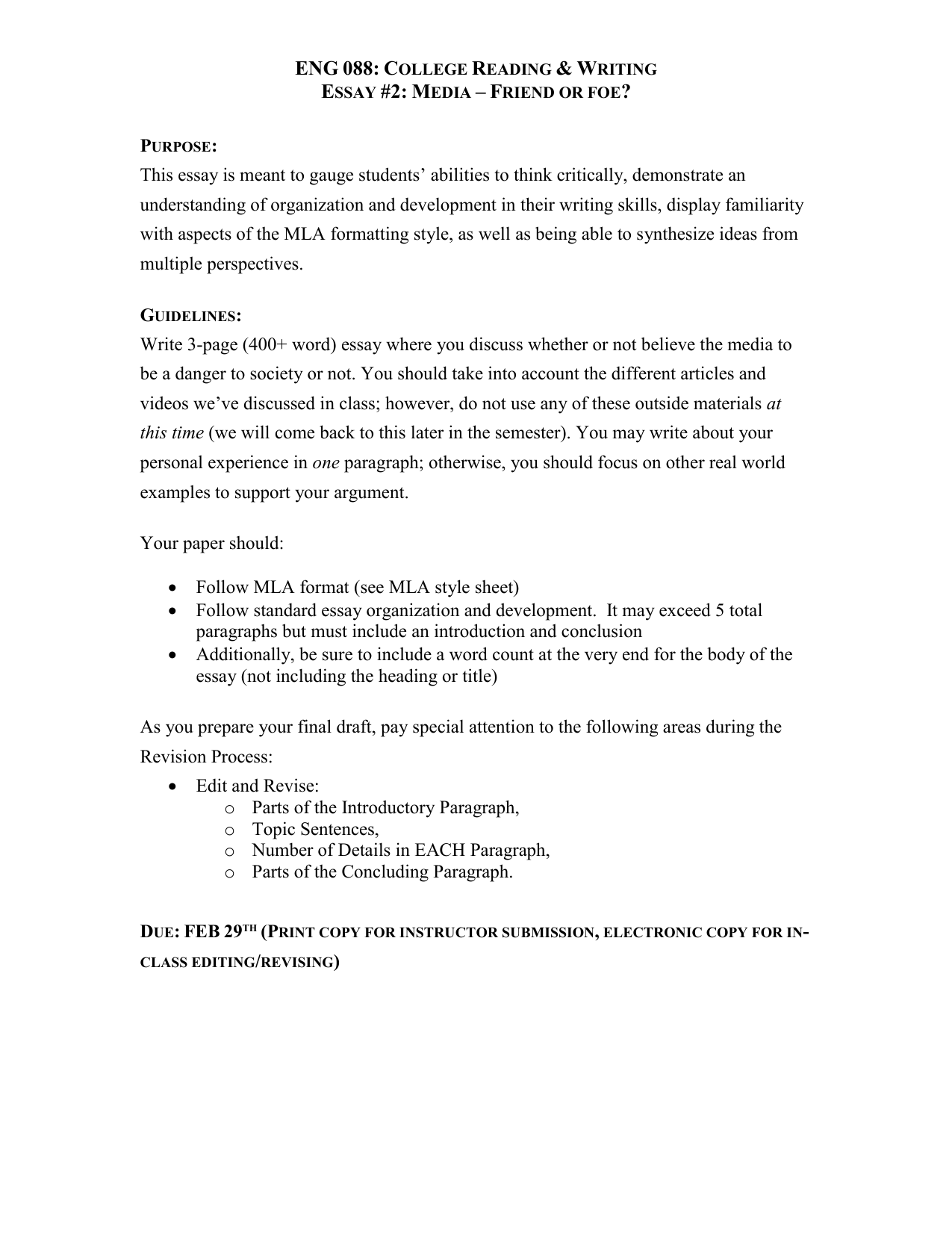 ENG 088: C OLLEGE R EADING & W RITING E SSAY #2: M EDIA – F RIEND OR FOE ? P URPOSE :
This essay is meant to gauge students' abilities to think critically, demonstrate an understanding of organization and development in their writing skills, display familiarity with aspects of the MLA formatting style, as well as being able to synthesize ideas from multiple perspectives.
G UIDELINES :
Write 3-page (400+ word) essay where you discuss whether or not believe the media to be a danger to society or not. You should take into account the different articles and videos we've discussed in class; however, do not use any of these outside materials
at this time
(we will come back to this later in the semester). You may write about your personal experience in
one
paragraph; otherwise, you should focus on other real world examples to support your argument. Your paper should:   Follow MLA format (see MLA style sheet) Follow standard essay organization and development. It may exceed 5 total paragraphs but must include an introduction and conclusion  Additionally, be sure to include a word count at the very end for the body of the essay (not including the heading or title) As you prepare your final draft, pay special attention to the following areas during the Revision Process:  Edit and Revise: o o o o Parts of the Introductory Paragraph, Topic Sentences, Number of Details in EACH Paragraph, Parts of the Concluding Paragraph.
D UE : FEB 29 TH (P RINT COPY FOR INSTRUCTOR SUBMISSION , ELECTRONIC COPY FOR IN CLASS EDITING / REVISING )