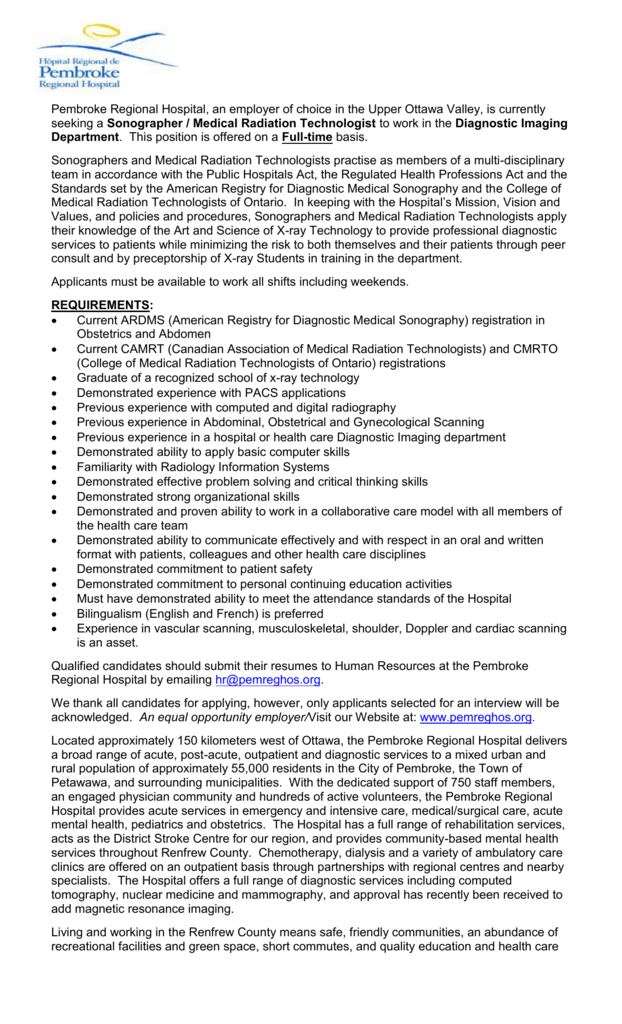 Pembroke Regional Hospital, an employer of choice in the Upper Ottawa Valley, is currently
seeking a Sonographer / Medical Radiation Technologist to work in the Diagnostic Imaging
Department. This position is offered on a Full-time basis.
Sonographers and Medical Radiation Technologists practise as members of a multi-disciplinary
team in accordance with the Public Hospitals Act, the Regulated Health Professions Act and the
Standards set by the American Registry for Diagnostic Medical Sonography and the College of
Medical Radiation Technologists of Ontario. In keeping with the Hospital's Mission, Vision and
Values, and policies and procedures, Sonographers and Medical Radiation Technologists apply
their knowledge of the Art and Science of X-ray Technology to provide professional diagnostic
services to patients while minimizing the risk to both themselves and their patients through peer
consult and by preceptorship of X-ray Students in training in the department.
Applicants must be available to work all shifts including weekends.
REQUIREMENTS:

Current ARDMS (American Registry for Diagnostic Medical Sonography) registration in
Obstetrics and Abdomen

Current CAMRT (Canadian Association of Medical Radiation Technologists) and CMRTO
(College of Medical Radiation Technologists of Ontario) registrations

Graduate of a recognized school of x-ray technology

Demonstrated experience with PACS applications

Previous experience with computed and digital radiography

Previous experience in Abdominal, Obstetrical and Gynecological Scanning

Previous experience in a hospital or health care Diagnostic Imaging department

Demonstrated ability to apply basic computer skills

Familiarity with Radiology Information Systems

Demonstrated effective problem solving and critical thinking skills

Demonstrated strong organizational skills

Demonstrated and proven ability to work in a collaborative care model with all members of
the health care team

Demonstrated ability to communicate effectively and with respect in an oral and written
format with patients, colleagues and other health care disciplines

Demonstrated commitment to patient safety

Demonstrated commitment to personal continuing education activities

Must have demonstrated ability to meet the attendance standards of the Hospital

Bilingualism (English and French) is preferred

Experience in vascular scanning, musculoskeletal, shoulder, Doppler and cardiac scanning
is an asset.
Qualified candidates should submit their resumes to Human Resources at the Pembroke
Regional Hospital by emailing [email protected]
We thank all candidates for applying, however, only applicants selected for an interview will be
acknowledged. An equal opportunity employer/Visit our Website at: www.pemreghos.org.
Located approximately 150 kilometers west of Ottawa, the Pembroke Regional Hospital delivers
a broad range of acute, post-acute, outpatient and diagnostic services to a mixed urban and
rural population of approximately 55,000 residents in the City of Pembroke, the Town of
Petawawa, and surrounding municipalities. With the dedicated support of 750 staff members,
an engaged physician community and hundreds of active volunteers, the Pembroke Regional
Hospital provides acute services in emergency and intensive care, medical/surgical care, acute
mental health, pediatrics and obstetrics. The Hospital has a full range of rehabilitation services,
acts as the District Stroke Centre for our region, and provides community-based mental health
services throughout Renfrew County. Chemotherapy, dialysis and a variety of ambulatory care
clinics are offered on an outpatient basis through partnerships with regional centres and nearby
specialists. The Hospital offers a full range of diagnostic services including computed
tomography, nuclear medicine and mammography, and approval has recently been received to
add magnetic resonance imaging.
Living and working in the Renfrew County means safe, friendly communities, an abundance of
recreational facilities and green space, short commutes, and quality education and health care
facilities. For more information on living in Pembroke or Renfrew County visit
www.countyrenfrew.on.ca or www.pembrokeontario.com.