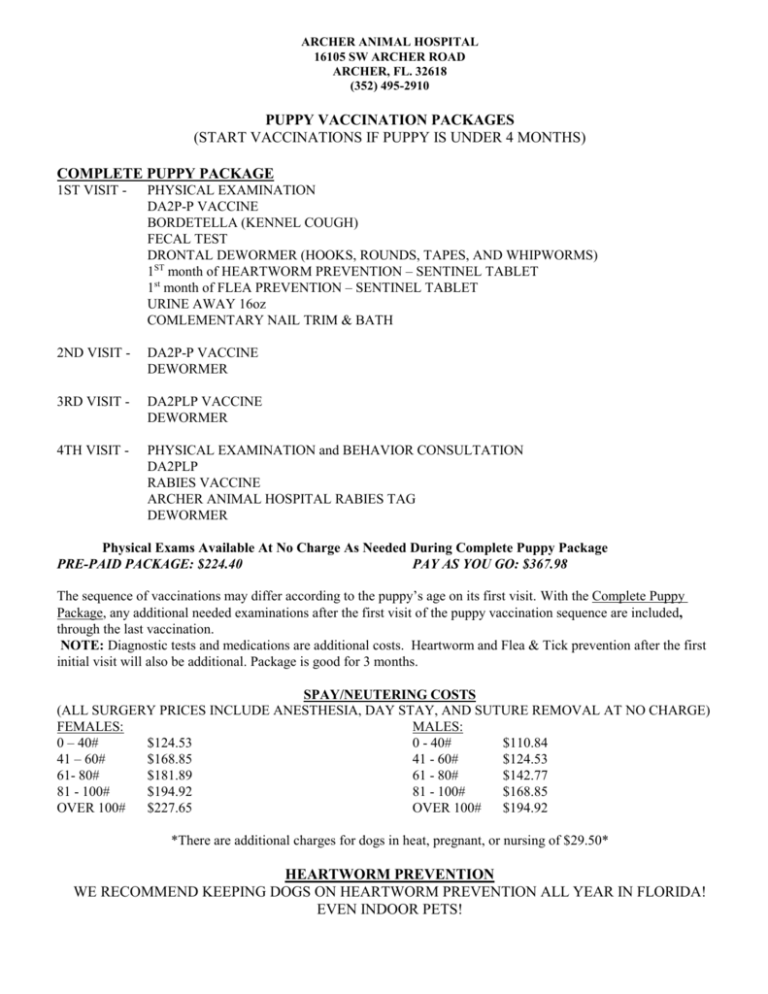 ARCHER ANIMAL HOSPITAL
16105 SW ARCHER ROAD
ARCHER, FL. 32618
(352) 495-2910
PUPPY VACCINATION PACKAGES
(START VACCINATIONS IF PUPPY IS UNDER 4 MONTHS)
COMPLETE PUPPY PACKAGE
1ST VISIT -
PHYSICAL EXAMINATION
DA2P-P VACCINE
BORDETELLA (KENNEL COUGH)
FECAL TEST
DRONTAL DEWORMER (HOOKS, ROUNDS, TAPES, AND WHIPWORMS)
1ST month of HEARTWORM PREVENTION – SENTINEL TABLET
1st month of FLEA PREVENTION – SENTINEL TABLET
URINE AWAY 16oz
COMLEMENTARY NAIL TRIM & BATH
2ND VISIT -
DA2P-P VACCINE
DEWORMER
3RD VISIT -
DA2PLP VACCINE
DEWORMER
4TH VISIT -
PHYSICAL EXAMINATION and BEHAVIOR CONSULTATION
DA2PLP
RABIES VACCINE
ARCHER ANIMAL HOSPITAL RABIES TAG
DEWORMER
Physical Exams Available At No Charge As Needed During Complete Puppy Package
PRE-PAID PACKAGE: $224.40
PAY AS YOU GO: $367.98
The sequence of vaccinations may differ according to the puppy's age on its first visit. With the Complete Puppy
Package, any additional needed examinations after the first visit of the puppy vaccination sequence are included,
through the last vaccination.
NOTE: Diagnostic tests and medications are additional costs. Heartworm and Flea & Tick prevention after the first
initial visit will also be additional. Package is good for 3 months.
SPAY/NEUTERING COSTS
(ALL SURGERY PRICES INCLUDE ANESTHESIA, DAY STAY, AND SUTURE REMOVAL AT NO CHARGE)
FEMALES:
MALES:
0 – 40#
$124.53
0 - 40#
$110.84
41 – 60#
$168.85
41 - 60#
$124.53
61- 80#
$181.89
61 - 80#
$142.77
81 - 100#
$194.92
81 - 100#
$168.85
OVER 100#
$227.65
OVER 100#
$194.92
*There are additional charges for dogs in heat, pregnant, or nursing of $29.50*
HEARTWORM PREVENTION
WE RECOMMEND KEEPING DOGS ON HEARTWORM PREVENTION ALL YEAR IN FLORIDA!
EVEN INDOOR PETS!