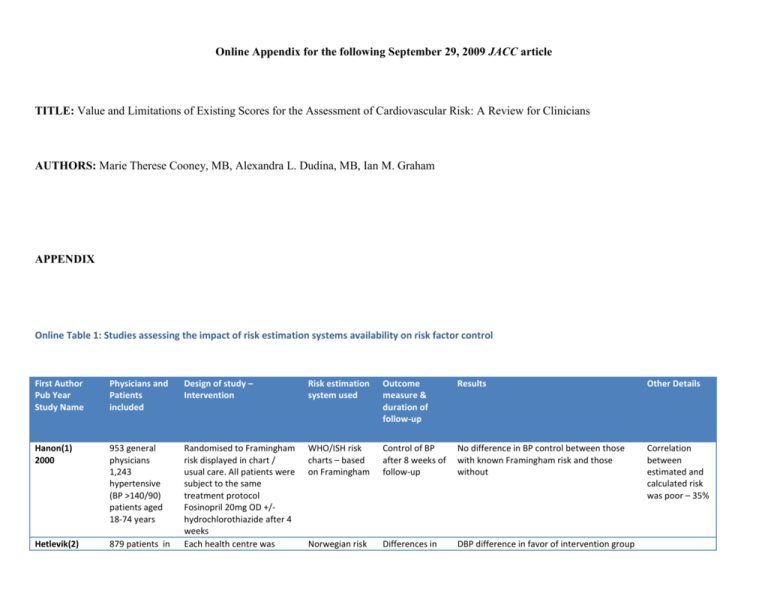 Online Appendix for the following September 29, 2009 JACC article
TITLE: Value and Limitations of Existing Scores for the Assessment of Cardiovascular Risk: A Review for Clinicians
AUTHORS: Marie Therese Cooney, MB, Alexandra L. Dudina, MB, Ian M. Graham
APPENDIX
Online Table 1: Studies assessing the impact of risk estimation systems availability on risk factor control
First Author
Pub Year
Study Name
Physicians and
Patients
included
Design of study –
Intervention
Risk estimation
system used
Outcome
measure &
duration of
follow-up
Results
Other Details
Hanon(1)
2000
953 general
physicians
1,243
hypertensive
(BP >140/90)
patients aged
18-74 years
WHO/ISH risk
charts – based
on Framingham
Control of BP
after 8 weeks of
follow-up
No difference in BP control between those
with known Framingham risk and those
without
Correlation
between
estimated and
calculated risk
was poor – 35%
Hetlevik(2)
879 patients in
Randomised to Framingham
risk displayed in chart /
usual care. All patients were
subject to the same
treatment protocol
Fosinopril 20mg OD +/hydrochlorothiazide after 4
weeks
Each health centre was
Norwegian risk
Differences in
DBP difference in favor of intervention group
2000
intervention
group & 1,119
control group
randomised to receive the
computerized system and
training or not
score – relative
risk compared
to 40 year old
woman
Hall(3)
2003
323 Patients
with diabetes
without CVD or
renal disease,
aged 35-75
years
614 patients
aged between
60 and 79 years
with a diagnosis
of hypertension
Patients randomised to clear
display of New Zealand 5
year risk score in notes
versus usual care
New Zealand 5
year risk score
Randomised to:
Computerized based clinical
decision system & risk chart
Risk chart
Usual care
New Zealand 5
year risk score
Lowensteyn(5)
1998
CHAS Study
253 community
based
physicians and
958 patients
aged 30-74
years, free of
CVD
Patients were randomised
to receive a full
cardiovascular profile within
10 days of assessment or to
receive this information only
if they returned for followup visit in 3 months.
Computer
generated risk
profile including
total CVD risk
(Modified
Framingham)
and CV risk age
Grover(6)
2007
CHECK-UP
Study
230 primary
care physicians
2687 patients
(High risk
individuals with
lipid levels
above target)
Patients randomised to
receive a one page CV risk
profile
The risk profiles were
updated at the second (3
month) visit in order to
demonstrate changes due to
therapy and lifestyle
change.
Framingham &
LRPC CV life
expectancy
model
Risk age
Montgomery
(4)
2000
SBP, DBP, TC,
BMI, risk score
for MI. Followup for 18
months
Alterations in
prescribing –
diabetes, BP,
lipid treatment
& referral to
dietician
% in each group
with 5 year risk
> 10%, SBP ,
DBP, CV drug
prescription,
after 12 months
of follow-up
Change in
coronary risk
score & lipid
levels after 3
months
% returning for
follow-up visit
in 3 months.
Change in lipid
levels &
coronary risk
score &
proportion
reaching lipid
targets after 12
months of
follow-up
(1mmHg)
No difference between the two groups in
prescribing overall. The intervention group –
more high risk individuals were prescribed BP
(20% vs. 8%) and lipid lowering treatment
(17% vs. 7%) - without an increase in the
prescribing in the low risk group.
No difference in absolute risk between the
three groups.
Chart only group achieved greater
reductions in SBP than usual care group 4.6mmHg (-8.4 to -0.8) and more likely to be
prescribed 2 CV drugs or 3 CV drugs**
Reduction in the numbers attending for
follow-up in the intervention group and a
higher percentage of these were high risk
individuals, than those who returned in the
control group.
The profile group had greater reductions in
TC. LDL. TC/HDL ratio, predicted 8 year
coronary risk score.
Significantly greater mean reductions in LDL
cholesterol & total cholesterol/ HDL
cholesterol ratio occurred in intervention
group; -3.3mg/dl (-5.4 to -0.1) and -0.1 (-0.2
to -0.1) respectively.
The impact of the risk profile was greater in
those with worse profiles. Greater reductions
in SBP, DBP and coronary risk score were also
seen in the intervention group.
Suggests better
usage of paperbased rather
than electronic
risk estimation
systems*
Participation in
the program by
physicians was
poor in both
control and
intervention
groups
* Note the computerized system was older and not windows based – system did not allow user access to visual display of risk.
** Also, suggestion that those in the computerized and chart only groups who were at higher baseline risk achieved greater reductions in risk over the follow-up time, compared
to the usual care group
Online Figure 1: Odds ratios for myocardial infarction in patients older and younger than 60 years from the INTERHEART study, from
Anand et al. (7)
1.
Hanon O, Franconi G, Mourad JJ, Baleydier A, Croce I, Girerd X. [The estimation of cardiovascular risk in hypertensive
patients is not modified by management of the hypertension]. Arch Mal Coeur Vaiss 2000;93:943-7.
2.
Hetlevik I, Holmen J, Kruger O. Implementing clinical guidelines in the treatment of hypertension in general practice.
Evaluation of patient outcome related to implementation of a computer-based clinical decision support system. Scand J
Prim Health Care 1999;17:35-40.
3.
Hall LM, Jung RT, Leese GP. Controlled trial of effect of documented cardiovascular risk scores on prescribing. BMJ
2003;326:251-2.
4.
Montgomery AA, Fahey T, Peters TJ, MacIntosh C, Sharp DJ. Evaluation of computer based clinical decision support system
and risk chart for management of hypertension in primary care: randomised controlled trial. BMJ 2000;320:686-90.
5.
Lowensteyn I, Joseph L, Levinton C, Abrahamowicz M, Steinert Y, Grover S. Can computerized risk profiles help patients
improve their coronary risk? The results of the Coronary Health Assessment Study (CHAS). Prev Med 1998;27:730-7.
6.
Grover SA, Lowensteyn I, Joseph L, et al. Patient knowledge of coronary risk profile improves the effectiveness of
dyslipidemia therapy: the CHECK-UP study: a randomized controlled trial. Arch Intern Med 2007;167:2296-303.
7.
Anand S, Islam S, Rosengren A, et al. Risk factors for myocardial infarction in women and men: insights from the
INTERHEART study. Eur Heart J 2008;29:932-940.