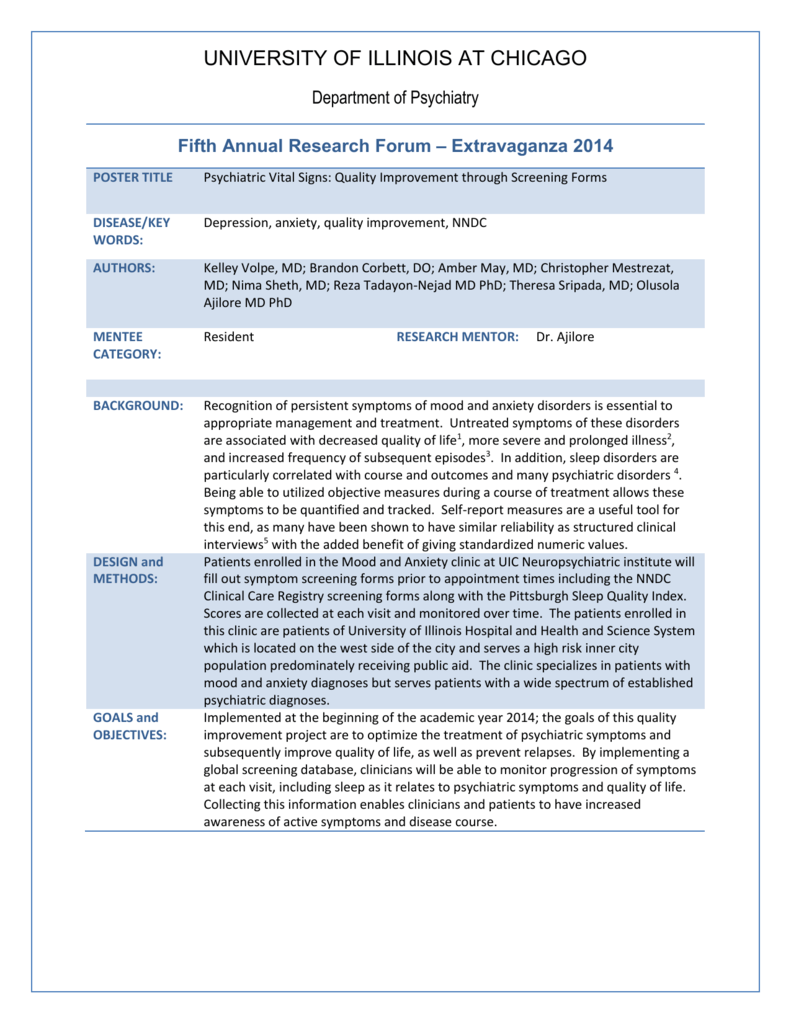 UNIVERSITY OF ILLINOIS AT CHICAGO
Department of Psychiatry
Fifth Annual Research Forum – Extravaganza 2014
POSTER TITLE
Psychiatric Vital Signs: Quality Improvement through Screening Forms
DISEASE/KEY
WORDS:
Depression, anxiety, quality improvement, NNDC
AUTHORS:
Kelley Volpe, MD; Brandon Corbett, DO; Amber May, MD; Christopher Mestrezat,
MD; Nima Sheth, MD; Reza Tadayon-Nejad MD PhD; Theresa Sripada, MD; Olusola
Ajilore MD PhD
MENTEE
CATEGORY:
Resident
BACKGROUND:
Recognition of persistent symptoms of mood and anxiety disorders is essential to
appropriate management and treatment. Untreated symptoms of these disorders
are associated with decreased quality of life1, more severe and prolonged illness2,
and increased frequency of subsequent episodes3. In addition, sleep disorders are
particularly correlated with course and outcomes and many psychiatric disorders 4.
Being able to utilized objective measures during a course of treatment allows these
symptoms to be quantified and tracked. Self-report measures are a useful tool for
this end, as many have been shown to have similar reliability as structured clinical
interviews5 with the added benefit of giving standardized numeric values.
Patients enrolled in the Mood and Anxiety clinic at UIC Neuropsychiatric institute will
fill out symptom screening forms prior to appointment times including the NNDC
Clinical Care Registry screening forms along with the Pittsburgh Sleep Quality Index.
Scores are collected at each visit and monitored over time. The patients enrolled in
this clinic are patients of University of Illinois Hospital and Health and Science System
which is located on the west side of the city and serves a high risk inner city
population predominately receiving public aid. The clinic specializes in patients with
mood and anxiety diagnoses but serves patients with a wide spectrum of established
psychiatric diagnoses.
Implemented at the beginning of the academic year 2014; the goals of this quality
improvement project are to optimize the treatment of psychiatric symptoms and
subsequently improve quality of life, as well as prevent relapses. By implementing a
global screening database, clinicians will be able to monitor progression of symptoms
at each visit, including sleep as it relates to psychiatric symptoms and quality of life.
Collecting this information enables clinicians and patients to have increased
awareness of active symptoms and disease course.
DESIGN and
METHODS:
GOALS and
OBJECTIVES:
RESEARCH MENTOR:
Dr. Ajilore
UNIVERSITY OF ILLINOIS AT CHICAGO
Department of Psychiatry
EXPECTED
OUTCOMES:
It is expected that a standardized screening process will enable clinicians to enhance
treatments therefore decreasing symptoms over time. Sleep is predicted to correlate
with worsening symptoms expressed on the other screening forms. Improving sleep
will then correlate with improvement in report of mood and anxiety symptoms.
Information given on screening forms is anticipated to approximate reporting to
clinician during appointment.