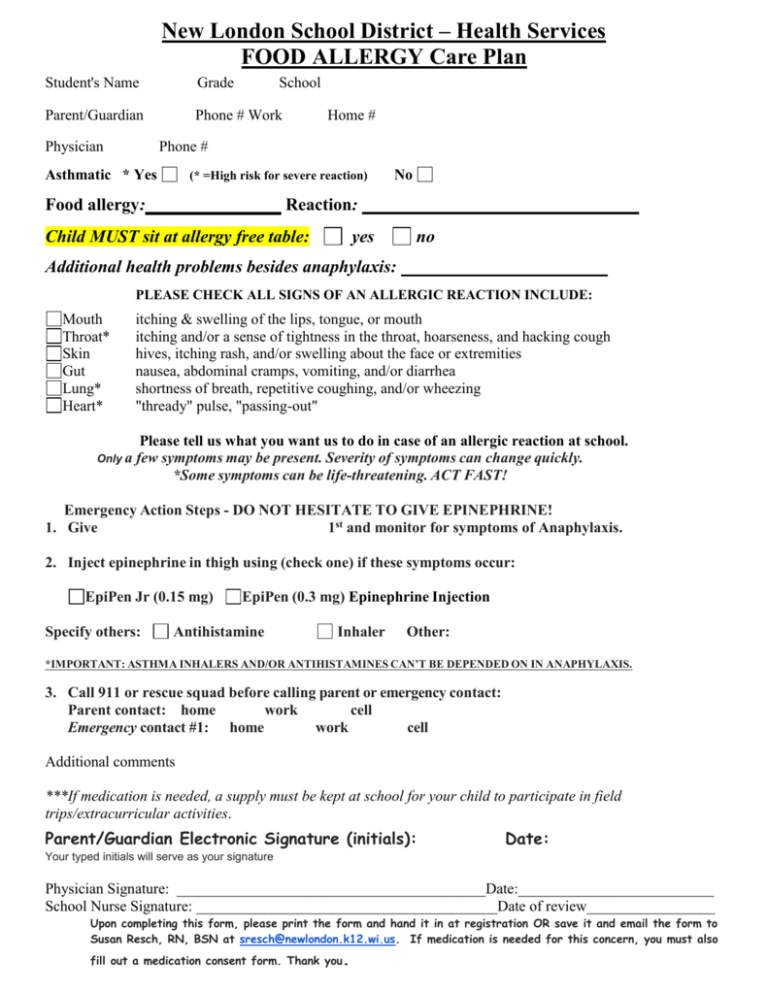 New London School District – Health Services
FOOD ALLERGY Care Plan
Student's Name
Grade
Parent/Guardian
Phone # Work
Physician
School
Home #
Phone #
Asthmatic * Yes
(* =High risk for severe reaction)
Food allergy:
No
Reaction:
Child MUST sit at allergy free table:
yes
no
Additional health problems besides anaphylaxis:
PLEASE CHECK ALL SIGNS OF AN ALLERGIC REACTION INCLUDE:
Mouth
Throat*
Skin
Gut
Lung*
Heart*
itching & swelling of the lips, tongue, or mouth
itching and/or a sense of tightness in the throat, hoarseness, and hacking cough
hives, itching rash, and/or swelling about the face or extremities
nausea, abdominal cramps, vomiting, and/or diarrhea
shortness of breath, repetitive coughing, and/or wheezing
"thready" pulse, "passing-out"
Please tell us what you want us to do in case of an allergic reaction at school.
Only a few symptoms may be present. Severity of symptoms can change quickly.
*Some symptoms can be life-threatening. ACT FAST!
Emergency Action Steps - DO NOT HESITATE TO GIVE EPINEPHRINE!
1. Give
1st and monitor for symptoms of Anaphylaxis.
2. Inject epinephrine in thigh using (check one) if these symptoms occur:
EpiPen Jr (0.15 mg)
Specify others:
EpiPen (0.3 mg) Epinephrine Injection
Antihistamine
Inhaler
Other:
*IMPORTANT: ASTHMA INHALERS AND/OR ANTIHISTAMINES CAN'T BE DEPENDED ON IN ANAPHYLAXIS.
3. Call 911 or rescue squad before calling parent or emergency contact:
Parent contact: home
work
cell
Emergency contact #1: home
work
cell
Additional comments
***If medication is needed, a supply must be kept at school for your child to participate in field
trips/extracurricular activities.
Parent/Guardian Electronic Signature (initials):
Date:
Your typed initials will serve as your signature
Physician Signature: _________________________________________Date:__________________________
School Nurse Signature: ________________________________________Date of review_________________
Upon completing this form, please print the form and hand it in at registration OR save it and email the form to
Susan Resch, RN, BSN at sresch@newlondon.k12.wi.us. If medication is needed for this concern, you must also
fill out a medication consent form. Thank you.