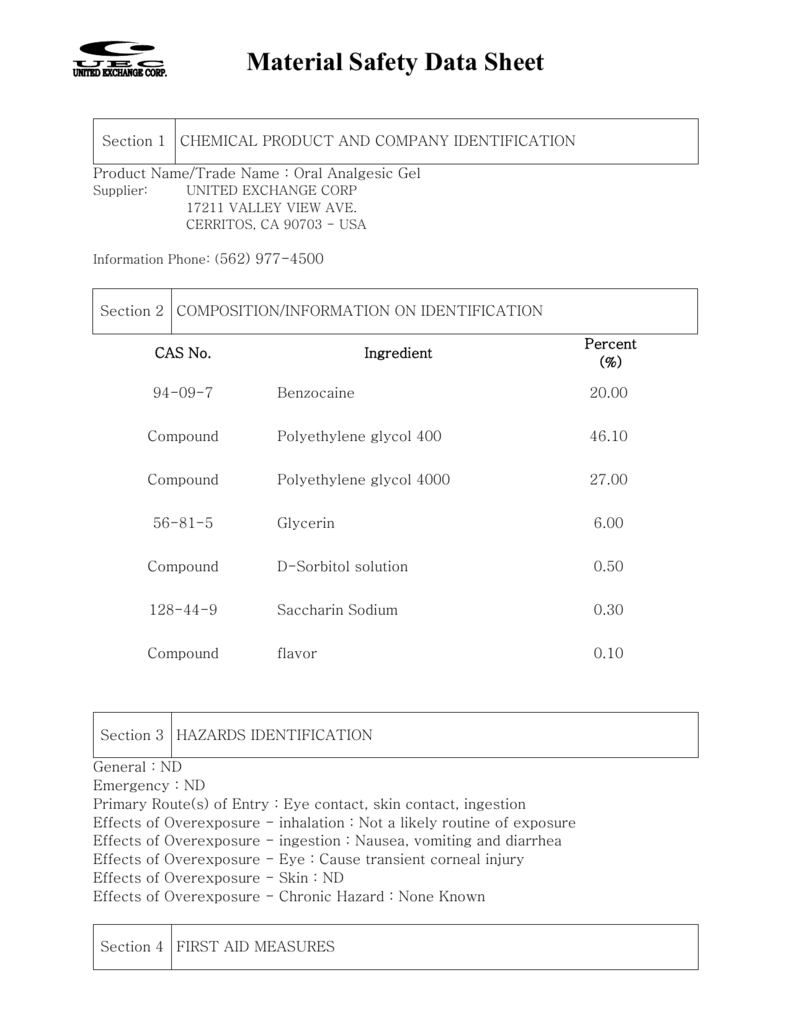 Material Safety Data Sheet
Section 1 CHEMICAL PRODUCT AND COMPANY IDENTIFICATION
Product Name/Trade Name : Oral Analgesic Gel
Supplier:
UNITED EXCHANGE CORP
17211 VALLEY VIEW AVE.
CERRITOS, CA 90703 - USA
Information Phone: (562) 977-4500
Section 2 COMPOSITION/INFORMATION ON IDENTIFICATION
CAS No.
94-09-7
Ingredient
Percent
(%)
Benzocaine
20.00
Compound
Polyethylene glycol 400
46.10
Compound
Polyethylene glycol 4000
27.00
Glycerin
6.00
Compound
D-Sorbitol solution
0.50
128-44-9
Saccharin Sodium
0.30
Compound
flavor
0.10
56-81-5
Section 3 HAZARDS IDENTIFICATION
General : ND
Emergency : ND
Primary Route(s) of Entry : Eye contact, skin contact, ingestion
Effects of Overexposure - inhalation : Not a likely routine of exposure
Effects of Overexposure - ingestion : Nausea, vomiting and diarrhea
Effects of Overexposure - Eye : Cause transient corneal injury
Effects of Overexposure - Skin : ND
Effects of Overexposure - Chronic Hazard : None Known
Section 4 FIRST AID MEASURES
Material Safety Data Sheet
Skin : Flush skin with plenty of soap and water for at least 15 minutes
Eyes : Flush eyes with plenty of water for at last 15 minutes
Ingestion : Do not include vomition. Give water, Seek medical attention if
condition persist
Inhalation : Remove to fresh air
Section 5 FIRE FIGTHING MEASURES
Flash point and Method used : N/A Flammable limit : N/A Flammable limit : N/A
(TOC) (LEL)
(UEL)
Nonflammable
Auto-ignition temperature : N/A
Extinguishing Media : In case of fire, use water, dry chemical foam, or alcohol-resistant
foam. Use water spray to cool fire-exposed containers. Cool containers with
flooding Quantities of water until well after fire is out.
Unusual fire and explosion : None
Hazard : Avoid from strong Oxidizing agents
Explosion date : ND
Section 6 ACCIDENTAL RELEASE MEASURES
Personal protective : None
Equipment :
Material release or spill : flush to sewer
Other : None
Section 7 HANDLING AND STORAGE
Storage : Keep away from heat and flame
Store in a cool, dry, well-ventilated area
Precautions during : No special engineering requirements
Eye protection : Use adequate ventilation to keep airborne concentrations low
Protective clothing : Safety glasses / goggles
Respiratory protection : Not required under normal use conditions, protect against
heavy misting conditions
Other PPE : None required under normal use conditions, Rubber/PVC gloves
are recommended
Section 9 PHYSICAL AND CHEMICAL PROPERTIES
Appearance : white cream
Odor : none
Physical State : cream
Boiling Point : N/A
Vapor Pressure : N/A
Vapor Density : N/A
Material Safety Data Sheet
Solubility in Water : insoluble
PH : N/A
Melting point : N/A
% volatile by volume : ND
Partition coefficient : ND
Coefficient of water/oil : ND
Evaporation rate : N/A
Viscosity : N/A
Specific Gravity : 1.02g/㎤
Cloud point : ND
Freezing point : ND
Section 10 STABILITY AND REACTIVITY
Stability : Stable
Incompatibility : Strong oxidizing agent
Conditions to Avoid : Avoid contact with strong oxidizing agents
Hazardous Decomposition : Carbon monoxide, carbon dioxide
Hazardous Polymerization : Has not been reported
Section 11 TOXICOLOGICAL PROPERTIES
Acute oral toxicity : No information available
Carcinogenicity : None
Reproductive : No information available
Teratogenicity : No information available
Mutagenicity : No information available
Other Studies : No data available
Section 12 ECOLOGICAL INFORMATON
No data available
Section 13 DISPOSAL CONSIDERATIONS
Dispose in accordance with federal, state and local regulations
Section 14 TRANSPORT INFORMATION
Dot proper shipping : Not hazardous
DOT Hazard class : NA
UN Number, proper shipping name : NA
Section 15 REGULATORY INFORMATION
No information available
DOT technical name : NA
Hazard subclass : NA
Packing group : NA
Material Safety Data Sheet
Section 16 OTHER INFORMATION
The information provided has been adapted from the manufacturer supplied MSDS.
The information above is believed to be accurate and represents the best
information currently available to us. However, we make no warranty of
merchantability or other warranty, express or implied, with respect to such
information, and we assume no liability resulting from use of MSDS information.