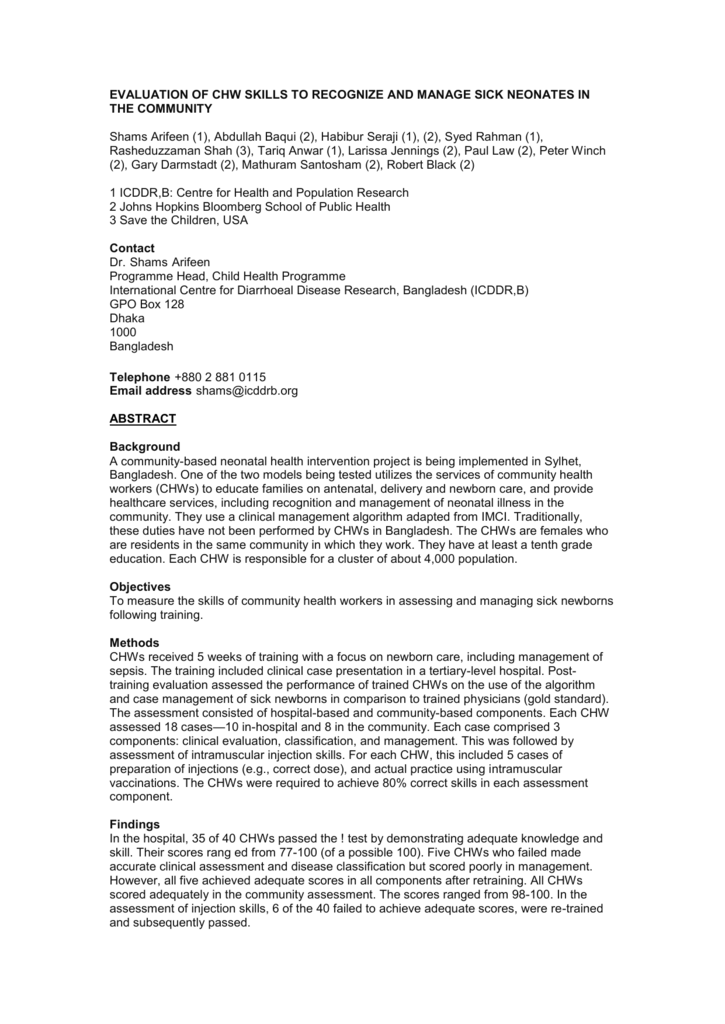 EVALUATION OF CHW SKILLS TO RECOGNIZE AND MANAGE SICK NEONATES IN
THE COMMUNITY
Shams Arifeen (1), Abdullah Baqui (2), Habibur Seraji (1), (2), Syed Rahman (1),
Rasheduzzaman Shah (3), Tariq Anwar (1), Larissa Jennings (2), Paul Law (2), Peter Winch
(2), Gary Darmstadt (2), Mathuram Santosham (2), Robert Black (2)
1 ICDDR,B: Centre for Health and Population Research
2 Johns Hopkins Bloomberg School of Public Health
3 Save the Children, USA
Contact
Dr. Shams Arifeen
Programme Head, Child Health Programme
International Centre for Diarrhoeal Disease Research, Bangladesh (ICDDR,B)
GPO Box 128
Dhaka
1000
Bangladesh
Telephone +880 2 881 0115
Email address [email protected]
ABSTRACT
Background
A community-based neonatal health intervention project is being implemented in Sylhet,
Bangladesh. One of the two models being tested utilizes the services of community health
workers (CHWs) to educate families on antenatal, delivery and newborn care, and provide
healthcare services, including recognition and management of neonatal illness in the
community. They use a clinical management algorithm adapted from IMCI. Traditionally,
these duties have not been performed by CHWs in Bangladesh. The CHWs are females who
are residents in the same community in which they work. They have at least a tenth grade
education. Each CHW is responsible for a cluster of about 4,000 population.
Objectives
To measure the skills of community health workers in assessing and managing sick newborns
following training.
Methods
CHWs received 5 weeks of training with a focus on newborn care, including management of
sepsis. The training included clinical case presentation in a tertiary-level hospital. Posttraining evaluation assessed the performance of trained CHWs on the use of the algorithm
and case management of sick newborns in comparison to trained physicians (gold standard).
The assessment consisted of hospital-based and community-based components. Each CHW
assessed 18 cases—10 in-hospital and 8 in the community. Each case comprised 3
components: clinical evaluation, classification, and management. This was followed by
assessment of intramuscular injection skills. For each CHW, this included 5 cases of
preparation of injections (e.g., correct dose), and actual practice using intramuscular
vaccinations. The CHWs were required to achieve 80% correct skills in each assessment
component.
Findings
In the hospital, 35 of 40 CHWs passed the ! test by demonstrating adequate knowledge and
skill. Their scores rang ed from 77-100 (of a possible 100). Five CHWs who failed made
accurate clinical assessment and disease classification but scored poorly in management.
However, all five achieved adequate scores in all components after retraining. All CHWs
scored adequately in the community assessment. The scores ranged from 98-100. In the
assessment of injection skills, 6 of the 40 failed to achieve adequate scores, were re-trained
and subsequently passed.
Conclusions
It was evident from the assessment exercise that, after training, including clinical practice, a
cadre of community-level workers with tenth-grade or better education had adequate clinical
skills to assess and manage neonates with serious sicknesses.
Policy Implications
Female community-based workers can be used to deliver sick newborn case management
services in rural areas of Bangladesh where access to such care is otherwise limited.
Acknowledgements
The financial support of the United States Agency for International Development (USAID) and
Saving Newborn Lives Initiative (SNL) of Save the Children–USA through a grant from the Bill
and Melinda Gates Foundation, is acknowledged.