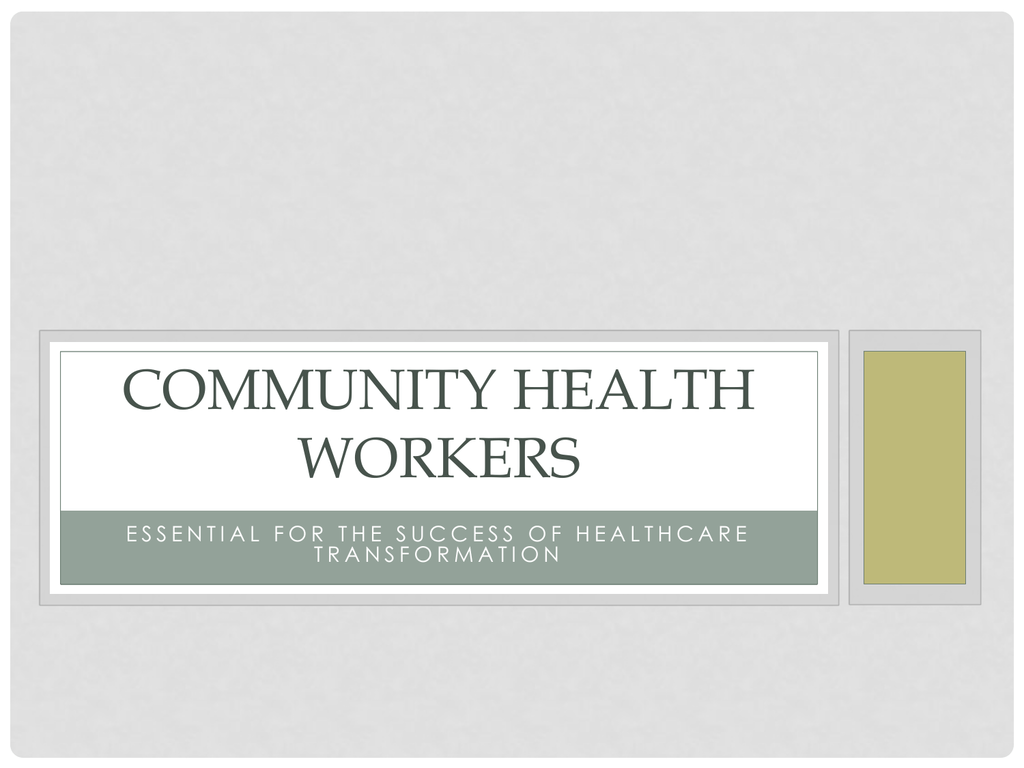 COMMUNITY HEALTH
WORKERS
ESSENTIAL FOR THE SUCCESS OF HEALTHCARE
TRANSFORMATION
WHO ARE COMMUNITY HEALTH
WORKERS (CHWS)?
APHA DEFINITION
• Community Health Workers (CHWs) are frontline public
health workers who are trusted members of and/or have
an unusually close understanding of the community they
serve. This trusting relationship enables CHWs to serve as
a liaison/link/intermediary between health/social
services and the community to facilitate access to
services and improve the quality and cultural
competence of service delivery. CHWs also build
individual and community capacity by increasing health
knowledge and self-sufficiency through a range of
activities such as outreach, community education,
informal counseling, social support and advocacy.
(American Public Health Association, 2008)
HISTORY IN OREGON
• 1960s: Indian Health Service Community Health
Representative (CHR) program begins nationwide.
• 1970s: Outreach workers are hired at Kaiser
Neighborhood Health Clinic in Portland.
• 1988: Doctors at La Clínica del Cariño in Hood River
found the El Niño Sano Program.
• 1995-1998: CHWs and allies from Oregon are at the
forefront of the Natl. Community Health Advisor
Study, the first national policy study about CHWs.
HISTORY CONTINUED
• 2002: The Multnomah County Health Dept. establishes the
Community Capacitation Center to provide credit-bearing
training for CHWs.
• 2002-2005: Poder es Salud/Power for Health is funded by the
Centers for Disease Control and Prevention.
• 2011:
•
•
•
HB 3650 - Requires State to establish criteria, descriptions, and education/training
requirements for community health workers, peer wellness specialists, personal health
navigators, and other providers not regulated by the State
September: a Subcommittee established to advise the Workforce Committee and the
Health Policy Board on standards for Community Health Workers, Personal Health Navigators,
Peer Wellness Specialists, Doulas
November: ORCHWA established with support from The Community Capacitation Center of
the MCHD, The Oregon Latino Health Coalition & The Northwest Primary Care Association.
MEETING THE TRIPLE AIM
CHWs support achieving the triple aim of
• improved patient care
• improved population health
• cost savings
COST SAVINGS
Denver
Returns of $2.28 to $4.80
for every dollar spent
Baltimore
Hawaii
Asthma related per capita
charges decreased from $735
to $181
40% decrease in ER visits
33% decrease in ER
admissions
33% decrease in total
hospital admissions
TRADITIONAL HEALTH WORKERS*
Include:
-Community Health Workers
-Peer Wellness Specialists
-Doulas
-Personal Health Navigators
Currently referred to as "Non-Traditional"
OREGON EMPLOYMENT SURVEY - 2012
501 establishments surveyed: 156 responded
70/156 currently employ THWs
Average wage: $15.03 (range: $8.95-$33.66)
Out of the 690 currently employed, 394 THWs work in
the Portland Metro region
• 100 different job titles
•
•
•
•
FUNDING
OREGON
Coordinated Care
Organizations
Non-traditional health workers
CBOs
Hospitals
PCPCHs
CERTIFICATION PATHS
OHA
OHA- APPROVED
TRAINING PROGRAM
Standard Certification
Grandparenting
3000 Hours NTHW Work
or Volunteer Experience
Possible Equivalency for
Previously Completed Training
CHW, PWS, NAV
Core Curriculum
CHW, PWS or NAV
Additional
Curriculum
Doula
Curriculum
Pre-Course
Assessment +
Employer
Competency
Evaluation(s)
Incumbent
Worker Training
Provisional
Certification
Completion of ANY 40+ Hour
NTHW Training Program
Application and Approval
for One Year Provisional
Certification
Completion of
All Remaining
Required
Training
Completed Application + Criminal Background Check
FULLY CERTIFIED AND ENROLLED IN REGISTRY (3 YEARS)
OHA
Approves
Previously
Completed
Program
• ORCHWA is a membership organization and is led and
directed by CHWs.
• Beyond unifying and strengthening the professional identity of
Oregon CHWs, ORCHWA seeks to support CHWs to obtain
additional training, provide important networking
opportunities, and facilitate CHWs and CHW programs to
collaborate with each other, and community, government,
health, and educational institutions.
• ORCHWA's members play an active and visible role in
educating public health and health system professionals
about the value of CHWs as well as addressing relevant policy
and sustainability issues including: training, certification,
employment opportunities, etc.
• ORCHWA Strengthens the CHW workforce by:
• -Unifying and strengthening the professional identity of Oregon CHWs
• -Educating the public and health system professionals about the value
of CHWs
• -Addressing relevant policy and sustainability issues, as well as
advocating for the expansion of CHW field (or the integration of CHWs
into the health care, public health, and human services workforce).