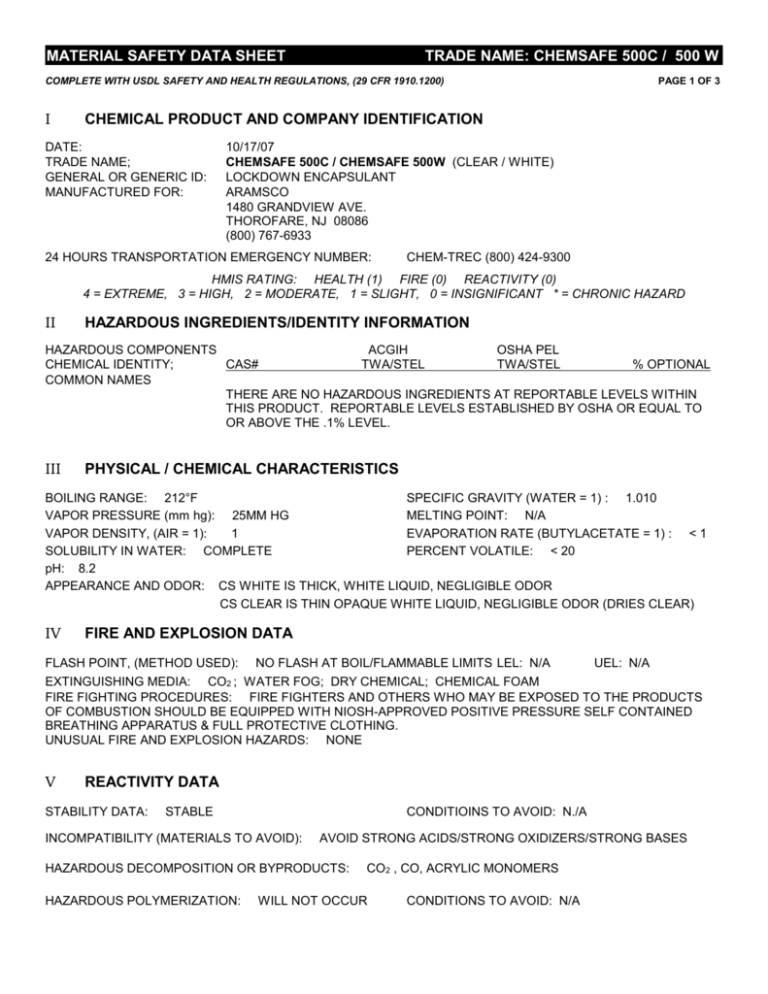 MATERIAL SAFETY DATA SHEET
TRADE NAME: CHEMSAFE 500C / 500 W
COMPLETE WITH USDL SAFETY AND HEALTH REGULATIONS, (29 CFR 1910.1200)
I
PAGE 1 OF 3
CHEMICAL PRODUCT AND COMPANY IDENTIFICATION
DATE:
TRADE NAME;
GENERAL OR GENERIC ID:
MANUFACTURED FOR:
10/17/07
CHEMSAFE 500C / CHEMSAFE 500W (CLEAR / WHITE)
LOCKDOWN ENCAPSULANT
ARAMSCO
1480 GRANDVIEW AVE.
THOROFARE, NJ 08086
(800) 767-6933
24 HOURS TRANSPORTATION EMERGENCY NUMBER:
CHEM-TREC (800) 424-9300
HMIS RATING: HEALTH (1) FIRE (0) REACTIVITY (0)
4 = EXTREME, 3 = HIGH, 2 = MODERATE, 1 = SLIGHT, 0 = INSIGNIFICANT * = CHRONIC HAZARD
II
HAZARDOUS INGREDIENTS/IDENTITY INFORMATION
HAZARDOUS COMPONENTS
ACGIH
OSHA PEL
CHEMICAL IDENTITY;
CAS#
TWA/STEL
TWA/STEL
% OPTIONAL
COMMON NAMES
THERE ARE NO HAZARDOUS INGREDIENTS AT REPORTABLE LEVELS WITHIN
THIS PRODUCT. REPORTABLE LEVELS ESTABLISHED BY OSHA OR EQUAL TO
OR ABOVE THE .1% LEVEL.
III
PHYSICAL / CHEMICAL CHARACTERISTICS
BOILING RANGE: 212°F
SPECIFIC GRAVITY (WATER = 1) : 1.010
VAPOR PRESSURE (mm hg): 25MM HG
MELTING POINT: N/A
VAPOR DENSITY, (AIR = 1):
1
EVAPORATION RATE (BUTYLACETATE = 1) : < 1
SOLUBILITY IN WATER: COMPLETE
PERCENT VOLATILE: < 20
pH: 8.2
APPEARANCE AND ODOR: CS WHITE IS THICK, WHITE LIQUID, NEGLIGIBLE ODOR
CS CLEAR IS THIN OPAQUE WHITE LIQUID, NEGLIGIBLE ODOR (DRIES CLEAR)
IV
FIRE AND EXPLOSION DATA
FLASH POINT, (METHOD USED):
NO FLASH AT BOIL/FLAMMABLE LIMITS LEL: N/A
UEL: N/A
EXTINGUISHING MEDIA: CO2 ; WATER FOG; DRY CHEMICAL; CHEMICAL FOAM
FIRE FIGHTING PROCEDURES: FIRE FIGHTERS AND OTHERS WHO MAY BE EXPOSED TO THE PRODUCTS
OF COMBUSTION SHOULD BE EQUIPPED WITH NIOSH-APPROVED POSITIVE PRESSURE SELF CONTAINED
BREATHING APPARATUS & FULL PROTECTIVE CLOTHING.
UNUSUAL FIRE AND EXPLOSION HAZARDS: NONE
V
REACTIVITY DATA
STABILITY DATA:
STABLE
CONDITIOINS TO AVOID: N./A
INCOMPATIBILITY (MATERIALS TO AVOID):
AVOID STRONG ACIDS/STRONG OXIDIZERS/STRONG BASES
HAZARDOUS DECOMPOSITION OR BYPRODUCTS:
HAZARDOUS POLYMERIZATION:
CO2 , CO, ACRYLIC MONOMERS
WILL NOT OCCUR
CONDITIONS TO AVOID: N/A
MATERIAL SAFETY DATA SHEET
TRADE NAME: CHEMSAFE 500
PAGE 2 OF 3
VI
HEALTH HAZARD DATA
ROUTES OF ENTRY - SIGNS AND SYMPTOMS:
INHALATION:
NO NEGATIVE EFFECTS EXPECTED. REMOVE TO FRESH AIR; IF SYMPTON PERSISTS,
SEEK MEDICAL ATTENTION.
SKIN:
PROLONGED CONTACT MAY CAUSE SLIGHT IRRITATION. INCIDENTAL CONTACT IS NOT
EXPECTED TO CAUSE IRRITATION. REMOVE CONTAMINATED CLOTHING; WASH AREA
WITH SOAP AND WATER.
EYES:
CONTACT WITH EYES WILL CAUSE IRRITATION.
IRRITATION PERSISTS, SEEK PHYSICIAN.
INGESTION:
MAY CAUSE GASTRIC DISTRESS, VOMITING OR DIARRHEA. GIVE TWO GLASSES OF
WATER TO DILUTE AND SEEK MEDICAL ATTENTION.
FLUSH WITH WATER FOR 15 MIN. IF
HEALTH HAZARDS (ACUTE AND CHRONIC): ACUTE EFFECTS OF EXPOSURE MAY BE SLIGHT NAUSEA, OR
DISCOMFORT. NO CHRONIC EFFECTS ARE KNOWN AT THIS TIME.
CARCINOGENICITY:
NTP:
NO
IARC MONOGRAPHS:
NO
OSHA REGULATED:
NO
MEDICAL CONDITIONS GENERALLY AGGRAVATED BY EXPOSURE: EXPOSURE TO THIS PRODUCT IS NOT
EXPECTED TO CONTRIBUTE, WORSEN OR AGGRAVATE ANY PRE-EXISTING MEDICAL
CONDITIONS.
VII
PRECAUTIONS FOR DISPOSAL, SAFE HANDLING, AND USE
SPILLS:
SMALL SPILLS:
LARGE SPILLS:
STOP DISCHARGE. CONTAIN MATERIAL WITHDIKE OR BARRIER.
STOP DISCHARGE. CONTAIN MATERIAL WITH DIKE OR BARRIER. RECAPTURE
PRODUCT ANY PLACE IN CHEMICAL WASTE CONTAINERS, ABSORB REMAINDER
WITH ABSORBENT CLAY OR SAWDUST.
WASTE DISPOSAL METHOD: DISPOSE OF IN ACCORDANCE WITH LOCAL, STATE, AND FEDERAL REGULATIONS.
PRECAUTIONS TO BE TAKEN IN HANDLING AND STORAGE: KEEP CONTAINER CLOSED WHEN NOT IN USE.
PROTECT CONTAINERS FROM ABUSE AND EXTREME TEMPERATURES.
OTHER PRECAUTIONS:
KEEP THIS AND OTHER CHEMICALS OUT OF REACH OF CHILDREN. AVOID
BODY CONTACT WITH THIS PRODUCT AND ALL CHEMICALS.
VIII CONTROL MEASURES
RESPIRATORY PROTECTION:
NIOSE APPROVED RESPIRATOR PROTECTION IS RECOMMENDED WHEN
MISTS OR DUSTS ARE GENERATED.
VENTILATION:
PROTECTIVE GLOVES:
LOCAL EXHAUST IS RECOMMENDED. HOWEVER WHEN VAPORS, MISTS OR
DUSTS CAN BE GENERATED IN ENCLOSED AREAS MECHANICAL MAY BE
NECESSARY.
NEOPRENE OR RUBBER
EYE PROTECTION:
GOGGLES WITH SIDE SHIELDS
OTHER PROTECTIVE
EQUIPMENT:
SAFETY EYEBATH NEARBY
WORK/HYGIENIC PRACTICES: EXHIBIT NORMAL SAFE WORKPLACE HABITS.
MATERIAL SAFETY DATA SHEET
TRADE NAME: CHEMSAFE 500
PAGE 3 OF 3
IX
TRANSPORTATION
DOT SHIPPING NAME:
PLACARDING:
NON-REGULATED
HAZARD CLASS:
NON HAZARDOUS
IDENTIFICATION NO:
PACKING GROUP:
NON HAZARDOUS
NOT REGULATED
RQ (REPORTABLE QUANTITY):
X
SHIP AS CLEANING COMPOUND
NONE REQUIRED
N/A
REGULATORY INFORMATION
SARA TITLE III:
SECTION 3111/312 – HAZARD CATEGORIES
N – FIRE HAZARD
N – SUDDEN RELEASE OR PRESSURE HAZARD
N – REACTIVITY HAZARD
N – IMMEDIATE (ACUTE) HEALTH HAZARD
N – DELAYED (CHRONIC) HEALTH HAZARD
OZONE DEPLETING CHEMICALS:
NO REGULATED INGREDIENTS
SARA TITLE 302 - EXTREMELY HAZARDOUS MATERIALS:
NO REGULATED INGREDIENTS
SARA TITLE 313 – TOXIC CHEMICALS:
NO REGULATED INGREDIENTS
CALIFORNIA PROPOSITION 65:
NO REGULATED INGREDIENTS
SPECIFIC PRECAUTIONS AND OTHER COMMENTS:
The information contained herein is believed to be accurate but is not warranted to be so. Users are advised to confirm in
advance of need, that information is current, applicable and suited to the circumstances of use. Vendor assumes no
responsibility for injury to vendee or third persons proximately caused by the material if reasonable safety procedures are
not adhered to as stipulated in the data sheet. Furthermore, vendor assumes no responsibility for injury caused by
abnormal use of this material even if reasonable safety procedures are followed.