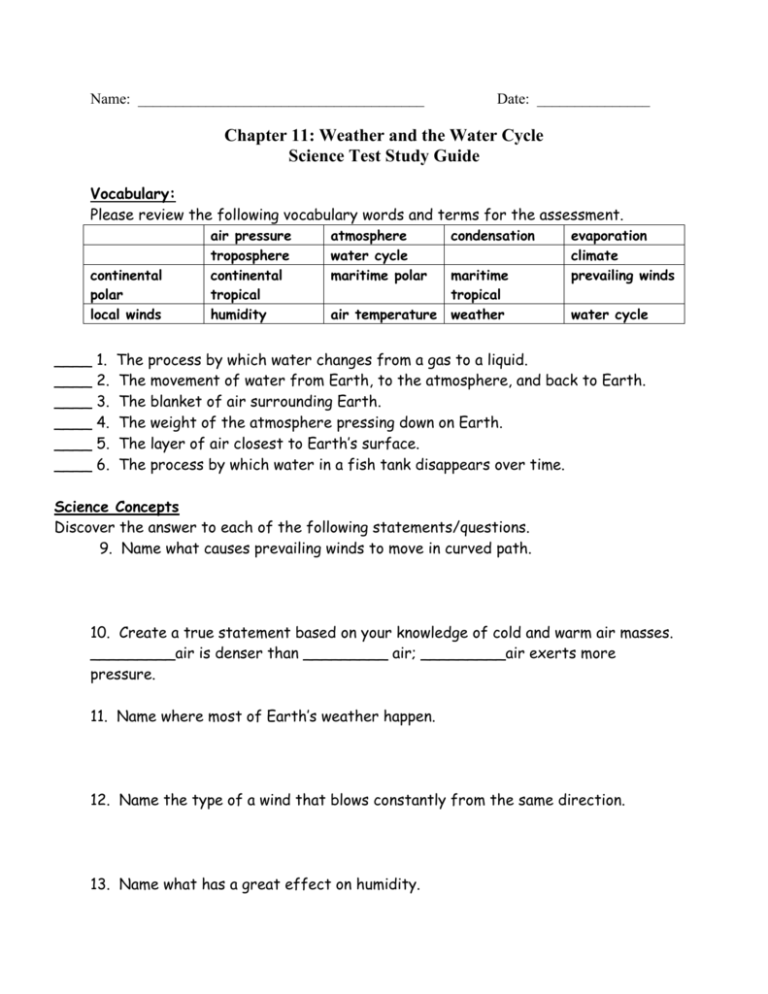 Name: ______________________________________
Date: _______________
Chapter 11: Weather and the Water Cycle
Science Test Study Guide
Vocabulary:
Please review the following vocabulary words and terms for the assessment.
continental
polar
local winds
____
____
____
____
____
____
1.
2.
3.
4.
5.
6.
air pressure
troposphere
continental
tropical
humidity
atmosphere
water cycle
maritime polar
condensation
maritime
tropical
air temperature weather
evaporation
climate
prevailing winds
water cycle
The process by which water changes from a gas to a liquid.
The movement of water from Earth, to the atmosphere, and back to Earth.
The blanket of air surrounding Earth.
The weight of the atmosphere pressing down on Earth.
The layer of air closest to Earth's surface.
The process by which water in a fish tank disappears over time.
Science Concepts
Discover the answer to each of the following statements/questions.
9. Name what causes prevailing winds to move in curved path.
10. Create a true statement based on your knowledge of cold and warm air masses.
_________air is denser than _________ air; _________air exerts more
pressure.
11. Name where most of Earth's weather happen.
12. Name the type of a wind that blows constantly from the same direction.
13. Name what has a great effect on humidity.
Open Ended QUESTIONS
Please take the time to construct a thorough paragraph answering all parts of the
question. (ATTACH PAPER)
Inquiry Skills
14. It is a cold, rainy day. The weather forecast is for the next day to be warm
and sunny. What would you predict about the amount of evaporation that will take
place on the warm, sunny day? Explain.
Critical Thinking
15. The diagram shows the wind blowing from the ocean to the beach.
Part A: In which direction does the wind blow? Explain why this happens.
Part B: Why is the seashore a comfortable place to be on hot summer days?
Explain.