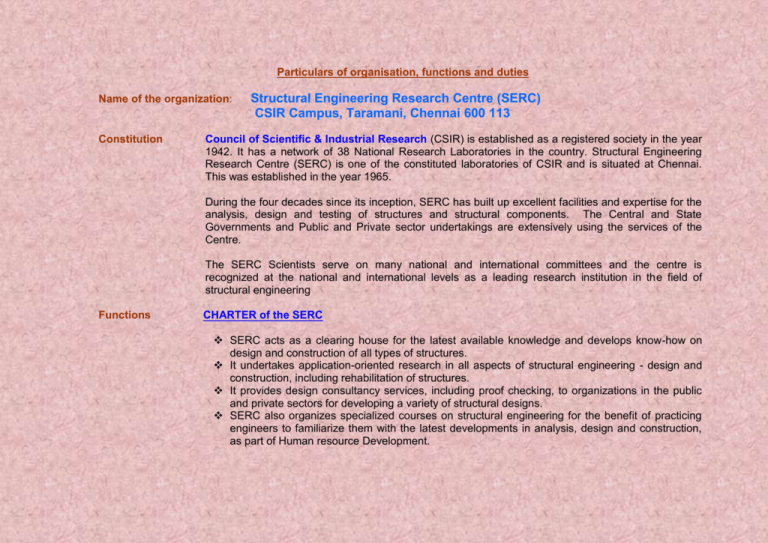 Particulars of organisation, functions and duties
Name of the organization:
Constitution
Structural Engineering Research Centre (SERC)
CSIR Campus, Taramani, Chennai 600 113
Council of Scientific & Industrial Research (CSIR) is established as a registered society in the year
1942. It has a network of 38 National Research Laboratories in the country. Structural Engineering
Research Centre (SERC) is one of the constituted laboratories of CSIR and is situated at Chennai.
This was established in the year 1965.
During the four decades since its inception, SERC has built up excellent facilities and expertise for the
analysis, design and testing of structures and structural components. The Central and State
Governments and Public and Private sector undertakings are extensively using the services of the
Centre.
The SERC Scientists serve on many national and international committees and the centre is
recognized at the national and international levels as a leading research institution in the field of
structural engineering
Functions
CHARTER of the SERC
 SERC acts as a clearing house for the latest available knowledge and develops know-how on
design and construction of all types of structures.
 It undertakes application-oriented research in all aspects of structural engineering - design and
construction, including rehabilitation of structures.
 It provides design consultancy services, including proof checking, to organizations in the public
and private sectors for developing a variety of structural designs.
 SERC also organizes specialized courses on structural engineering for the benefit of practicing
engineers to familiarize them with the latest developments in analysis, design and construction,
as part of Human resource Development.
Vision of SERC, Chennai
The vision of SERC envisages that it shall continuously strive to excel on its expertise, facilities
and performance in order to be a globally competitive R&D organization in Structural
Engineering.
Towards this, SERC will
 initiate innovative programmes of R&D for technology / expertise development leading to
reliable and safe designs and construction practices
 initiate action to establish advanced / state-of-the-art facilities for testing and advanced
analysis / software development
 initiate action to publish high quality technical papers in international journal papers, to
enhance IPR content in R&D activities and to attract external financial support to R&D
programmes
 transfer of technology and expertise for industrial / societal benefit
Quality Policy
We, at SERC, Chennai, commit ourselves to achieve excellence in all our Research and Development
activities and in providing high quality S&T services to the industry and the society at large by taking up
R&D contracts, Consultancy, Structural Testing and Training in the field of Structural Engineering. We
shall continuously strive to improve upon our expertise, facilities and performance to be a globally
competitive R&D organization with mission-customer-and people-oriented activities.
SERC has been certified as ISO: 9001 quality institution.
R & D Thrust Areas:









Structural Dynamics, Earthquake Engineering
Experimental Mechanics
Wind Engineering
Computer-aided Analysis & Design of Structures and Software Development
Steel Structures – Transmission Line Towers and other Skeletal Structures
Fatigue and Fracture
Reinforced Concrete and Prestressed Concrete Structures
Concrete Composites
Construction Engineering
Area of expertise and major facilities available for each of the above R & D thrust
areas of SERC are given in detail in the website of SERC.