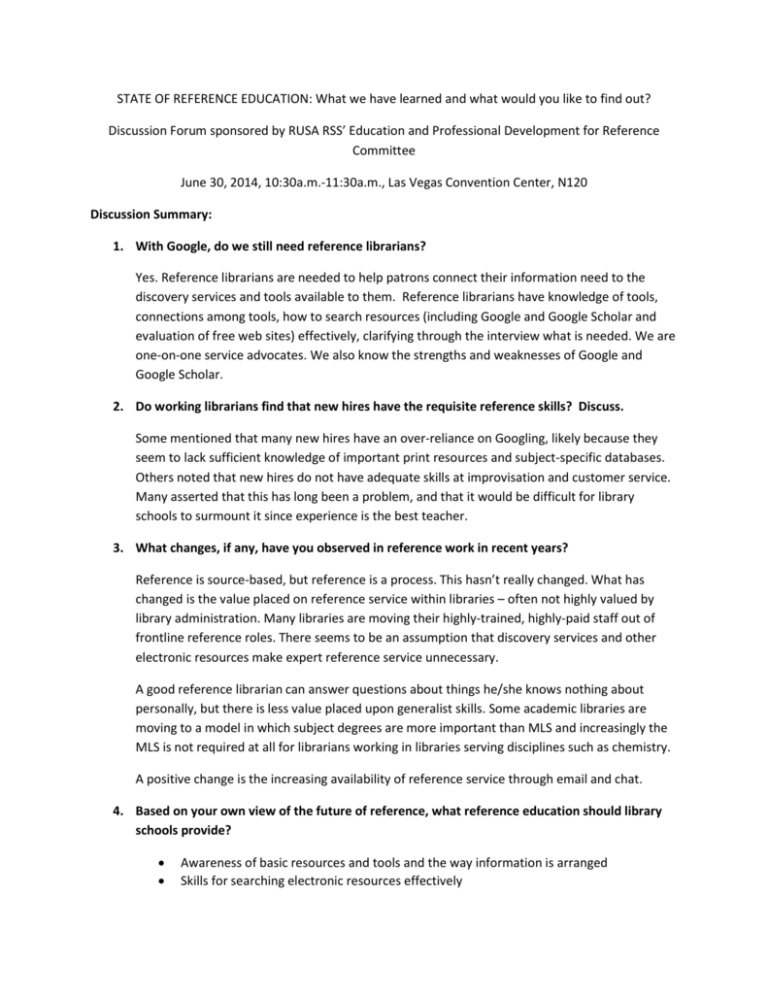 STATE OF REFERENCE EDUCATION: What we have learned and what would you like to find out?
Discussion Forum sponsored by RUSA RSS' Education and Professional Development for Reference
Committee
June 30, 2014, 10:30a.m.-11:30a.m., Las Vegas Convention Center, N120
Discussion Summary:
1. With Google, do we still need reference librarians?
Yes. Reference librarians are needed to help patrons connect their information need to the
discovery services and tools available to them. Reference librarians have knowledge of tools,
connections among tools, how to search resources (including Google and Google Scholar and
evaluation of free web sites) effectively, clarifying through the interview what is needed. We are
one-on-one service advocates. We also know the strengths and weaknesses of Google and
Google Scholar.
2. Do working librarians find that new hires have the requisite reference skills? Discuss.
Some mentioned that many new hires have an over-reliance on Googling, likely because they
seem to lack sufficient knowledge of important print resources and subject-specific databases.
Others noted that new hires do not have adequate skills at improvisation and customer service.
Many asserted that this has long been a problem, and that it would be difficult for library
schools to surmount it since experience is the best teacher.
3. What changes, if any, have you observed in reference work in recent years?
Reference is source-based, but reference is a process. This hasn't really changed. What has
changed is the value placed on reference service within libraries – often not highly valued by
library administration. Many libraries are moving their highly-trained, highly-paid staff out of
frontline reference roles. There seems to be an assumption that discovery services and other
electronic resources make expert reference service unnecessary.
A good reference librarian can answer questions about things he/she knows nothing about
personally, but there is less value placed upon generalist skills. Some academic libraries are
moving to a model in which subject degrees are more important than MLS and increasingly the
MLS is not required at all for librarians working in libraries serving disciplines such as chemistry.
A positive change is the increasing availability of reference service through email and chat.
4. Based on your own view of the future of reference, what reference education should library
schools provide?


Awareness of basic resources and tools and the way information is arranged
Skills for searching electronic resources effectively






Ability to evaluate authority/quality of information
How information travels within disciplines (which does vary) – the specialty 'source'
courses are
Still valuable – law, government information, business, medical, humanities
Provision of excellent public service
Teaching skills
Practical, hands-on experiences through reference practicums or internships.