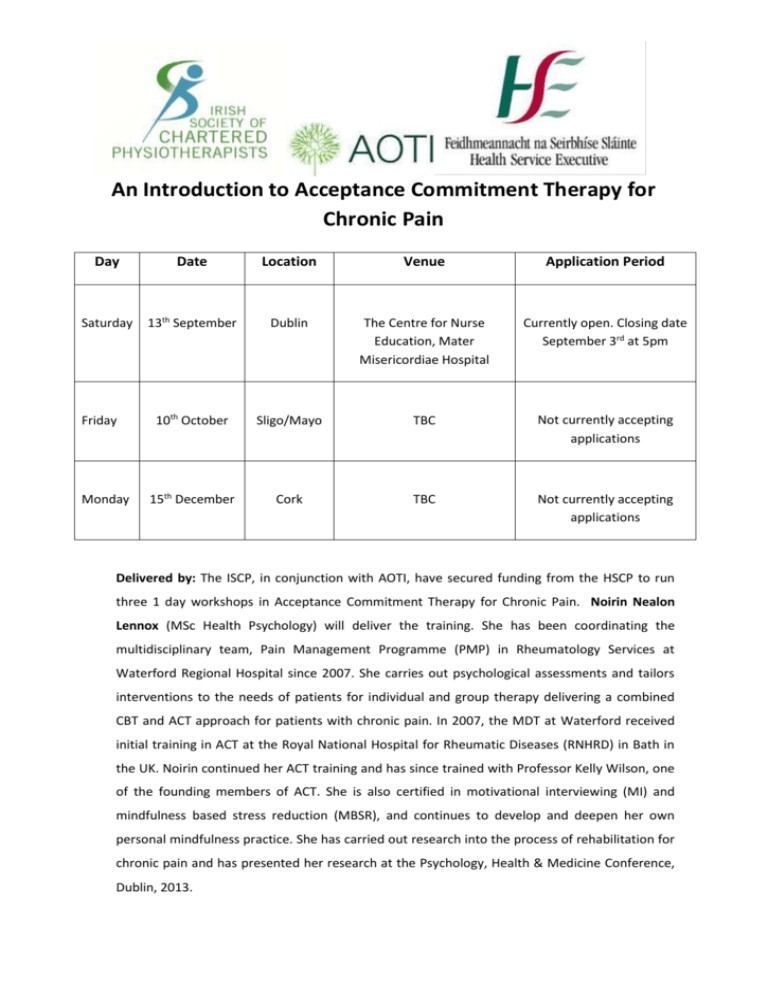 An Introduction to Acceptance Commitment Therapy for
Chronic Pain
Day
Date
Location
Venue
Application Period
Saturday
13th September
Dublin
The Centre for Nurse
Education, Mater
Misericordiae Hospital
Currently open. Closing date
September 3rd at 5pm
10th October
Sligo/Mayo
TBC
Not currently accepting
applications
15th December
Cork
TBC
Not currently accepting
applications
Friday
Monday
Delivered by: The ISCP, in conjunction with AOTI, have secured funding from the HSCP to run
three 1 day workshops in Acceptance Commitment Therapy for Chronic Pain. Noirin Nealon
Lennox (MSc Health Psychology) will deliver the training. She has been coordinating the
multidisciplinary team, Pain Management Programme (PMP) in Rheumatology Services at
Waterford Regional Hospital since 2007. She carries out psychological assessments and tailors
interventions to the needs of patients for individual and group therapy delivering a combined
CBT and ACT approach for patients with chronic pain. In 2007, the MDT at Waterford received
initial training in ACT at the Royal National Hospital for Rheumatic Diseases (RNHRD) in Bath in
the UK. Noirin continued her ACT training and has since trained with Professor Kelly Wilson, one
of the founding members of ACT. She is also certified in motivational interviewing (MI) and
mindfulness based stress reduction (MBSR), and continues to develop and deepen her own
personal mindfulness practice. She has carried out research into the process of rehabilitation for
chronic pain and has presented her research at the Psychology, Health & Medicine Conference,
Dublin, 2013.
Who may apply: Physiotherapists and occupational therapists working in HSE /Voluntary hospitals
and PCCC.
 Professionals not employed in HSE or Public funded health services may apply and will be
placed on a waiting list and offered any unfilled places.
Target Audience: This course is applicable to all therapists, but preference will be given to those
working in chronic pain teams and rheumatology services. Please note this is an introductory
course, so is not suitable for those who have completed previous training in ACT.
Places: There are up to 20 places available at each location – 10 per profession
Selection criteria: Participants will be selected to represent:
 Even geographical spread
 Range of work settings
Aims & Objectives: The overall aims of this workshop are to introduce participants to Acceptance
and Commitment Theory (ACT) and in doing so, to provide participants with the skills to manage
patients with chronic pain more effectively. ACT is a form of clinical behaviour analysis that
incorporates mindfulness and acceptance based strategies into the management of patients/clients.
Learning Outcomes: After completion of this workshop, participants will have:

Gained an understanding of the historical and current practices in the rehabilitation of
chronic pain

Gained an introduction to the ACT model for chronic pain with a particular focus on the use
of Values, Acceptance & Mindfulness

Practiced clinical exercises designed to…

Increase understanding of how ACT can be applied to enhance communication in
the therapeutic relationship

Augment patients' active participation in treatment by focusing on patient-identified
values and goals

Assist patients in adaptive behaviour change efforts in response to pain as well as
pain-related distress and disability

Received training and reference materials to support clinical practice
Additional Information:



Participants will be required to complete a post course short reflective essay 6-8 weeks after
the course.
Certificate of attendance will be issued upon receipt of this submission.
Participants may be required to complete some pre-reading for this course.
IMPORTANT INFORMATION
Please note, only applications to attend the Dublin course are currently being accepted. An
invitation to submit an application for the other venues will be issued in the coming weeks.
How to Apply:
Please follow this link and complete the application form. Closing date Wednesday September 3rd at
5pm. Applications for both physiotherapists and occupational therapists will be accepted through
this link.
http://www.iscpcourses.org/form/42302282666957
Please remember, all applications to attend will be considered as expressions of interest. All
applications will be assessed and prioritised. Successful applicants will be notified via email following
the closing date for submissions.
Further information can be found on www.aoti.ie or the ISCP Calendar of Events.