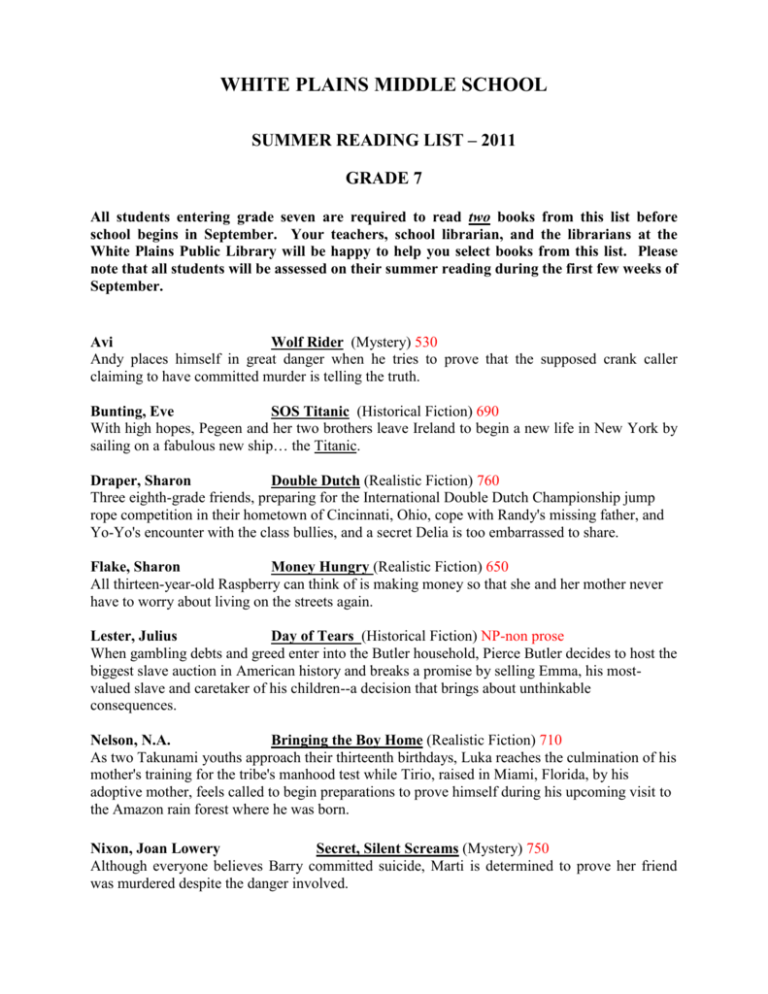 WHITE PLAINS MIDDLE SCHOOL
SUMMER READING LIST – 2011
GRADE 7
All students entering grade seven are required to read two books from this list before
school begins in September. Your teachers, school librarian, and the librarians at the
White Plains Public Library will be happy to help you select books from this list. Please
note that all students will be assessed on their summer reading during the first few weeks of
September.
Avi
Wolf Rider (Mystery) 530
Andy places himself in great danger when he tries to prove that the supposed crank caller
claiming to have committed murder is telling the truth.
Bunting, Eve
SOS Titanic (Historical Fiction) 690
With high hopes, Pegeen and her two brothers leave Ireland to begin a new life in New York by
sailing on a fabulous new ship… the Titanic.
Draper, Sharon
Double Dutch (Realistic Fiction) 760
Three eighth-grade friends, preparing for the International Double Dutch Championship jump
rope competition in their hometown of Cincinnati, Ohio, cope with Randy's missing father, and
Yo-Yo's encounter with the class bullies, and a secret Delia is too embarrassed to share.
Flake, Sharon
Money Hungry (Realistic Fiction) 650
All thirteen-year-old Raspberry can think of is making money so that she and her mother never
have to worry about living on the streets again.
Lester, Julius
Day of Tears (Historical Fiction) NP-non prose
When gambling debts and greed enter into the Butler household, Pierce Butler decides to host the
biggest slave auction in American history and breaks a promise by selling Emma, his mostvalued slave and caretaker of his children--a decision that brings about unthinkable
consequences.
Nelson, N.A.
Bringing the Boy Home (Realistic Fiction) 710
As two Takunami youths approach their thirteenth birthdays, Luka reaches the culmination of his
mother's training for the tribe's manhood test while Tirio, raised in Miami, Florida, by his
adoptive mother, feels called to begin preparations to prove himself during his upcoming visit to
the Amazon rain forest where he was born.
Nixon, Joan Lowery
Secret, Silent Screams (Mystery) 750
Although everyone believes Barry committed suicide, Marti is determined to prove her friend
was murdered despite the danger involved.
Osa, Nancy
Cuba, 15 (Realistic Fiction) 750
Violet Paz, a Chicago high school student, reluctantly prepares for her upcoming "quince", a
Spanish nickname for the celebration of a Hispanic girl's fifteenth birthday.
Peck, Richard
River Between Us (Historical Fiction) 740
During the early days of the Civil War, the Pruitt family takes in two mysterious young ladies
who have fled New Orleans to come north to Illinois.
Peterson-Haddix, Margaret
Among the Hidden (Science Fiction) 800
In a future where the Population Police enforce the law limiting a family to only two children,
Luke has lived all his twelve years in isolation and fear on his family's farm, until another "third"
convinces him that the government is wrong.
Soto, Gary
Petty Crimes (Short Stories) 800
Ten powerful short stories about Mexican Americans living in California. La guera -- Mother's
clothes -- Try to remember -- The boxing lesson -- Your turn, Norma -- The funeral suits -- Little
scams -- If the shoe fits -- Frankie the rooster -- Born worker. A collection of short stories about
Mexican American youth growing up in California's Central Valley.
Yang, Gene Luen
American Born Chinese (Realistic Fiction) 530GN
Alternates three interrelated stories about the problems of young Chinese Americans trying to
participate in the popular culture. Presented in comic book format.
*Books that reader sometimes find more challenging.
A collection of these titles is available from the Young Adult Department,
White Plains Public Library and from the White Plains Middle School Library.
Revised 2011.
Visit www.whiteplainspublicschools.org for access to the Project Summer Read site.