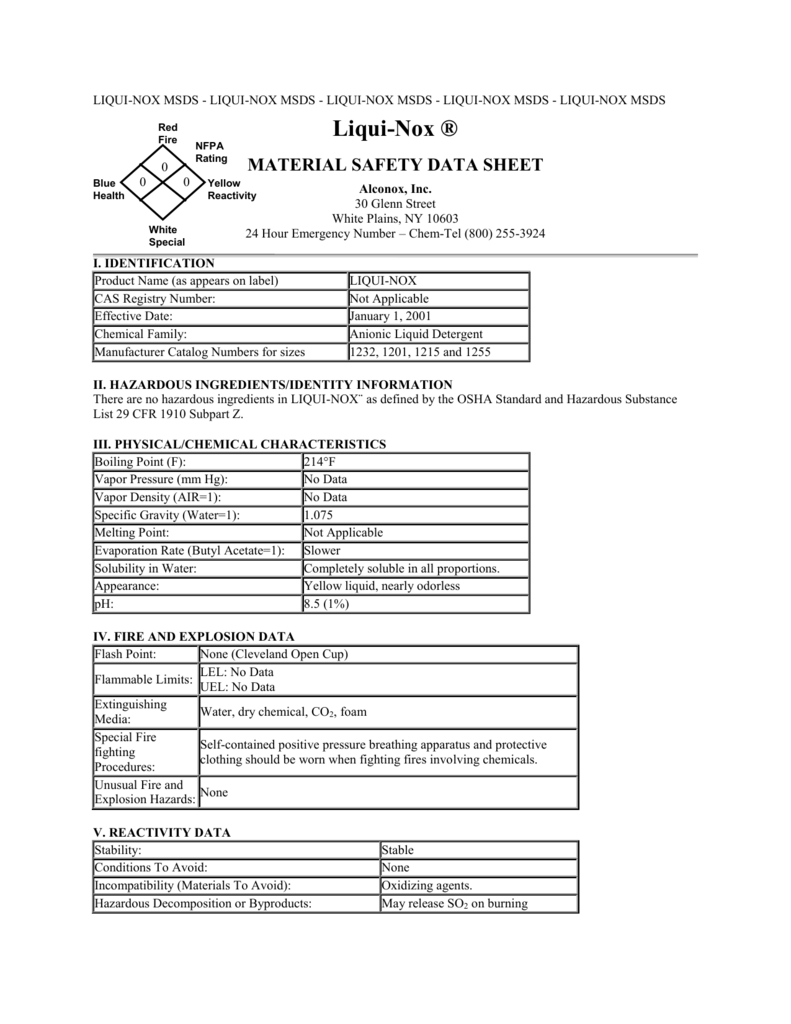 LIQUI-NOX MSDS - LIQUI-NOX MSDS - LIQUI-NOX MSDS - LIQUI-NOX MSDS - LIQUI-NOX MSDS
Liqui-Nox ®
Red
Fire
NFPA
Rating
0
Blue
Health
0
0
White
Special
MATERIAL SAFETY DATA SHEET
Yellow
Reactivity
Alconox, Inc.
30 Glenn Street
White Plains, NY 10603
24 Hour Emergency Number – Chem-Tel (800) 255-3924
I. IDENTIFICATION
Product Name (as appears on label)
CAS Registry Number:
Effective Date:
Chemical Family:
Manufacturer Catalog Numbers for sizes
LIQUI-NOX
Not Applicable
January 1, 2001
Anionic Liquid Detergent
1232, 1201, 1215 and 1255
II. HAZARDOUS INGREDIENTS/IDENTITY INFORMATION
There are no hazardous ingredients in LIQUI-NOX¨ as defined by the OSHA Standard and Hazardous Substance
List 29 CFR 1910 Subpart Z.
III. PHYSICAL/CHEMICAL CHARACTERISTICS
Boiling Point (F):
214°F
Vapor Pressure (mm Hg):
No Data
Vapor Density (AIR=1):
No Data
Specific Gravity (Water=1):
1.075
Melting Point:
Not Applicable
Evaporation Rate (Butyl Acetate=1): Slower
Solubility in Water:
Completely soluble in all proportions.
Appearance:
Yellow liquid, nearly odorless
pH:
8.5 (1%)
IV. FIRE AND EXPLOSION DATA
Flash Point:
None (Cleveland Open Cup)
LEL: No Data
Flammable Limits:
UEL: No Data
Extinguishing
Water, dry chemical, CO2, foam
Media:
Special Fire
Self-contained positive pressure breathing apparatus and protective
fighting
clothing should be worn when fighting fires involving chemicals.
Procedures:
Unusual Fire and
None
Explosion Hazards:
V. REACTIVITY DATA
Stability:
Conditions To Avoid:
Incompatibility (Materials To Avoid):
Hazardous Decomposition or Byproducts:
Stable
None
Oxidizing agents.
May release SO2 on burning
LIQUI-NOX MSDS - LIQUI-NOX MSDS - LIQUI-NOX MSDS - LIQUI-NOX MSDS - LIQUI-NOX MSDS
VI. HEALTH HAZARD DATA
Inhalation? No
Route(s) of Entry:
Skin? Yes
Ingestion? Yes
Health Hazards (Acute Skin contact may prove locally irritating, causing drying and/or
and Chronic):
chapping. Ingestion may cause discomfort and/or diarrhea.
NTP? No
Carcinogenicity:
IARC Monographs? No
OSHA Regulated? No
Signs and Symptoms of
Prolonged skin contact may cause drying and/or chapping.
Exposure:
Medical Conditions
Not established. Unnecessary exposure to this product or any
Generally Aggravated
industrial chemical should be avoided.
by Exposure:
Eyes: Immediately flush eyes with water for at least 15 minutes.
Call a physician.
Emergency and First
Skin: Flush with plenty of water.
Aid Procedures:
Ingestion: Drink large quantities of water or milk. Do not induce
vomiting. If vomiting occurs administer fluids. See a physician for
discomfort.
VII. PRECAUTIONS FOR SAFE HANDLING AND USE
Steps to be Taken if
Material foams profusely. For small spills recover as much as
Material is Released or possible with absorbent material and flush remainder to sewer.
Spilled:
Material is biodegradable.
Small quantities may be disposed of in sewer. Large quantities
Waste Disposal
should be disposed of in accordance with local ordinances for
Method:
detergent products.
Precautions to be Taken
No special precautions in storing. Use protective equipment when
in Storing and
handling undiluted material.
Handling:
No special requirements other than the good industrial hygiene and
Other Precautions:
safety practices employed with any industrial chemical.
VIII. CONTROL MEASURES
Respiratory Protection (Specify Type):
Not Required
Local Exhaust-Normal
Special-Not Required
Ventilation:
Mechanical-Not Required
Other-Not Required
Protective Gloves:
Impervious gloves are recommended.
Eye Protection:
Goggles and/or splash shields are recommended.
Other Protective Clothing or Equipment: Not required
Work/Hygienic Practices:
No special practices required
THE INFORMATION HEREIN IS GIVEN IN GOOD FAITH BUT NO WARRANTY IS EXPRESSED OR
IMPLIED.