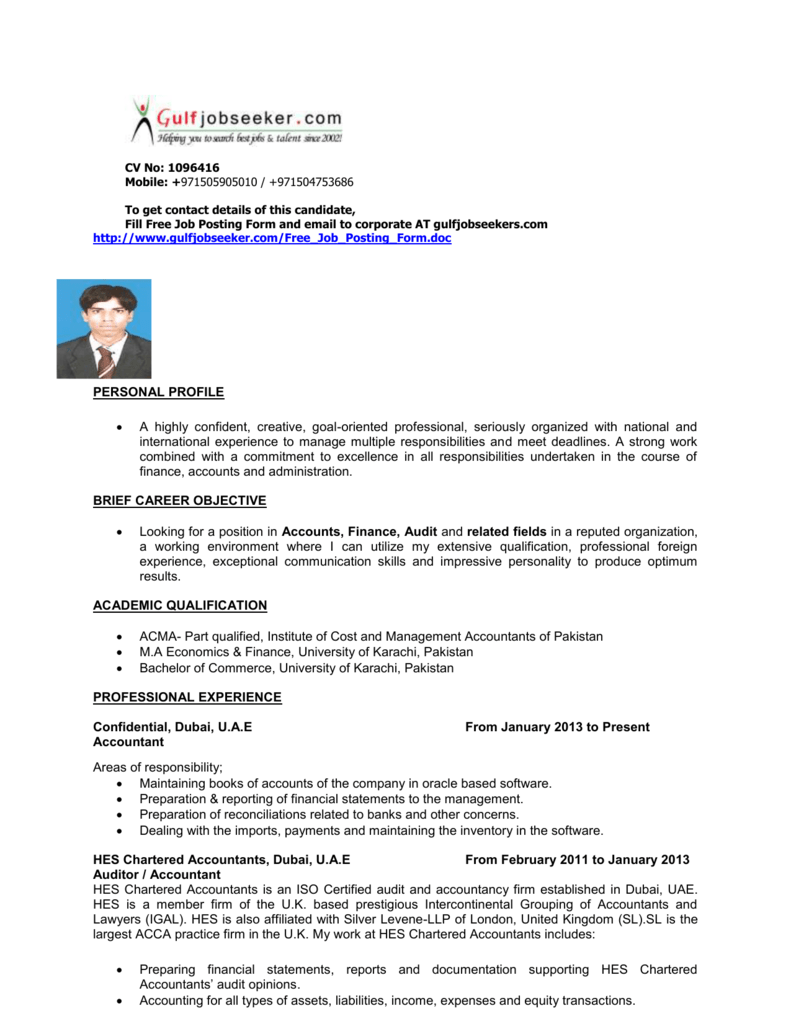 CV No: 1096416
Mobile: +971505905010 / +971504753686
To get contact details of this candidate,
Fill Free Job Posting Form and email to corporate AT gulfjobseekers.com
http://www.gulfjobseeker.com/Free_Job_Posting_Form.doc
PERSONAL PROFILE

A highly confident, creative, goal-oriented professional, seriously organized with national and
international experience to manage multiple responsibilities and meet deadlines. A strong work
combined with a commitment to excellence in all responsibilities undertaken in the course of
finance, accounts and administration.
BRIEF CAREER OBJECTIVE

Looking for a position in Accounts, Finance, Audit and related fields in a reputed organization,
a working environment where I can utilize my extensive qualification, professional foreign
experience, exceptional communication skills and impressive personality to produce optimum
results.
ACADEMIC QUALIFICATION



ACMA- Part qualified, Institute of Cost and Management Accountants of Pakistan
M.A Economics & Finance, University of Karachi, Pakistan
Bachelor of Commerce, University of Karachi, Pakistan
PROFESSIONAL EXPERIENCE
Confidential, Dubai, U.A.E
Accountant
From January 2013 to Present
Areas of responsibility;
 Maintaining books of accounts of the company in oracle based software.
 Preparation & reporting of financial statements to the management.
 Preparation of reconciliations related to banks and other concerns.
 Dealing with the imports, payments and maintaining the inventory in the software.
HES Chartered Accountants, Dubai, U.A.E
From February 2011 to January 2013
Auditor / Accountant
HES Chartered Accountants is an ISO Certified audit and accountancy firm established in Dubai, UAE.
HES is a member firm of the U.K. based prestigious Intercontinental Grouping of Accountants and
Lawyers (IGAL). HES is also affiliated with Silver Levene-LLP of London, United Kingdom (SL).SL is the
largest ACCA practice firm in the U.K. My work at HES Chartered Accountants includes:


Preparing financial statements, reports and documentation supporting HES Chartered
Accountants' audit opinions.
Accounting for all types of assets, liabilities, income, expenses and equity transactions.







Prepare clear and concise working papers that have precise conclusions and follow
documentation standards.
Ensure classification of all transactions into proper head of accounts.
Check accuracy of trial balance and financial statements prepared by the management.
Conducting cut off procedures to ensure that following year's transactions should not be recorded
in current year and vice versa.
Auditing companies' books and financial records for verification, which ensured compliance with
corporate governance, government standards as well as IFRS and other reporting requirements.
Perform analytical review of audit documents.
Providing timely, high quality client service that meets or exceeds client expectations.
Feroz Aziz & Co. Chartered Accountants, Karachi, Pakistan
Auditor
From March 2009 to January 2011
Areas of responsibility;
 Finalization of books of Accounts of all the companies being audited by our firm.
 Dealing with taxation matter of the companies.
 Preparation of Audit Reports.
 Ensuring that all receipts and payments are authorized and adequately accounted for in
accordance with the defined procedures of the entity.
 Reconcile purchases with creditors to ensure the accuracy and completeness of purchases.
 Reconcile sales with debtors to ensure the accuracy and completeness of sales.
 Review client's accounting and operating procedures.
 Examination and analysis of the journal entries and ledgers, bank statements, inventories,
expenditures and other accounting and financial records to ensure accuracy and compliance with
the local and international standards.
Noman Group of Companies, Karachi, Pakistan
Accounts & Finance officer
From March 2006 to February 2009
Areas of responsibility;
 Documentation and maintaining Book of Accounts of the company.
 Maintaining all types of Reconciliation of banks and related concerns.
 Preparation & submission of Income Tax Returns to the Income Tax Department.
 Preparation & Reporting of monthly Financial Statements
KEY SKILLS








Highly Professional and Expert Level Computer skills
(MS-Word, MS-Excel, MS-Outlook Express)
Excellent command in Accounting packages - Tally, Quickbook, Peachtree and CAS.
Strong Communication (Oral and Written) and Presentation skills.
Exceptionally Impressive Learning Skills.
Understanding of International Auditing Standards.
Ability to work as team member and meet deadlines.
Confident in meeting and dealing with individuals.
PERSONAL DETAILS





Marital Status
Date of Birth
Language Command
Nationality
Visa Status
Single
18/11/1984
English (Fluent)
Pakistani
Employment (Release available)
INTERESTS

I enjoy Travelling & Adventure, Reading, Films, Music, Cricket, Socializing and Foreign Travel.
REFERENCE

Professional and personal references will be furnished upon request.