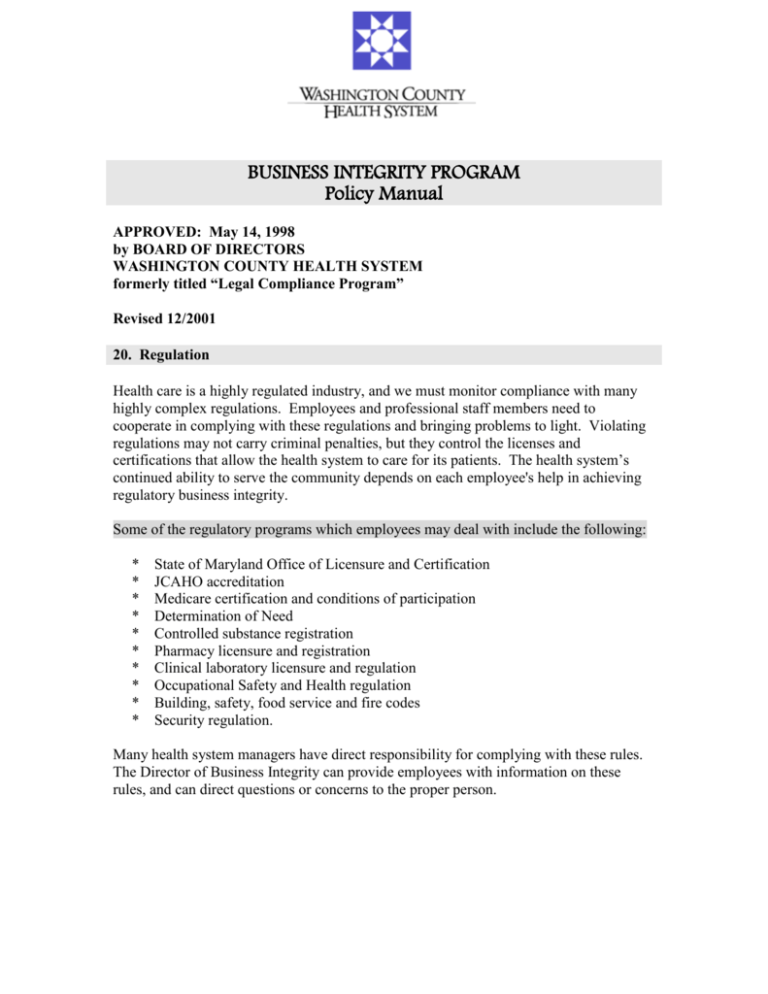 BUSINESS INTEGRITY PROGRAM
Policy Manual
APPROVED: May 14, 1998
by BOARD OF DIRECTORS
WASHINGTON COUNTY HEALTH SYSTEM
formerly titled "Legal Compliance Program"
Revised 12/2001
20. Regulation
Health care is a highly regulated industry, and we must monitor compliance with many
highly complex regulations. Employees and professional staff members need to
cooperate in complying with these regulations and bringing problems to light. Violating
regulations may not carry criminal penalties, but they control the licenses and
certifications that allow the health system to care for its patients. The health system's
continued ability to serve the community depends on each employee's help in achieving
regulatory business integrity.
Some of the regulatory programs which employees may deal with include the following:
*
*
*
*
*
*
*
*
*
*
State of Maryland Office of Licensure and Certification
JCAHO accreditation
Medicare certification and conditions of participation
Determination of Need
Controlled substance registration
Pharmacy licensure and registration
Clinical laboratory licensure and regulation
Occupational Safety and Health regulation
Building, safety, food service and fire codes
Security regulation.
Many health system managers have direct responsibility for complying with these rules.
The Director of Business Integrity can provide employees with information on these
rules, and can direct questions or concerns to the proper person.