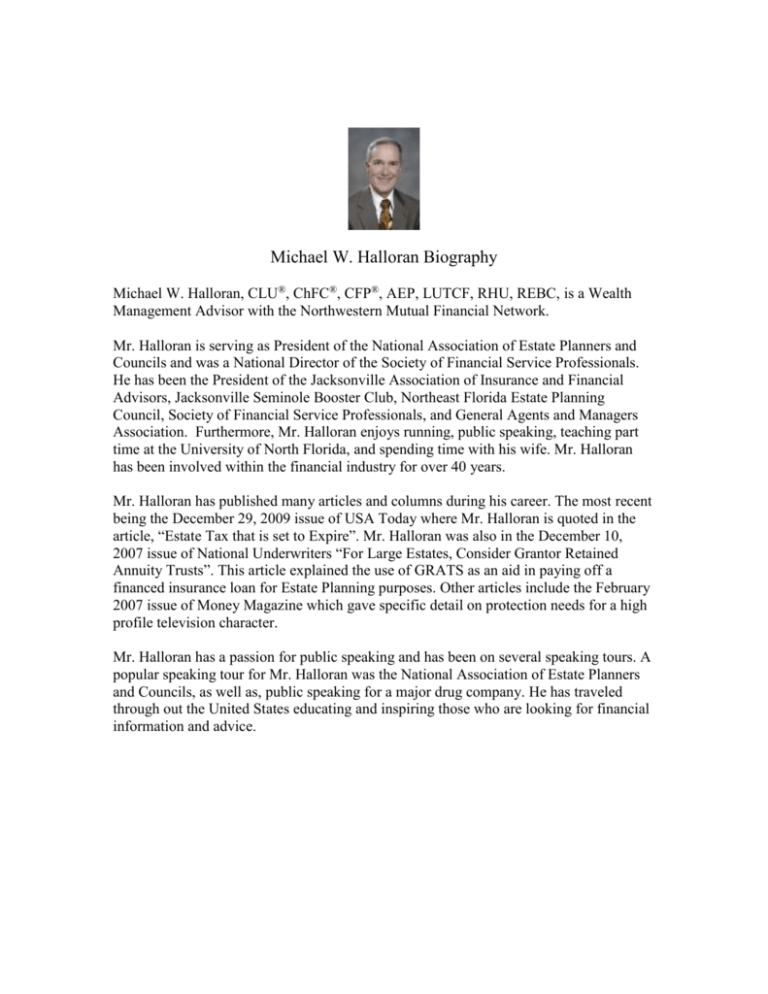 Michael W. Halloran Biography
Michael W. Halloran, CLU®, ChFC®, CFP®, AEP, LUTCF, RHU, REBC, is a Wealth
Management Advisor with the Northwestern Mutual Financial Network.
Mr. Halloran is serving as President of the National Association of Estate Planners and
Councils and was a National Director of the Society of Financial Service Professionals.
He has been the President of the Jacksonville Association of Insurance and Financial
Advisors, Jacksonville Seminole Booster Club, Northeast Florida Estate Planning
Council, Society of Financial Service Professionals, and General Agents and Managers
Association. Furthermore, Mr. Halloran enjoys running, public speaking, teaching part
time at the University of North Florida, and spending time with his wife. Mr. Halloran
has been involved within the financial industry for over 40 years.
Mr. Halloran has published many articles and columns during his career. The most recent
being the December 29, 2009 issue of USA Today where Mr. Halloran is quoted in the
article, "Estate Tax that is set to Expire". Mr. Halloran was also in the December 10,
2007 issue of National Underwriters "For Large Estates, Consider Grantor Retained
Annuity Trusts". This article explained the use of GRATS as an aid in paying off a
financed insurance loan for Estate Planning purposes. Other articles include the February
2007 issue of Money Magazine which gave specific detail on protection needs for a high
profile television character.
Mr. Halloran has a passion for public speaking and has been on several speaking tours. A
popular speaking tour for Mr. Halloran was the National Association of Estate Planners
and Councils, as well as, public speaking for a major drug company. He has traveled
through out the United States educating and inspiring those who are looking for financial
information and advice.