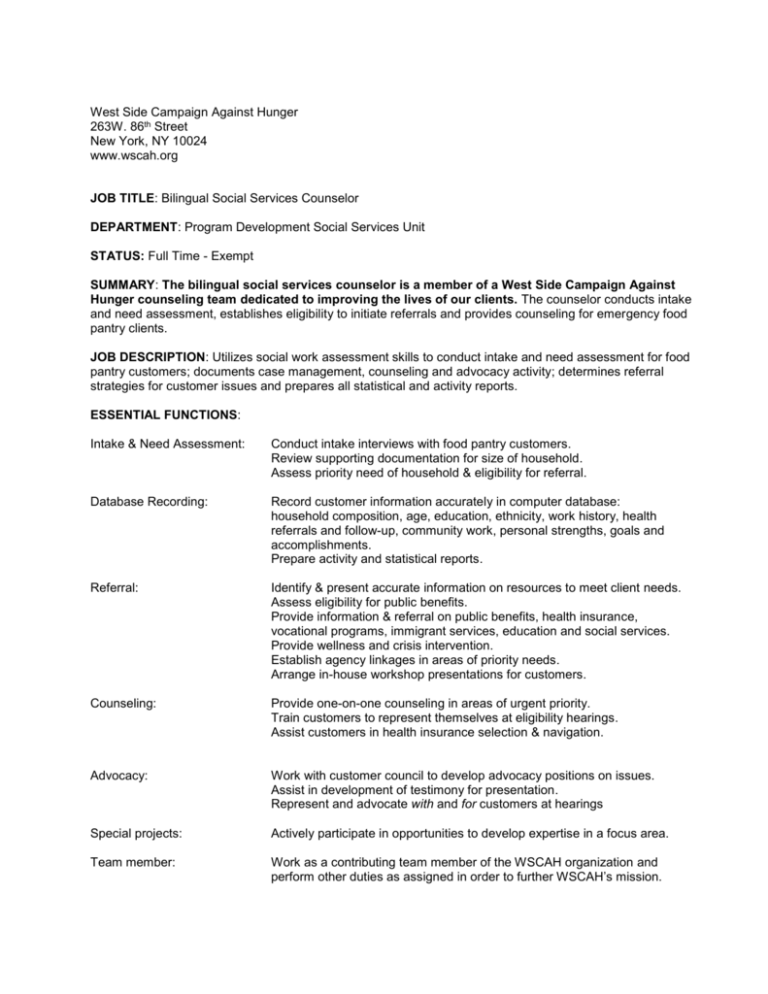 West Side Campaign Against Hunger
263W. 86th Street
New York, NY 10024
www.wscah.org
JOB TITLE: Bilingual Social Services Counselor
DEPARTMENT: Program Development Social Services Unit
STATUS: Full Time - Exempt
SUMMARY: The bilingual social services counselor is a member of a West Side Campaign Against
Hunger counseling team dedicated to improving the lives of our clients. The counselor conducts intake
and need assessment, establishes eligibility to initiate referrals and provides counseling for emergency food
pantry clients.
JOB DESCRIPTION: Utilizes social work assessment skills to conduct intake and need assessment for food
pantry customers; documents case management, counseling and advocacy activity; determines referral
strategies for customer issues and prepares all statistical and activity reports.
ESSENTIAL FUNCTIONS:
Intake & Need Assessment:
Conduct intake interviews with food pantry customers.
Review supporting documentation for size of household.
Assess priority need of household & eligibility for referral.
Database Recording:
Record customer information accurately in computer database:
household composition, age, education, ethnicity, work history, health
referrals and follow-up, community work, personal strengths, goals and
accomplishments.
Prepare activity and statistical reports.
Referral:
Identify & present accurate information on resources to meet client needs.
Assess eligibility for public benefits.
Provide information & referral on public benefits, health insurance,
vocational programs, immigrant services, education and social services.
Provide wellness and crisis intervention.
Establish agency linkages in areas of priority needs.
Arrange in-house workshop presentations for customers.
Counseling:
Provide one-on-one counseling in areas of urgent priority.
Train customers to represent themselves at eligibility hearings.
Assist customers in health insurance selection & navigation.
Advocacy:
Work with customer council to develop advocacy positions on issues.
Assist in development of testimony for presentation.
Represent and advocate with and for customers at hearings
Special projects:
Actively participate in opportunities to develop expertise in a focus area.
Team member:
Work as a contributing team member of the WSCAH organization and
perform other duties as assigned in order to further WSCAH's mission.
Education and Work Experience:
Bilingual fluent command of English and Spanish
MSW and 3 years of experience
BS and 5 years of mental health and social service experience
Working knowledge of public benefits, in particular SSI and Medicaid
Familiarity with public outreach
Computer literate
Experience in job readiness evaluation and placement a plus
COMPETENCIES:
With the support of the Social Services Supervisor, the individual should demonstrate the following
competencies to perform the essential functions of this position.





Project/Resource Management – Establish plans and priorities; organizes human, physical
and financial resources; simplifies and clearly explains complex information
Flexibility and Adaptability – Be willing and able to change work tasks when needed; shift
priorities based on work demands. Assess and balance competing values (i.e. WSCAH and
customer needs).
Decision Making and Problem Solving – Reach sound conclusions after considering
options; develop creative and innovative solutions to customer problems; take decisive action
in uncertain solutions.
Teamwork – Build strong relationships and work well with people of all levels both within and
outside of WSCAH. Welcome differing ideas and points of view and encourage participation
with co-workers, staff and customers.
Communication – Convey verbal and written information effectively in a clear, well
organized and easily understood format to customers, staff and external resources.
Performance Evaluations:
This position is subject to performance reviews and annual written appraisals which may include
employee/reviewer performance goals and developmental plans.
This job description is intended to convey information essential to understanding
the scope of the position and it is not intended to be an exhaustive list of skills,
efforts, duties, responsibilities or working conditions associated with the position.