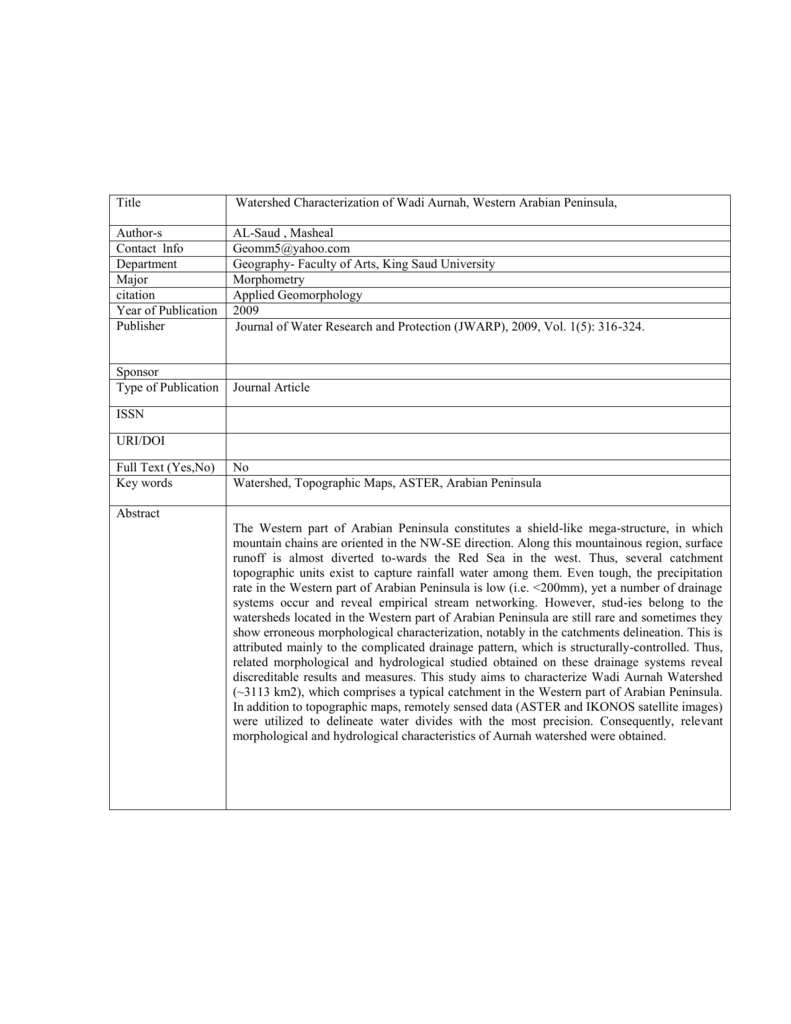 Title
Watershed Characterization of Wadi Aurnah, Western Arabian Peninsula,
Author-s
Contact lnfo
Department
Major
citation
Year of Publication
Publisher
AL-Saud , Masheal
[email protected]
Geography- Faculty of Arts, King Saud University
Morphometry
Applied Geomorphology
2009
Journal of Water Research and Protection (JWARP), 2009, Vol. 1(5): 316-324.
Sponsor
Type of Publication
Journal Article
ISSN
URI/DOI
Full Text (Yes,No)
Key words
No
Watershed, Topographic Maps, ASTER, Arabian Peninsula
Abstract
The Western part of Arabian Peninsula constitutes a shield-like mega-structure, in which
mountain chains are oriented in the NW-SE direction. Along this mountainous region, surface
runoff is almost diverted to-wards the Red Sea in the west. Thus, several catchment
topographic units exist to capture rainfall water among them. Even tough, the precipitation
rate in the Western part of Arabian Peninsula is low (i.e. <200mm), yet a number of drainage
systems occur and reveal empirical stream networking. However, stud-ies belong to the
watersheds located in the Western part of Arabian Peninsula are still rare and sometimes they
show erroneous morphological characterization, notably in the catchments delineation. This is
attributed mainly to the complicated drainage pattern, which is structurally-controlled. Thus,
related morphological and hydrological studied obtained on these drainage systems reveal
discreditable results and measures. This study aims to characterize Wadi Aurnah Watershed
(~3113 km2), which comprises a typical catchment in the Western part of Arabian Peninsula.
In addition to topographic maps, remotely sensed data (ASTER and IKONOS satellite images)
were utilized to delineate water divides with the most precision. Consequently, relevant
morphological and hydrological characteristics of Aurnah watershed were obtained.