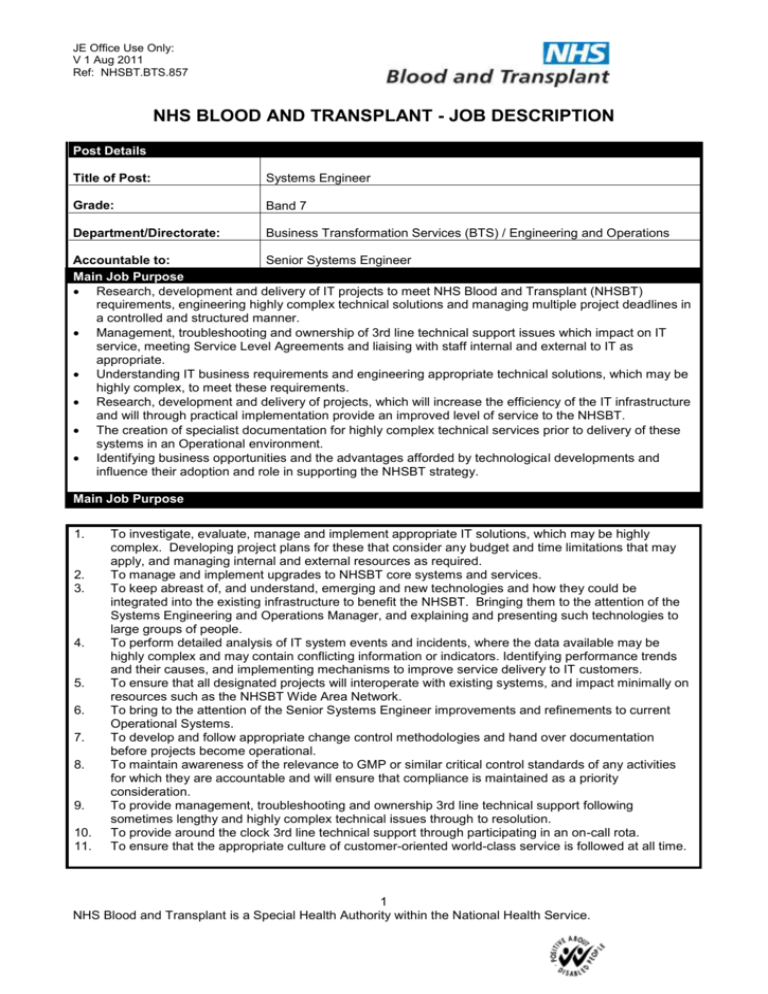 JE Office Use Only:
V 1 Aug 2011
Ref: NHSBT.BTS.857
NHS BLOOD AND TRANSPLANT - JOB DESCRIPTION
Post Details
Title of Post:
Systems Engineer
Grade:
Band 7
Department/Directorate:
Business Transformation Services (BTS) / Engineering and Operations
Accountable to:
Senior Systems Engineer
Main Job Purpose
 Research, development and delivery of IT projects to meet NHS Blood and Transplant (NHSBT)
requirements, engineering highly complex technical solutions and managing multiple project deadlines in
a controlled and structured manner.
 Management, troubleshooting and ownership of 3rd line technical support issues which impact on IT
service, meeting Service Level Agreements and liaising with staff internal and external to IT as
appropriate.
 Understanding IT business requirements and engineering appropriate technical solutions, which may be
highly complex, to meet these requirements.
 Research, development and delivery of projects, which will increase the efficiency of the IT infrastructure
and will through practical implementation provide an improved level of service to the NHSBT.
 The creation of specialist documentation for highly complex technical services prior to delivery of these
systems in an Operational environment.
 Identifying business opportunities and the advantages afforded by technological developments and
influence their adoption and role in supporting the NHSBT strategy.
Main Job Purpose
1.
2.
3.
4.
5.
6.
7.
8.
9.
10.
11.
To investigate, evaluate, manage and implement appropriate IT solutions, which may be highly
complex. Developing project plans for these that consider any budget and time limitations that may
apply, and managing internal and external resources as required.
To manage and implement upgrades to NHSBT core systems and services.
To keep abreast of, and understand, emerging and new technologies and how they could be
integrated into the existing infrastructure to benefit the NHSBT. Bringing them to the attention of the
Systems Engineering and Operations Manager, and explaining and presenting such technologies to
large groups of people.
To perform detailed analysis of IT system events and incidents, where the data available may be
highly complex and may contain conflicting information or indicators. Identifying performance trends
and their causes, and implementing mechanisms to improve service delivery to IT customers.
To ensure that all designated projects will interoperate with existing systems, and impact minimally on
resources such as the NHSBT Wide Area Network.
To bring to the attention of the Senior Systems Engineer improvements and refinements to current
Operational Systems.
To develop and follow appropriate change control methodologies and hand over documentation
before projects become operational.
To maintain awareness of the relevance to GMP or similar critical control standards of any activities
for which they are accountable and will ensure that compliance is maintained as a priority
consideration.
To provide management, troubleshooting and ownership 3rd line technical support following
sometimes lengthy and highly complex technical issues through to resolution.
To provide around the clock 3rd line technical support through participating in an on-call rota.
To ensure that the appropriate culture of customer-oriented world-class service is followed at all time.
1
NHS Blood and Transplant is a Special Health Authority within the National Health Service.
JE Office Use Only:
V 1 Aug 2011
Ref: NHSBT.BTS.857
12.
13.
14.
15.
To ensure that all Health and Safety implications of their activities are properly managed.
To ensure that professional and world-class systems and services are developed and deployed
according to NHSBT corporate business plan.
To ensure that appropriate policies, standards and guidelines are adhered to in the Systems
Engineering Department
To strive to meet the needs of all NHSBT customers.
Key Duties and Responsibilities
1. To deliver highly complex technical solutions by participating in business agreed projects,
internal IT projects and ad-hoc assignments.
2. To be the lead technical authority for IT Projects and act as a team member on project groups.
3. To test and deliver upgrades and patches to the NHSBT core systems.
4. Keep up to date with IT concepts and practices in the industry.
5. Carry out research and development to ensure the NHSBT is able to take advantage of latest
technology and best practices available in the IT industry, being able to develop and deploy
these systems in an operational environment.
6. To provide 3rd line technical support to the NHSBT around the clock ensuring that system and
Customer problems can be resolved within negotiated SLAs, resolving highly complex technical
problems in a timely manner.
7. Presenting complex, sensitive or contentious information to a large audience.
8. Ensure that all designated new systems are fully tested, validated and documented before hand
over to Operations.
9. Ensure appropriate change control procedures are in place and followed as systems are
developed and modified.
10. Work with the Systems Engineering team to determine the needs and requirements of the
business at each location, and facilitate the provision of IT solutions.
11. Ensure NHSBT IT standards are adhered to throughout systems development, and facilitate the
evolution of those standards as the business needs and requirements change.
12. Validate designated new and modified applications before hand over to Operations, to ensure
they are brought in to service in a controlled manner, with minimum impact to IT services and
business continuity.
13. Contribute to, and influence, the strategic direction of IT systems, working with the NHSBT
business community, and the other specialists within IT.
14. Provide advice on the IT infrastructure to ensure it is kept up to date and reflects both the needs
of IT and Business.
15. Undertake other duties as delegated by the Systems Engineering Manager, to ensure the
smooth and efficient functioning of the Systems Engineering department.
16. Ensure appropriate levels of support are available on all software systems throughout the
NHSBT.
17. Ensure appropriate documentation and change control procedures are in place and followed as
systems are developed and modified.
18. Deputise for the Senior Systems Engineer assuming full delegated powers of authority.
General Provisions
 Communicate effectively with NHSBT staff, from the Chief Executive and Board, through to end users
and other IT colleagues, as well as with suppliers.
 Ensure that one's own dress and personal hygiene are consistent with the professional image expected
from staff employed by the NHSBT.
 Read, understand and comply with the Standard Operating Procedures relating to IT within the National
Blood Service.
 Maintain confidentiality of information at all times in accordance with the Data Protection Act.
 To undertake ad hoc duties and/or hours of work as may be required of you at your initial place of work
or at any of the Service's other establishments.
 Ensure information concerning donors, customers and other members of staff is treated as confidential.
 Promote the Core Purpose and Communication Strategy.
 Act as a role model and promote behaviours in keeping with the Mission & Values of the organisation.
2
NHS Blood and Transplant is a Special Health Authority within the National Health Service.
JE Office Use Only:
V 1 Aug 2011
Ref: NHSBT.BTS.857




Ensure that the Health and Safety Policies, Standard Operating Procedures and National Guidelines are
adhered to at all times.
Adhere to and demonstrate commitment towards the implementation and continuing review of the
Quality System.
Other duties within the general scope of the post may be required from time to time. Changes will be
discussed with the officer before implementation.
The duties of the post and job description will be regularly reviewed through the agreed process.
Core Competencies, Attributes and Manager Provisions
Core Competencies and Attributes
 Show a passion for our core purpose – to save and improve lives.
 Demonstrate energy and drive in getting things done.
 Evaluate the quality of their service and always try to do better.
 Focus on what the customer or donor needs rather than what will suit the organisation.
 Committed to personal development and learning for themselves and for their team.
 Show insight into own behaviour and the behaviour of others.
 Understand how to embed change so that improvements are sustainable and consistent.
 Build, strengthen and empower their team and plan for succession.
 Commit to communicating the vision, goals, successes and lessons learned to their colleagues and team
members
3
NHS Blood and Transplant is a Special Health Authority within the National Health Service.
JE Office Use Only:
V 1 Aug 2011
Ref: NHSBT.BTS.857
NHS BLOOD AND TRANSPLANT - PERSON SPECIFICATION
Title of Post:
Systems Engineer
Category
Skills &
Abilities
Description
1.
2.
3.
4.
5.
6.
7.
8.
9.
10.
11.
Proven ability to communicate, both
verbally and in writing, highly complex and
/ or contentious information, where
persuasion and negotiation are required
and there is a need to influence the
behaviour of others.
Proven ability to communicate complex
information to a large group of staff or IT
customers.
Proven ability to troubleshoot highly
complex technical issues on a wide range
of IT systems, by using creative and
practical skills and by taking into account
previous solutions and resolutions.
Proven ability to make judgements on facts
/ situations where the issue is highly
complex or there is conflicting information,
and there are a range of options which
need to be considered in light of their
potential impact.
Proven ability to plan and co-ordinate a
number of simultaneous complex activities,
which will impact across departments or
services, and may involve 3rd parties or
external suppliers, working within agreed
deadlines.
Proven ability to implement policies and
procedures within own work area, and to
propose and implement changes to those
policies and procedures.
Proven ability to propose policy or service
changes which impact beyond own area of
activity.
Proven ability to take responsibility for the
installation and maintenance of IT
equipment within a large national or multinational organisation.
Proven ability to maintain computer room
environments to industry-wide standards in
a Data Centre environment.
Proven ability to deliver practical training in
own discipline to colleagues within own
function, and also to colleagues from
different functions, where there may be
barriers to understanding.
Proven ability to manage critical and high
availability IT systems which have an
organisation-wide impact, within the
context of a national or multi-national
organisation.
Essential
Desirable
*
*
*
*
*
*
*
*
*
*
*
4
NHS Blood and Transplant is a Special Health Authority within the National Health Service.
Assessment
Method
Interview
&
Test During
Interview
JE Office Use Only:
V 1 Aug 2011
Ref: NHSBT.BTS.857
12.
13.
14.
15.
16.
17.
18.
19.
20.
21.
22.
23.
24.
25.
26.
27.
28.
29.
Proven ability to conduct research and
development in areas directly and indirectly
related to own area of work, and to identify
new opportunities for technical solutions.
Proven ability to operate within a
management framework where broad
objectives will be set and expected results
defined, but the method of delivery of those
objectives / results is the responsibility of
the post holder.
Proven ability to work efficiently in an
environment where the work pattern is
highly unpredictable.
Proven ability to negotiate best value and
appropriate Service Level Agreements with
3rd party suppliers, in respect of large
maintenance contracts or purchasing
agreements.
Specialist knowledge of server operating
systems across a wide range of industry
standard platforms.
Specialist knowledge of HP Intel and Alpha
based hardware platforms, or equivalent.
Experience of application delivery via
Server Based Computing, or "Thin client",
infrastructure, in a large national or multinational organisation.
Specialist knowledge of Enterprise / Data
Centre backup solutions and
methodologies.
Knowledge and experience of delivering
data storage solutions within a national or
multi-national organisation, using
appropriate technologies.
Experience of communicating with staff
where tact is required, and where there are
barriers to understanding.
Knowledge of deploying and delivering
communication and messaging technology
within a national or multi-national
organisation.
Experience of implementing procedure or
policy changes within own area of work.
Ability to manage programme of concurrent
projects
Knowledge and experience of change
management practices.
Extensive knowledge and experience of
Microsoft Office products.
Experience of building and maintaining
relationships with external suppliers.
Experience of presenting technical
information to technical and non-technical
audiences.
Experience of delivering practical training
in own discipline
*
*
*
*
*
*
*
*
*
*
*
*
*
*
*
*
*
*
5
NHS Blood and Transplant is a Special Health Authority within the National Health Service.
Interview/Test
&Presentation
During
Interview
JE Office Use Only:
V 1 Aug 2011
Ref: NHSBT.BTS.857
30.
31.
Experience of Backup software
Knowledge of NHSBT clinical and
laboratory operations
32. Knowledge and practical experience of
NHS procurement standards and
regulations
33. Experience of implementing or maintaining
Storage Area Network solutions
Knowledge & 34. Knowledge of legislation, e.g. Data
*
Interview/
Experience
Protection Act, Intellectual Property
Test &
regulations.
*
presentation
35. Knowledge of IT best practice as stipulated
during
by the IT Infrastructure Library (ITIL)
*
interview
36. Knowledge and experience of Windows
debugging tools
*
37. Knowledge and understanding of Microsoft
licensing policy.
Training &
38. Bachelor's degree in relevant discipline or
*
App /
Education
equivalent.
Interview
39. Postgraduate diploma in relevant
*
discipline, or equivalent
Other
40. Must demonstrate a meticulous,
*
Interview
Requirements
methodical approach, with excellent
&
attention to detail.
*
test to be
41. Must be reliable and punctual.
*
taken during
42. Must possess a full driving licence allowing
interview
the holder to drive in the UK.
*
43. Enthusiasm to help the NHSBT achieve its
goals
*Note: App = Application Form / Int = interview / AC = Assessment Centre / Pres = Presentation
6
NHS Blood and Transplant is a Special Health Authority within the National Health Service.