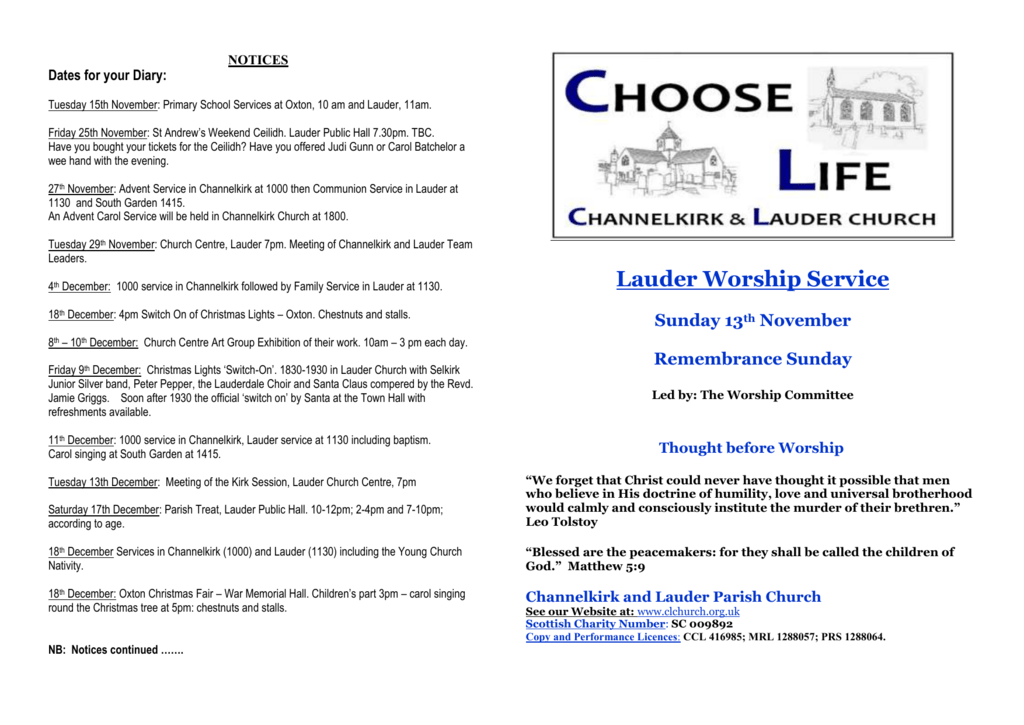 Dates for your Diary:
NOTICES
Tuesday 15th November: Primary School Services at Oxton, 10 am and Lauder, 11am.
Friday 25th November: St Andrew's Weekend Ceilidh. Lauder Public Hall 7.30pm. TBC.
Have you bought your tickets for the Ceilidh? Have you offered Judi Gunn or Carol Batchelor a
wee hand with the evening.
27th November: Advent Service in Channelkirk at 1000 then Communion Service in Lauder at
1130 and South Garden 1415.
An Advent Carol Service will be held in Channelkirk Church at 1800.
Tuesday 29th November: Church Centre, Lauder 7pm. Meeting of Channelkirk and Lauder Team
Leaders.
4th December: 1000 service in Channelkirk followed by Family Service in Lauder at 1130.
18th December: 4pm Switch On of Christmas Lights – Oxton. Chestnuts and stalls.
Lauder Worship Service
Sunday 13th November
8th – 10th December: Church Centre Art Group Exhibition of their work. 10am – 3 pm each day.
Friday 9th December: Christmas Lights 'Switch-On'. 1830-1930 in Lauder Church with Selkirk
Junior Silver band, Peter Pepper, the Lauderdale Choir and Santa Claus compered by the Revd.
Jamie Griggs. Soon after 1930 the official 'switch on' by Santa at the Town Hall with
refreshments available.
11th December: 1000 service in Channelkirk, Lauder service at 1130 including baptism.
Carol singing at South Garden at 1415.
Remembrance Sunday
Led by: The Worship Committee
Thought before Worship
Saturday 17th December: Parish Treat, Lauder Public Hall. 10-12pm; 2-4pm and 7-10pm;
according to age.
"We forget that Christ could never have thought it possible that men
who believe in His doctrine of humility, love and universal brotherhood
would calmly and consciously institute the murder of their brethren."
Leo Tolstoy
18th December Services in Channelkirk (1000) and Lauder (1130) including the Young Church
Nativity.
"Blessed are the peacemakers: for they shall be called the children of
God." Matthew 5:9
18th December: Oxton Christmas Fair – War Memorial Hall. Children's part 3pm – carol singing
round the Christmas tree at 5pm: chestnuts and stalls.
Channelkirk and Lauder Parish Church
Tuesday 13th December: Meeting of the Kirk Session, Lauder Church Centre, 7pm
NB: Notices continued …….
See our Website at: www.clchurch.org.uk
Scottish Charity Number: SC 009892
Copy and Performance Licences: CCL 416985; MRL 1288057; PRS 1288064.
VISITORS or RETURNING MEMBERS! We love to welcome you! 
May God bless our visitors and keep safe all who travel from us!
10.50am.
Act of Remembrance
Gathering to Worship God:
Scripture Sentence
CH3 611
CH 3 437
Love Divine, all loves excelling
Benediction
The National Anthem
The Spirit leads us into the World.
Please remain standing.
O God, our help in ages past
Prayer
Hearing the Word of God:
…………………………..
Reading:
Micah 4:1-5
CH3 24
God is our refuge and our strength
Readings:
John 15:9-17
21st December: Longest Night Service: 1900 in Lauder Church. Tea and coffee served after the
service. An opportunity to reflect in a stress free peaceful place, at a quiet time; a time to light a night
light.
Response:
This is the Word of the Lord.
Thanks be to God.
23th November: (Wed.) in the Church Centre from 2pm - 3.30.pm As part of National Guild Week
Channelkirk and Lauder Guild will be holding a Coffee/Tea afternoon on. Proceeds will be go to Guild
funds
CH3 76
Dear Lord and Father of mankind
Christmas Eve: A Christingle Service in Channelkirk Church at 1800 with the Watchnight Service in
Lauder Church at 2300.
Sermon
'Remember.'
Christmas Day: The 1000 service in Channelkirk will include an opportunity to take Communion for
anyone in the parish of Channelkirk and Lauder. The 1130 service in Lauder will be a family
Celebration of the Birth of Jesus.
Responding to the Word of God:
Offering:
Prayer of Dedication & Intercession
The Lord's Prayer
Our Father, who art in heaven, hallowed be thy name. Thy kingdom
come. Thy will be done on earth as it is in heaven. Give us this day our
daily bread, and forgive us our debts, as we forgive our debtors. Lead us
not into temptation, but deliver us from evil. For thine is the Kingdom, the
power, and the glory, for ever. Amen.
Notices contd. from back page
Regular Events: Sundays: Crèche, Sunday Club, Double Numbers; 1120 Church Centre. Mondays:
Youth Group, Church Centre Lauder, 7 pm; Wednesdays: Channelkirk and Lauder Guild (1st of every
month), Lauder Church Centre, 2.30pm; Thursdays: Art Group, Lauder Church Centre, 9.30 to
11.30am and Prayer Group, Lauder Church Centre, 1pm; Fridays: Christian Union, Earlston High
School, lunchtimes. Mondays and Tuesday: House Groups meet monthly, details for minister.
Contacts. The Manse telephone number is 01578 722616. The Session Clerk, Billy Anderson, is on
01578 722848. The Manse/Minister's email address is: [email protected] And that of Billy
Anderson: [email protected] Publicity around Channelkirk is coordinated by Jackie
Pinkerton (750262); [email protected] Notices and Intimations
[email protected] 01578 722422.