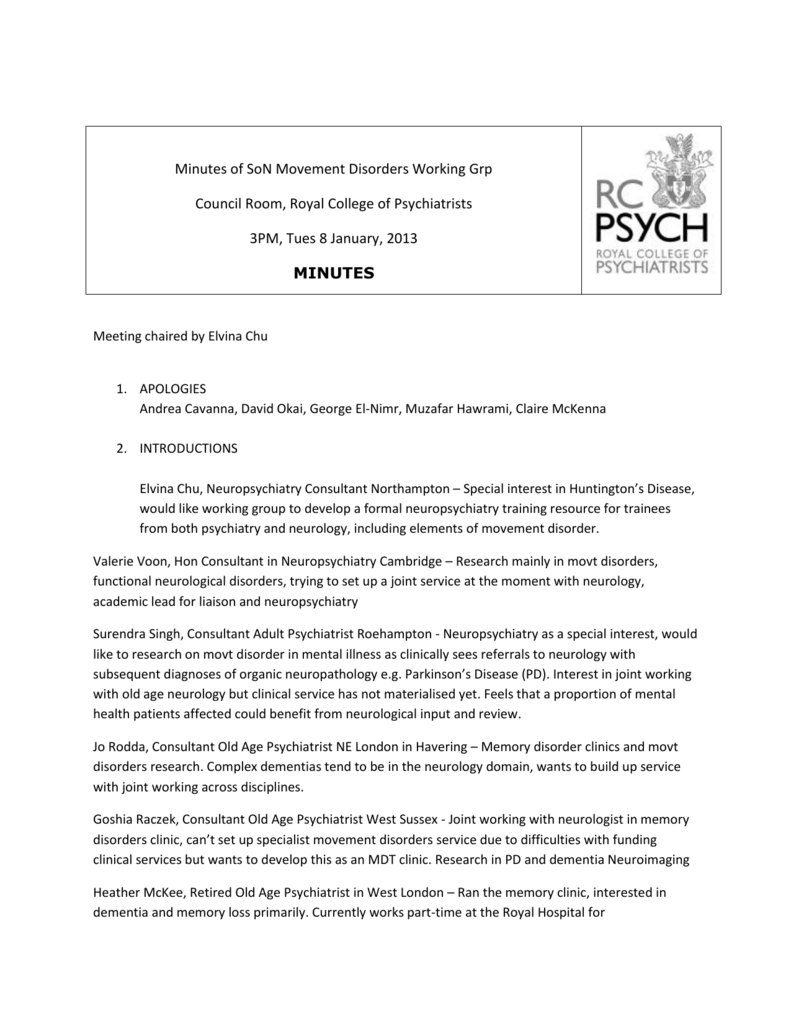 Minutes of SoN Movement Disorders Working Grp
Council Room, Royal College of Psychiatrists
3PM, Tues 8 January, 2013
MINUTES
Meeting chaired by Elvina Chu
1. APOLOGIES
Andrea Cavanna, David Okai, George El-Nimr, Muzafar Hawrami, Claire McKenna
2. INTRODUCTIONS
Elvina Chu, Neuropsychiatry Consultant Northampton – Special interest in Huntington's Disease,
would like working group to develop a formal neuropsychiatry training resource for trainees
from both psychiatry and neurology, including elements of movement disorder.
Valerie Voon, Hon Consultant in Neuropsychiatry Cambridge – Research mainly in movt disorders,
functional neurological disorders, trying to set up a joint service at the moment with neurology,
academic lead for liaison and neuropsychiatry
Surendra Singh, Consultant Adult Psychiatrist Roehampton - Neuropsychiatry as a special interest, would
like to research on movt disorder in mental illness as clinically sees referrals to neurology with
subsequent diagnoses of organic neuropathology e.g. Parkinson's Disease (PD). Interest in joint working
with old age neurology but clinical service has not materialised yet. Feels that a proportion of mental
health patients affected could benefit from neurological input and review.
Jo Rodda, Consultant Old Age Psychiatrist NE London in Havering – Memory disorder clinics and movt
disorders research. Complex dementias tend to be in the neurology domain, wants to build up service
with joint working across disciplines.
Goshia Raczek, Consultant Old Age Psychiatrist West Sussex - Joint working with neurologist in memory
disorders clinic, can't set up specialist movement disorders service due to difficulties with funding
clinical services but wants to develop this as an MDT clinic. Research in PD and dementia Neuroimaging
Heather McKee, Retired Old Age Psychiatrist in West London – Ran the memory clinic, interested in
dementia and memory loss primarily. Currently works part-time at the Royal Hospital for
Neurodisabilities in Putney. Feels that academically "we are not making the most of our patients" and
don't gather valuable clinical datasets.
EC says that the response expressing interest in setting up this working group was good. Over 35
responses following EC's initial email to check levels of interest. 10 people had expressed an
interest in attending the meeting this afternoon.
3. TRAINEES
HM had 2 trainees and feel it is beneficial to the placement to have students. Feels it would be possible
for trainees to attend assessment ward rounds on Fridays.
VV is happy to have trainees in clinics weekly on Tuesdays movt disorders, can also sit in with
neurologists. HD clinic and epilepsy clinic
SS does not have any specific neuropsychiatry clinic but would be able to host someone who wants to
do a case based review project over a longer period of 6 to 12 months.
GR memory disorders clinic have scope to host trainees, monthly PD clinic
JR could offer special interest sessions in the cognitive disorders clinic and neurology movt disorder
clinic. One session a week with DenDRoN is also a possibility.
EC has trainees at the HD clinic and has helped to host students and trainees previously in
neuropsychiatry at St Andrew's, Northampton.
In summary it was felt that all present could offer special interest sessions to trainees that would be of
value as either a one-off visit or longer term placements involving some type of project work. This could
be of interest to senior trainees (ST4 to 6). EC would like the group to be able to provide a
comprehensive list of trainee placements for neuropsychiatry.
4.CASE PRESENTATION
VV presented an unusual case of PD demonstrating the benefits of cross-disciplinary work. She also
explained how to examine for 'entrainment' which is a significant sign of psychogenic tremor.
5. TEACHING
EC reported that one trainee from Yorkshire requested a training day to be organised in the North of
England as most events appear to occur in the South of the country.
GR and JR reported that there is a PD masterclass (3 days long, 2x a year), mainly for geriatricians and
psychogeriatricians which moves around the country. This was started in Cornwall by Doug McMann and
organised by Red Publishing. There may be possibility of getting training day tacked onto an event such
as this.
SS suggested adding the training day to a shorter meeting would be best and there are some half day
courses but noted these are all in the South of England.
VV suggests that there should be a general attempt to see the levels of interest in a training day as this is
based on just one person's request. On-line training videos may be a useful resource.
EC suggested widening the audience to other MDT colleagues. JR suggested we find out when and
where neurology meetings are being held and possibility of having a training day attached to one of
their events.
6. BUILDING TIES WITH NEUROLOGY
MDT conferences happening quarterly in Sussex, attended by psychiatrists, GPSis, neurologists and
geriatricians.
Tacking our "training day" onto a neurology meeting. GR and JR will look into this possibility and
feedback to the group in February.
The top layer of hospital management needs to be aware of what goes on at the grassroots level. Build
the links initially.
VV expressed the need for more interest from the acute care trust as mental health are often keen to
expand but are not supported by their medical counterparts.
KM Suggested the need to influence commissioners, need a piece of research to support what we wish
to do. She queried if there is a pre-existing model or template in other fields for the MDT clinic?
7. DATE OF NEXT MEETING
At February BNPA meeting tacked onto Friday evening for a brief update and to invite those who asked
to be included in the emailing list.
Any Other Business
VV will enquire about the possibility of launching a webpage for the behavioural group and also look
into producing training videos that could complement a training day.